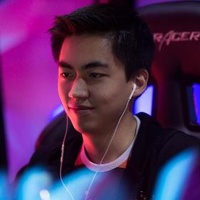 Yoky
Also known as: Melancholy-, yoky
Maxim Kim, Russia
10
Gold in tournaments:
Dota 2 Champions League Season 13
WellPlay Invitational #8
Dota 2 Champions League Season 10
ProDotA Cup Europe #11
Dota 2 Champions League Season 5
JoinDOTA MLG Pro League Season #1
joinDOTA Masters Season 15
SLTV StarSeries XI LAN Finals
GIGABYTE Challenge #10
Excellent Moscow Cup #2
14
Silver in tournaments:
SL i-League Invitational Season 3. CIS Open Qualifier
ProDotA Cup Europe #18
Overpower Cup
ProDotA Cup Europe #13
Dota 2 Danger Cup
Dota 2 Champions League Season 8
UCC Hitbox Championship
PGL Dota 2 Pro-AM
Dota 2 Champions League Season 6
ASUS ROG DreamLeague Season 4
E-sport-bets Celebration Show-match Dota 2
MarsTV Dota 2 League Spring
Major All Stars Dota 2 Tournament
Esportal Dota 2 League
6
Bronze in tournaments:
MID.TV Challenge Cup
The Perfect World Masters. Open Qualifier CIS
Royal Arena #1
BTS Europe #4
DreamLeague Season 5
Dota 2 Champions League Season 4
Total matches: 679
Yoky is a Russian Dota 2 player. He wasn't popular at the European scene before Fall 2013. He became well-known after his victory in the tournament TheNational. In 2014 he changed three teams. Yoku played in Relax then left with Dread and Artstyle to HellRaisers. Though he hadn't been long in that roster and in October Yoku joined Team Empire in offlane position. Togrther with his team he had won Excellent Moscow Cup Season 2 and Esportal Dota 2 League Invitational Tournament 1 and also took the third place in Dota 2 Champions League Season 4. After leaving Team Empire in the end of 2015 yoku was trying to find a steady team and to get to the major tournaments playing in different mixes.
Participation in teams
Team

Winners Draws Losers
Awards
Place

Tournament

Prize

Prize fund
See also