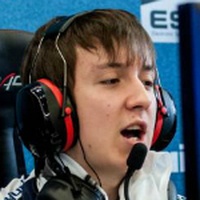 yol
Vladimir Basov, 26 years Russia
12
Gold in tournaments:
ProDotA Cup Southeast Asia #12
BTS Europe #1
UCC Champions League
Game Show Invitational
Esportal Dota 2 League
MSI Beat IT
Fragbite Masters 2014
Dota2.Ru Cup #2
Gfinity Dota 2 Cup
Battle of Four
Netolic Pro League #5 West
EIZO Cup #10
12
Silver in tournaments:
MPGL Asian Championship
Dota 2 Champions League Season 13
WellPlay Invitational #6
WellPlay Invitational #3
WellPlay Invitational #1
NoShang Invitational
ProDotA Cup Europe #2
Area 51 Dota2 Cup
XMG Captains Draft 2.0
PD Cup Winter
Pinnacle DotA 2 Cup
Netolic Pro League #4 West
10
Bronze in tournaments:
joinDOTA League Season 13. Asia
joinDOTA League Season 11 Europe
ESL One Hamburg 2017. European Open Qualifier
PGL Open Bucharest. Europe Open Qualifier
AOC Dota 2 Cup
ProDotA Cup Europe 2015
Dota Pit League Season 3
joinDOTA Masters
ASUS ROG DreamLeague Season 2
MLG T.K.O.
Total matches: 785
yol is a professional Dota 2 player from Russia. He became famous at the European scene while playing for RoX.KIS, a team that was formed in January 2013. The team initially consisted of little-known players without serious achievement, but they managed to have a steady performance. RoX.KIS even finished second in RaidCall EMS One Spring Season in April 2013, losing only to Na`Vu. However, it wasn't enough to receive the invitation to The International 2013. Unfortunately, the team failed to quаlify for the event. yol decided to spend the next year in RoX.KIS. This time, however, the team wasn't showing any big progress. They were in decline until Spring 2014, when Goblak restored the team to its former glory. They were going to win The International 2014 qualifiers, but were defeated by Virtus.pro in the very last moment. After such a disappointing result yol left RoX.KIS and signed a contract with Virtus.pro. Virtus.pro's new roster mainly consisted of RoX players. They managed to become champions of MSI Beat IT 2014 and finish second in XMG Captains Draft 2.0. However, the team wasn't looking promising and was released in March 2015. After the disband yol was playing for different stacks, including 4C&L, Teamless and Fantastic Five 2015. The last team was specially assembled to qualify for The Frankfurt Major. Despite failing to qualify for the event, the guys were noticed by RoX. yol returned to his first home at TORNADO.RoX. yol is a long-time Support player. His signature heroes are Dazzle, Bane and Shadow Demon.
Participation in teams
Team

Winners Draws Losers
Awards
Place

Tournament

Prize

Prize fund
See also