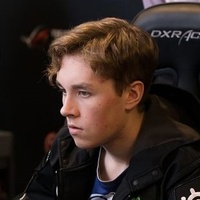 zai
Also known as: ZAIZAIZAIZAIZAI, mmbzai
Ludwig Wåhlberg, 22 years Sweden
26
Gold in tournaments:
ESL One Katowice 2019
The Chongqing Major
ESL One Hamburg 2018
PVP Esports Championship
StarLadder ImbaTV Invitational Season 5
Midas Mode
ROG MASTERS 2017. USA Qualifier
The Manila Masters
Betway Arena King of the Hill #2
Betway Arena King of the Hill #1
2016 China Top. Dota 2
Dota Pit League Season 5
MarsTV Dota 2 League 2016 Autumn
MarsTV Dota 2 League Spring
Red Bull Battle Grounds
ESL One Frankfurt 2015
The Summit 3
SLTV StarSeries X LAN Finals
ASUS ROG DreamLeague Season 2
SLTV StarSeries X America
World E-sport Championships 2014
The Summit
D2L Western Challenge
Monster Energy Invitational
SLTV StarSeries America IX
ESP Shock Therapy Cup
12
Silver in tournaments:
The Kuala Lumpur Major
ESL One Birmingham 2018
ROG MASTERS 2017
Dota PIT League Season 6: North America Qualifier
SL i-League Invitational Season 3. NA Main Qualifiers
PGL Open Bucharest 2017. North America Qualifier
EPICENTER: Moscow 2017
Elimination Mode 2.0
MLG World Finals
ESL One New York
ESL One Frankfurt 2014
Netolic Pro League #5 West
8
Bronze in tournaments:
The Boston Major 2016
The International 2016
Dota 2 Asia Championships
HyperX D2L Season 5
Dota Pit League Season 2
NVIDIA Game24 DotA 2 Invitational
The International 2014
SLTV StarSeries IX Finals

Total matches: 611
zai is a professional Dota 2 player from Sweden. Despite of his young age he managed to play Heroes of Newerth where he had gained high results and later in 2013 moved to Dota 2. For some time he had been playing for american mix Stay Free and in November participated at Star Ladder Series Season 8 with team Super Strong Dinosaurs. Surprisingly team needed just one victory to get to playoffs but mix had started to fall down. Back then zai was playing support together with ppd. Their game was decent enough to get Fear's attention and later he invited duo to his mix S A D B O Y S. In February 2014 EG signed the contract with the roster and fast enough they became a serious candidate for a top team. Back then zai-ppd duo was considered as the best support duet at professional scene. EG placed first in The Summit 1 and at TI4 took the third place. By the end of the year the roster started to stagnate. The reshuffles touched upon zai and the best support duo fell apart - ppd stayed with EG and Ludwig joined Team Secret. He needed some time to process on what lane he was going to play and then zai chose offlane. In Team Secret Ludwig unlocked his offlane potential and became one of the strongest players at that role. Team Secret after winning Premium tournaments in a row confidently approached to TI5 but by that time their gameplay had fallen to the ground and the team placed 7-8. After TI5 zai had decided to temporary finish his career and concentrate on his study. Currently he is standin in Evil Geniuses. zai distinguishes with his hard work. He tries to sharpen his skills at needed heroes. His signature heroes are Visage, Enigma and Dark Seer.
Participation in teams
Team

Winners Draws Losers
Awards
Place

Tournament

Prize

Prize fund
See also