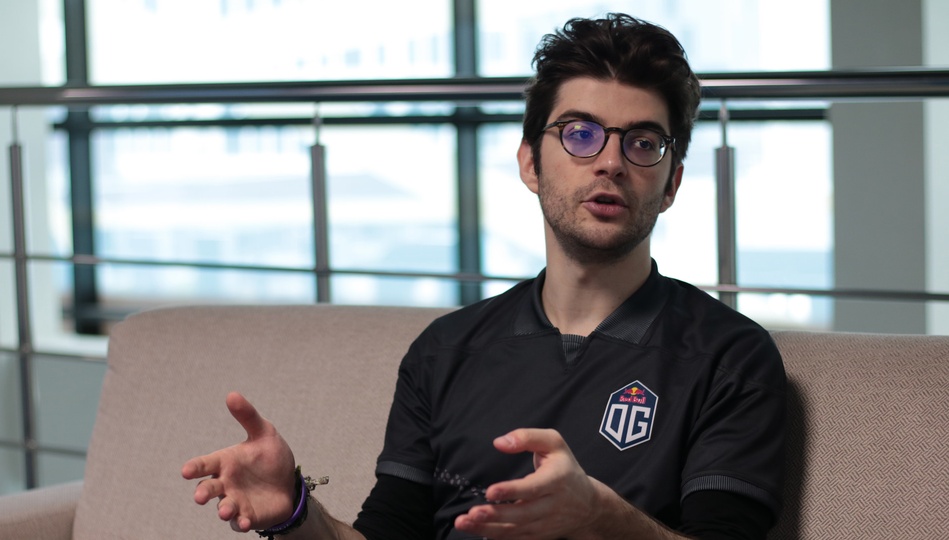 7mad at EPICENTER XL: "I'd rather [play 100 qualifiers] than take a safe invite to TI being part of a project I don't believe in."
Sitting down with Sébastien "Ceb" Debs is always a pleasure. The playing coach for OG remains one of the most opinionated and candid personalities in the Dota 2 scene. 
In an interview taken at EPICENTER XL, we spoke to 7mad about the team's decision to remove Roman "Resolut1on" Fominok and one subtle reason why Virtus.pro are that much stronger than everybody else in the scene.
* * * 
Your future is still kind of up in the air. You were originally a stand-in after the team decided to remove Resolut1on. What's the long-term plan?
The team was obviously not working out with Reso and we had to do something about it. It wasn't clear exactly what we wanted to do. And then the option that I would step in as a player came naturally. Ever since I joined, I've seen the potential in this team and their ideas.
When I joined, I believed we have all the resources to become the best team in the world. We did it for a certain amount of time, we won some Majors here and there, and I think it's still there. But as a coach, I was not able to help the team as there were some deep in-game issues that couldn't be fixed by me standing outside of the game. At least that's how I looked at it. Then stepping-in looked like a better solution. If it's going to be the ultimate solution that's going to fix everything is always hard to know.


If we can't make it through the open qualifiers, there's nothing for us to do at TI.
Having any player join would also have kept things in the air. I do think that, right now, we have very good things going for us. We could've done way better this tournament [EPICENTER — Ed.] and we had higher expectations. But one thing that is certain is that we're improving very regularly and quite fast. I think everyone is quite happy with where we are right now. It needs to transition into tournament wins — we've been away from winning for way too long now — and I think it's not right with the players that are on the team. But eventually, we'll make it there.
I wouldn't say we have very long-term plans. I don't know how it's going to be in six months. Hopefully, it looks the same. What I can say is that, right now, we're headed in the right direction.
You said you couldn't fix the issues while being a coach. How did you use that knowledge when you joined as a player?
The tricky part for the first tournaments, DreamLeague and DAC, was that we didn't really have the time to practice as much as in other years. We're on the road all the time. As soon as you get a little bit of free time that doesn't have to be used for travel or competing, you either relax or practice. But it's not quality practice since you're burnt out. You've been traveling for two months and now you get these three days. So practice time is not good this year.
Regardless of that, it was not good for our sake. We were making a big change. I can only talk for myself but I had to step in as a player. Of course, I'm familiar with the competitive scene but it was a mid/core position. That position is very different from when I was position 5/captaining. I have adapting to do myself. That, plus coaching the players, plus the team rebuilding, synergy around the new roster… We knew it was going to take some time so we looked at DreamLeague and DAC as the first phase. EPICENTER was different. For EPICENTER, we had a clear idea of what we wanted to do and we played some good games. I think we underperformed in the playoffs but we're learning.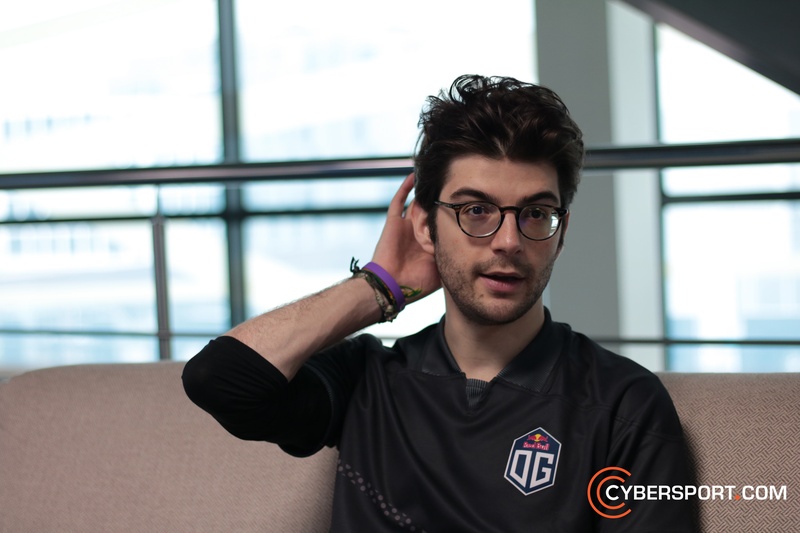 What didn't go right in the playoffs?
When we go into a game, it's not only to win. We want to outclass whoever we play against. That's why, for example, versus paiN Gaming, Natus Vincere, or Team Secret it looked like we completely stomped those series. And when we went into the Virtus.pro game, we had the same approach. Our plan was not to take a game from VP — it was to smash them, 2-0. For the VP and Liquid series, we had really high ambitions, which I personally like. But we realized we were lacking certain things. Certain things we were doing really well, maybe even better than these two teams. At least that's our understanding of it. In certain other aspects of the game, they definitely outclassed us and we realized we still have a long way to go and we need to learn from them and try to match what they're doing. You know when you come up with a plan and it can look really one-sided because there are very small things in the game that didn't go our way. From there on, the game becomes really hard. We didn't feel really bad against VP or Liquid. We felt there's a lot in front of us right now so we tried to learn.
The FlyToMoon game is probably the game everyone felt a bit worse about because I do think we had a very clear shot at winning it. I think it was non-Dota stuff [that defeated us].


One thing that is certain is that we're improving very regularly and quite fast.
It sounds like you're fairly confident in yourself and your team. Now, you have to go through open qualifiers. How confident are you that you'll make TI?
I think we're pretty confident. If we make that move [removing Resolut1on — Ed.], it's because we think we can make it work. At the same time, sure, you can get a TI invite having built something you think is a bit shaky but at the same time, it might work. That's not my way. I'd rather build something I believe in and whatever happens, happens. I think that's the way it should be. I personally have a mentality where I'm ready to take any risk on my way to winning. Winning at any cost. That's my mindset. So if the cost of going is 100 qualifiers, I'll play 100 qualifiers. It doesn't matter. I'd rather do that than take a safe invite to TI being part of a project I don't believe in. I can only speak for myself but I also think that it's the same for the other guys. That's our process. Hopefully, we'll make it. And if we can't make it through the open qualifiers there's nothing for us to do at TI. Sightseeing.
[laughs] The good old "TI tourist visa".
[laughs] Yeah, let's not do that. We want a competitor's visa, not a tourist visa.
We've seen you swap lanes a bit more at EPICENTER: are you looking to shake things up?
We're trying to use the resources we have in the most optimal way, let's just say that. Sometimes that can be because a player is feeling really confident on a hero. Then it's in everyone's interest to give that guy the hero he has a passion for. Sometimes it's about getting away with a better early game. Sometimes it's just to confuse opponents. Whatever works the best for you. Our strength is that we have really versatile core players. We can play pretty much anything in any lane. And this is definitely something we should use because very few teams are able to match that versatility. So why not use it and give them a hard time?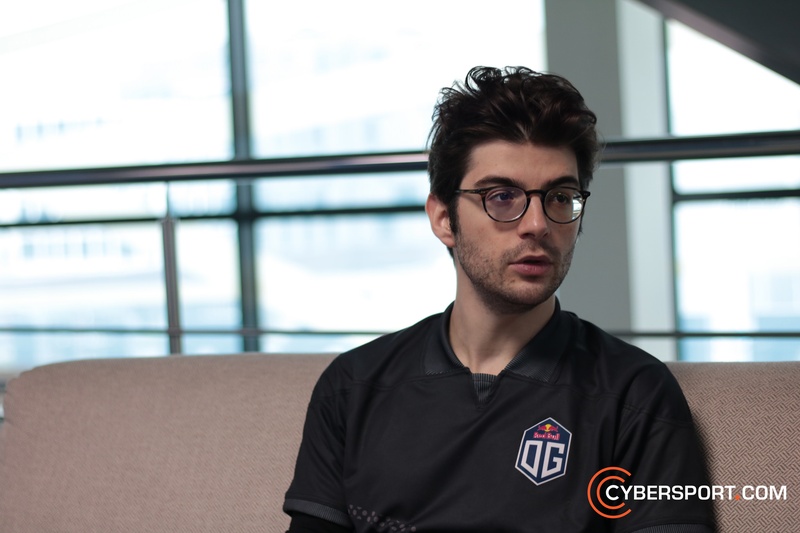 I want to talk a little bit about VP now. They're in a similar position to where you were last year, winning everything. Is there a downside to winning as much as they have?
There is. I thought so much about it that I read books about it, to try and understand what was happening last year. VP are a great team but... When you win, you intimidate a lot of people. I can see it. I can tell that people look at them in a different light. Let's say paiN pick a Dark Seer/Earth Spirit combo — no one would notice. If VP pick that combo, it's like, "Woah, they are gonna land these five-man combos". No, they're not! They're not that much better than other teams. Or that much better individually. They have this aura around them that makes people look at them differently. And it also makes them stronger. If you go into a game versus VP and you tell yourself that No[o]ne is the best mid player in the world, of course you're going to lose the lane. That's the way I look at it. You're going to expect him to do everything right, but that guy doesn't do everything right. I'm watching those replays: he does a lot of mistakes, just like everyone does. Of course, he's a very good player and he has momentum going for him. But for VP's opponents, it's important to play with no fear.


I'm ready to take any risk on my way to winning.
A good example would be when we faced TNC Predator at TI. You could tell that they turned around the mental game against us completely, instead of giving us an edge. VP played a series versus NaVi in the group stage. You could tell that NaVi were playing with no respect whatsoever. And look at how it ended. VP lost and that was probably the series they tried the hardest in the whole tournament. There was no way they were going to accept a loss to NaVi. There's personal beef.
That's when you realize that it's a lot about what happens around them. And I, personally, think that it's a lot about what the community thinks about the teams. There's something with esports that's very different from sports. Esports athletes are mentally pretty vulnerable and they interact on social media way more than regular sports athletes. That means they get much more feedback from the community. So when everyone talks about how VP are this team that no one can beat and you have to face them, you have to go into that series having that in your head.
How do you work with that in OG?
It's very difficult. I work with it myself on a personal level. It's hard to get everyone to deal with it because everyone deals with it in different ways. Some people enjoy giving the opponents a lot of respect. Like a positive fear: "Oh, I really need to play my hardest." Others are the opposite. They just want to hear how these guys are just a bunch of lucky guys who happened to win a bunch of tournaments because they were abusing this hero, so "we're gonna smash them." It's important for everyone to figure out, on a personal level, how to deal with that.
I am convinced that over-respecting teams is detrimental. You have to respect your opponent and that's it. Don't fear them, respect them.
More EPICENTER XL interviews 
 
— 
 KuroKy: "I'm trying, but you can't go 100 percent all year."
— 
 Puppey: "I don't want to step into that situation where I get just a good player that wants to be all over the place."
— 
 MidOne: "We're moving on as a team instead of as individuals."
— 
 n0tail: "Having to change a player in this season has come with a big headache."
— 
 xNova: "Most of the Chinese teams need time to improve."
— 
  Lil: "We have just as many chances to beat absolutely everyone as to lose to everyone."
— 
 LeBron: "[Beating VP] felt like it was going to be a defining moment for us."
— 
 Kpii: "I don't like [the addition of Techies]. It just changes the way Dota is played too much."
— 
 Ninjaboogie: "I couldn't care less about [TI]. I don't want to put it on a pedestal."
— 
 Jabs: "If we played like we did at DAC, we could've won [EPICENTER]."
— 
 Ghostik: "Replacing our carry was a necessity, there was no other option."
— 
 Miposhka: "With time, [Naive] can become the new Miracle-"
— 
 Iceberg: [We have] probably 60-70 chance [to make playoffs]"
—
 w33: "I can't describe how awesome it is. I've never had so much fun in my life."
—
Kingrd: "Don't stop, because if you stop you'll never achieve the dream to win the tournament."
— 
 ODPixel: "I like turning up to an event not knowing what will happen."
— 
 v1lat: "[NaVi] should change LeBron. [He] is not a great fit for this team."
— 
 BreakyCPK: "Literally adding a new hero as a Major starts... there's just something wrong with that."