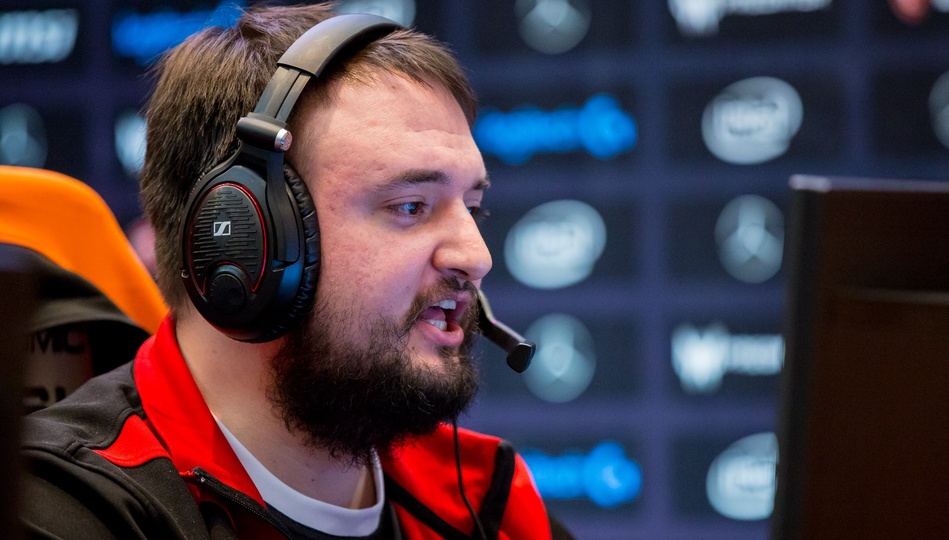 "We didn't learn how to properly use RodjER yet": 9pasha talks about VP games in Katowice
After Virtus.pro reached the Semifinals of ESL One Katowice 2018, Cybersport.ru talked with the team's offlaner Pavel "9pasha" Khvastunov. He talked about their victory over Evil Geniuses, the process of their drafts and about the coming match vs Fnatic.
Four years. The Kryptonite did not work this time around. What are your feelings?
Everyone is very pleased. We flinched in game two the moment we lost. Then we realised that we could still do it. We always could do it. We approached it very seriously and won.
So you're not a fan of the "Kryptonite" theory, you were just unlucky?
Not that we were unlucky. It's that there were other reasons for our losses to Evil Geniuses. I would rather not list them.
Your crucial mistake during map two was the fight after EG took down Roshan. Why did you force a fight and who made the call?
We all made the call. We were just a bit sloppy at that moment. Roshan is being taken, all ten players in the game realize that the ones to take Aegis will win the game. They weren't winning at the time, but could still draw this out.
They take Roshan right in front of our noses, leaving us two options. Either we force a fight against Aegis and Cheese while we are still very strong, or the game draws out and they get as strong as we are. The game was already getting harder. We thought that we are still super strong, we had the opportunity but executed it poorly. I tried to save someone, blinked and my entire team was dead. I was baffled. It just didn't work out.
Talk to us about the third map draft. Analysts did not believe in your victory. You haven't won a single pro match with Doom in three months. Was that a pocket strategy?
Honestly, I really love Doom. We often pick him in scrims, he is a really cool hero. In all the games (except the ending of our second one), the draft decided everything. That's how Dota is right now. The way you draft and place lanes might decide 80% or 90%.
In game three, Evil Geniuses put us in a very difficult position at one point in the draft. We were at crossroads. First option was to pick the RAMZES666 hero, but lose the lanes. We would have a hard time to put pressure with those heroes. The second option was to pick a hero for me and put pressure. I pick the hero and together with RodjER we go to the hardlane and break faces.
We decided to play more aggressively and risk it. Plus we played practically everything by that point, even a carry Death Prophet. It was more or less a normal situation for us to adjust to our opponent. We adjusted. It is good that we didn't cave in and pick a normal carry and didn't play a game where it is unclear who will execute better, start the fights first, etc.
After your match against Vici Gaming you said that your team was hyperactive and that's why you lost. What did you mean by that?
Usually, one man coordinates and another helps him, while everybody else listen. During those games everybody were talking non-stop for whatever reason. There are good moves, there are bad moves, but one man suggest them and everybody else act as a filter: if someone thinks it's a bad move you cancel it.
In those games we had no filters, everyone was suggesting a thousand moves and we were trying to execute all of them. Both good ones and bad ones, we were hyperactive.
RAMZES and Solo switch up the draft helm. Do you think it might negatively affect the LAN events when you don't have a dedicated drafter?
It doesn't matter at all, because only two people draft in our team, while three of us throw ideas around. It doesn't matter who gets the crown icon in-game. The only difference we have, is who is responsible for drafting during practice. One of us teaches the other, it just formed that way. One drafts, the other pays attention and looks for strong and weak points in himself. At some point we decide that we should switch them around. We keep doing this again and again, but during an event we almost always draft together. Solo might make a leadership decision to say: "All of you shut up, I am going to pick this thing, because I am certain it works".
All recent tournaments sent you direct invitations. You don't play much outside of scrims, is that enough?
There is nothing bad about it. We have a new person. We must know how to use his brain, his resources, know how to use him. Even now, just after beating EG, I am sure we did good. We didn't learn how to use RodjER properly yet. We don't listen for a lot of the thing he suggests for now. He doesn't react well to a lot of the things we say too. We have room to improve, we must get used to a new position 4 playmaker
There was a feeling during your first games this event, that supports feed a lot. Did you feel so too?
We won, that means it was alright. Supports did a good job. They lost their Ancient? Good. Way to go Solo and RodjER.
Suma1L on the offlane. How do you evaluate him switching there as an offlaner yourself?
In reality, it's just a word. The word "Offlane" doesn't affect SumaiL in any way. EG play with two greedy cores: Suma1L and Arteezy, while Fear goes on a sacrificial lane. He is the one to play the offlane role, while playing carrier or mid heroes.
Imagine them preparing the best possible scenario for two lanes. If the lane that is left for Fear at least isn't an auto-loss, then it went great. If it is an auto-lost, it is not a big deal. Fear plays this game well, but him and Suma1L are on two different levels in terms of execution and micro. Suma1L is almost always a hero with lots of gold, Fear is an initiator or tank whose job is to absorb damage. So "offlaner" is just a word for them, they don't rely on the concept.
Match against Fnatic is next. What are your expectations?
We hope to win. When we play against them, we usually win. But no one is certain right now. Everyone is kind of realizing that we are super strong right now, because we improved a bit in game understanding and so on. But Fnatic are is semis. They didn't just happen to stroll there. They must be strong. We will do our best.
Original article was written by Alexei "lope" Borisov
More Katowice Major interviews

—  LeBron: "I feel disappointed with our results, but we have more time to improve"
—  Kyle: "We got drunk and bashed our heads against the keyboards"
— zai: "NA used to be very strong because of cocky players"
—  9pasha: "We didn't learn how to properly use RodjER yet"