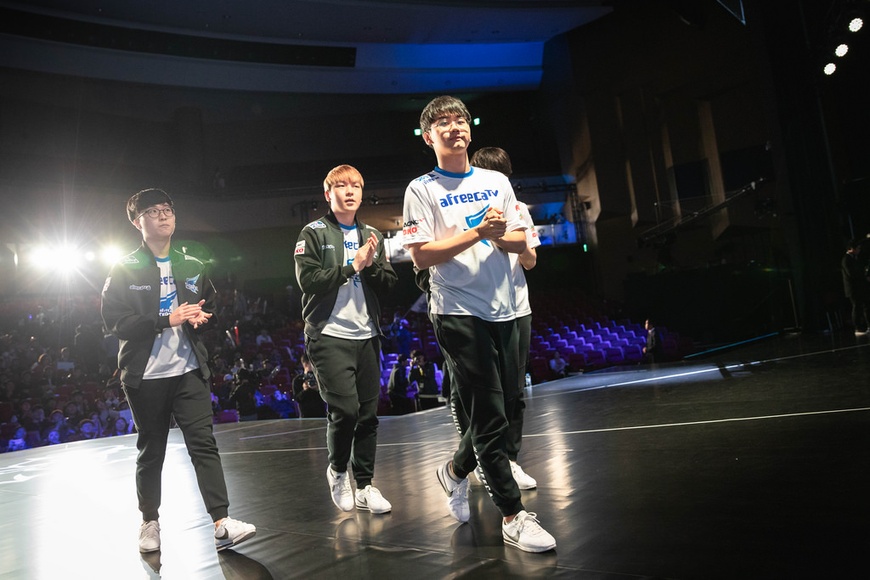 Korean second seed Afreeca Freecs qualified to the 2018 League of Legends World Championship after they beat G2 Esports in their final game of the group stage.
Afreeca Freecs started their group stage adventure on a poor note as they lost to G2 Esports and Flash Wolves in the first four days of action, and they stood at a 1:2 record. However, they reversed the tide on Day 6 of the group stage (Oct. 15) and won all three games.
Their final game against G2 had special stakes: the winner would directly qualify to the 2018 Worlds quarterfinal, whereas the loser would face Flash Wolves in a tiebreaker for second place.
For a while, it seemed as if G2 Esports would prevail with a solid hybrid composition (team fight, wave clear) with 1-1-3 schemes in mind (one lane pressures, and the other two have wavec lear). G2 often resorted to Wadid to enable pressure. However, Afreeca Freecs' team fighting deathball (Alistar, Gragas and Galio for setups; Kai'Sa, Galio and Ryze for damage) prevailed every time the two teams gathered.
Although G2 Esports made full use of a Baron Nashor takedown at the 28-minute mark (despite losing it on everyone but Wunder in a subsequent fight), Afreeca Freecs bared their fangs in team fights and outperformed G2 following a flank near the Baron Nashor area (Minute 35) where they slew Wunder's Aatrox, then secured Baron buff and a subsequent 4-for-0 exchange. The pattern repeated itself at the 39-minute mark, when Afreeca's team fight performance shut down G2's hopes at second place, with an ace and the victory.
G2 have a shot at claiming a World Championship quarterfinal spot that eluded them in 2016 and 2017. They currently have a shot against Flash Wolves, and you can watch it live on the Worlds hub!