What can we expect from League of Legends' flashiest show?
It's time for that season again where we look back at the year that passed and spread a little spectacle and magic over our rose-tinted version of players and events. By extension, this also means it's time for the League of Legends equivalent of a basketball showmatch. Now, they might not be the Harlem Globetrotters, but the fan-voted All-Star teams are nevertheless as close to scripted entertainment as this game gets. It's almost the MOBA version of a pro-wrestling match.
Everyone here is the "who's who" of regional League talent, duking it out for the honour of representing their regions, and the chance to claim to be the best of the best, if the best was decided after someone yelled "1v1 me bro!".
Granted, this year is more competitive than previous seasons which were, at best, an excuse to pitch big names against each other in a League version of comic book fans arguing over who would win in a fight, Batman or Superman.
Instead of two teams made of the big names, duking it out, we have one for every major region, and three of the smaller. This means the local heroes from all the influential regions are getting some screen time, in what is essentially Riot going full throttle on the fan-service. A clever move for sure.
So what's the deal?
Unlike previous years, where various themed game-modes were made for optimal spectacle, all playing to the themes of fire and ice, this year will be boiled down to what you would normally find if you attended any greater LAN event. A 5v5 tournament, and a 1v1.
Each region sends a team consisting of players elected by popular vote, and from each team, two players will be chosen to partake in the 1v1 tournament as well.
For the full team vs. team, the format is set to a single best-of-1 (although according to Riot's own schedule, the teams will only face three other teams, seemingly drawn at random, not all seven opposing teams). Saturday will see a best-of-3 for the semis, while Sunday houses a best-of-5 for the big finale. The first two days conclude with the 1v1 games, following a similar pattern.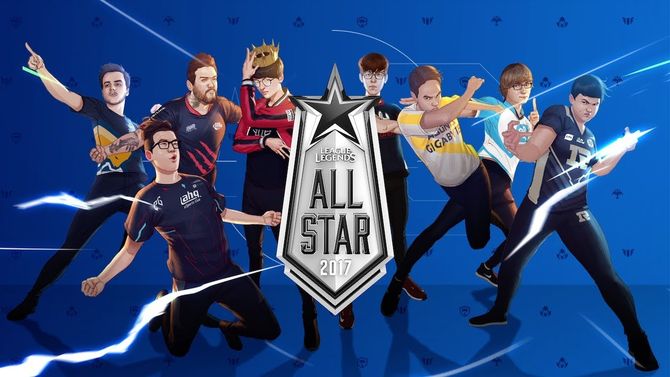 Who are the players?
Unlike previous years where the teams were boiled down to fit a tighter schedule, each major (and some minor) regions were given a full vote this year. This means many of the outliers, like Brazil and Turkey, will get to see their local heroes on stage at All Star, which should make for a nice change, to the usual red vs blue.
Teams have been decided by popular vote, all based on who fans felt had the best showing in 2017. This does give especially EU the awkward sensation of sending Tristan "PowerOfEvil" Schrage to represent the EU, despite him having signed with an NA team at this time already. A bit of drama that Reddit hasn't been slow to pick up on.
It's no surprise that there are favourites heading into this. Sure it's a showmatch, and yes, that means we'll be seeing troll picks, fan-service and teams opting to play zaney instead of competitive. But there's still a huge difference between the strengths of some of these teams.
My god, LCK is even more terrifying!
Let's get the obvious out of the way, shall we? We're entering a tournament, where Kang "Ambition" Chan-yong is jungling for Lee "Faker" Sang-hyeok. Regardless of how these two rivals might feel about working together, we can't deny that having the three-time world champion on the same team with the guy he originally usurped the throne from, but ultimately lost to again this year, is going to either spell bad news for everyone else or for Korea as the two fail to cooperate.
Faker needs no introduction. He has no equal in the game, and while players take pride in solo-killing him if they can, no other player can carry a whole team singlehandedly the way he can. Mechanically and mentally, he is the greatest player League has known and adding South Korea's track record on top, it's clear to see why many consider them the favourites. It's not all black and white though.
Longzhu Gaming just beat SK Telecom T1 in the KeSPA Cup, with the use of Han "Peanut" Wang-ho, former SKT jungler no less. It's not just the rest of the world that wants a piece of Faker, the LCK does too. He's surrounded by people who's very recently beaten him and denied him titles, so the real question is whether this will carry over into the games.
Kim "PraY" Jong-in and Kang "GorillA" Beom-hyeon have been a duo for a long while, and while this means that the bot lane has built-in synergy, they might be reluctant to roam mid to make Faker look good, when they can just double down and try to carry themselves. Then we have Ambition, and even if he and Faker might have some grudges to settle between them, he's joined by his top-laner Lee "CuVee" Seong-jin in this game. The two world champions bring synergy and hype with them, and knowing exactly what his top can do frees up CuVee to either roam bot or mid. Many other teams don't see the jungler being on intimate terms with his immediate neighbouring lanes, meaning he'll be spending a lot more time monitoring them, or ignoring them altogether, instead focusing on invades. Ambition, on the flip side, won't have to worry about top the same, which should free him up to make a heavy impact on the games they play.
The TSM parade
Meanwhile, eyes should be turned on North America as well. In a twist of fate, Team SoloMid seems to have circumvented the "only two players from the same team" rule, for NA. With Mike "MikeYeung" Yeung joining TSM come 2018, the presence of Kevin "Hauntzer" Yarnell and Soren "Bjergsen" Bjerg effectively put them at three players.
This should present an interesting sneak peek at how the three players will mesh come 2018. MikeYeung is, for now, a super aggressive and mechanically heavy jungler. His playstyle is fast and proactive, so his synergy with Bjergsen is under question: perfect All-Star timing to give us the trailer. TSM are notorious for forcing junglers to play a more supporting role, but without having had the time to affect MikeYeung yet, he's likely to come in guns blazing, which might shake Bjergsen and Hauntzer out of their slumber.
Meanwhile, Zachary "Sneaky" Scuderi and Zaqueri "Aphromoo" Black, arguably two of the better North Americans in their role, take up the bottom lane. Sneaky likes to make plays and Aphromoo excels at setting them up so while the two might not have natural synergy, their playstyles merge rather seamlessly. If anything, the NA team might actually stumble a bit with three players who are used to making an impact, but who lack a history of playing together. How they divide this cake between them will decide how they fare.
Where does China stand?
We'd also expect the Chinese team to turn a few heads. Liu "Mlxg" Shi-Yu's jungling skills are so clutch he's spawned several memes, but joking aside, he has an uncanny ability to steal and deny objectives. In a normal game, that makes him good, but when everyone is suddenly surrounded by semi-strangers on their team, we're likely to see people revert to more solo queue behaviour. Here, he is mechanically in a league of his own, making him the jungle boss to beat.
And if having the best jungler wasn't enough, he's brought along Royal Never Give Up teammate Jian "Uzi" Zi-Hao, arguably the best ADC. Uzi is infamous for his ability to carry which means this will ultimately come down to whether his new teammates can find the synergy to work around him or whether he'll be left to fend for himself. He has his junglers attention, but Team WE players, Ke "957" Chang-Yu and Su "xiye" Han-Wei might have different ideas of where the attention should go on the team. On paper, China has a solid team, but as with NA, might suffer from split carry syndrome. If they can't decide who to play to, there may be too many chefs in this kitchen.
The reckless bot lane of Europe
Europe is bringing its fair share of talent too, if not a bit of controversy over the PoE debacle. Nevertheless, PoE has proven time and again that he can go toe to toe with the best of them. During Misfits match vs SKT, PoE was the reason Faker made so little impact. By denying the team their strongest asset, Misfits came dangerously close to tipping SKT off the ladder, before they ever reached the semi-finals. He did this with the help of Lee "IgNar" Dong-geun, who'll be repping Europe in the bot lane with Martin "Rekkles" Larsson.
IgNar is perceived as a bit of a prodigy in terms of reading the game, so it will be particularly interesting to see whether he can pull something offfield for All Star, now that weird picks are encouraged. Showing the world that he has more tricks up his sleeve will be a strong marketing tool for the South Korean jungler, but the temptation has to be weighed against the needs of the team. If he decides to go too crazy, the team risks not being ready for the pick themselves either, and unlike the other teams, Europe has traditionally had to struggle with the added handicap of language barriers on their All-Star teams, as well as lacking synergy.
These are obviously not the only teams present, but as mentioned above, in a tournament where Ambition is jungling for Faker, not all bets are equal, and the above represent the most obvious focal points for the coming days.
All-Star will place Dec. 7-11 in the NA LCS Los Angeles studio.