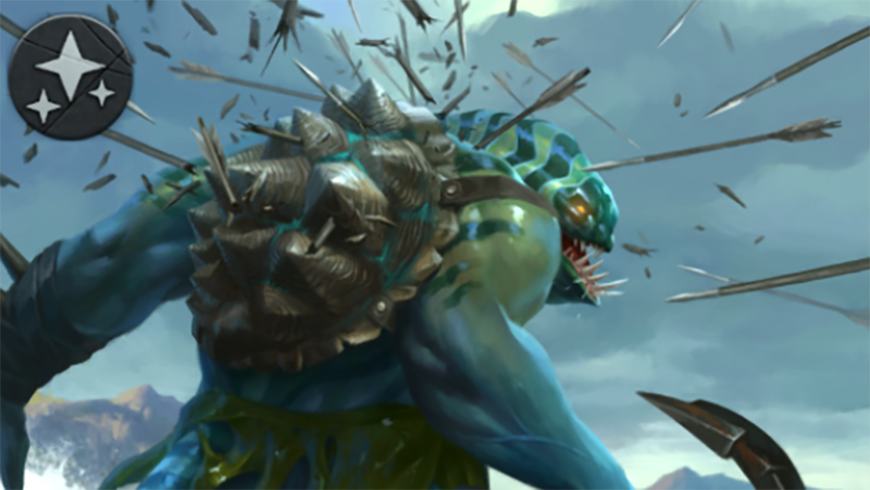 While some units in Artifact are tough to kill as they are, some might need a little help surviving as the game progresses. Armor does a great job at providing that help, as it softens or even negates incoming damage during the combat phase. If a unit has 1 Armor, it means each individual blow to that unit has its damage reduced by 1. This means that at 2 Armor a unit will already survive the attacks of enemy melee creeps. Armor can not be worn down through combat, so buffs linger.
Interestingly, zero is not the lowest amount of Armor a unit can have. If a unit boasts negative Armor they take extra damage in the combat phase. For example, if you have a creep with -1 Armor and it faces a 2 attack enemy, your creep will take 3 damage. In the same way regular Armor blocks incoming damage per individual attack, negative Armor increased incoming damage per individual attack.
Most red heroes, for example, either have Armor or interact with it. But there are many other heroes, creeps, spells items and improvements that give or take away Armor. There are even cards that provide your tower with armor!
Armor is one of the best defensive tools at your disposal. Already tanky heroes become near indestructible, and more offensive heroes can survive a turn or two more to deal more damage.
There are three main ways to counter enemy Armor. Two of them are pretty straightforward: you can buff your own units' attack, or decrease the enemy units' armor using items, spells, improvements and abilities. But the best and hardest counter to Armor is Piercing Damage. Any amount of Piercing Damage ignores the Armor a unit has, and is deducted directly from the target's health.