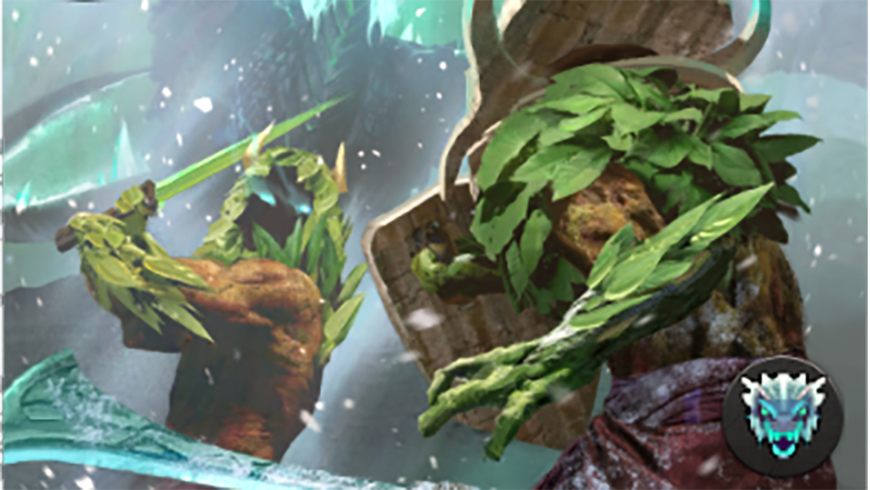 There are several ways to prevent an enemy unit from attacking in Artifact. Disarm is the most basic version of that: how can a unit attack if it doesn't have a weapon? Well, it can't. A disarmed unit will stay put in the combat phase, and not directly deal damage to its target. Being disarmed doesn't affect retaliate damage though, so even if a unit doesn't attack, retaliate damage is still inflicted on opposing units in the combat phase.
Not many cards have been revealed that boast the disarm effect. Frostbite, the simplest of the two disarm cards, provides a cheap way to both damage and disable a unit for a round. Winter's Curse takes that to the next level for twice the cost of Frostbite and, when timed correctly, can force enemy units to kill one of their own.
It takes good planning in a game of chicken to make the best of a disarm effect. Ideally, you want your opponent to go all-in on a card before you disarm it, and render it useless for the turn. However, you also have to take actions in the meantime to allow your opponent to make such an all-in move. It can also be viable to disarm a unit immediately to stall powerful buffs from being played at all. Your opponent might use those buffs on other units then, which you can counter more easily.
There is little you can do to counter a disarm effect directly. What you can do is anticipate your opponent's card, and play around it to your best possibilities. Don't go all in on one single unit if you expect a counter, and have a back-up plan ready for other units.