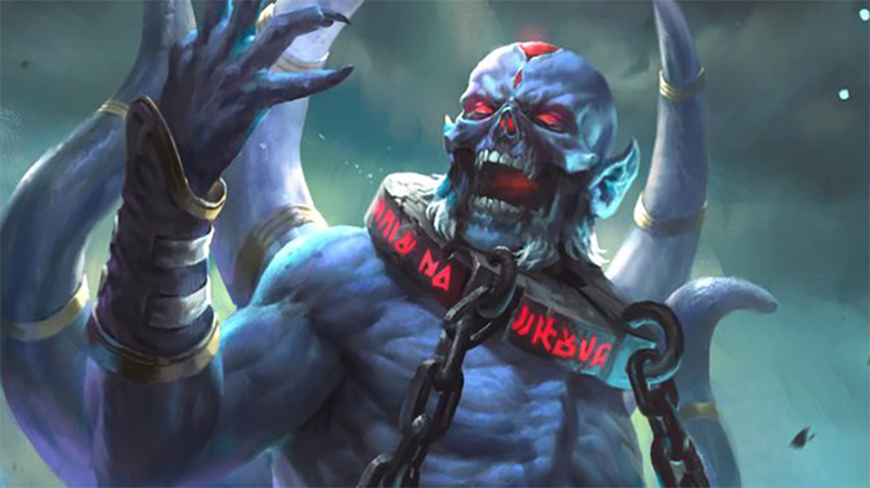 Of all the cards there are in Artifact, heroes are by far the most core to the game. They come in four colors: red, black, blue and green. A hero's color matters a lot, as you can only play other cards with a color (spells, creeps or improvements) in a lane in which a hero of the same color is present. When you start building a deck, you start off by choosing the heroes you think best can lead your strategy to victory. Every deck must contain five heroes.
Heroes generally boast higher stats than creeps, making them the focus point in their respective lanes. Most heroes also have an ability, though some boast two or none at all.
Each hero also has their own premier card. This is a spell, creep or improvement linked to the hero, and three copies of it will automatically be added to your deck alongside the hero. Important to note is that the premier cards don't necessarily need "their" hero to be in a lane in order to be played — they obey the same color rules as other cards.
After a hero dies, it is not gone forever. It takes a full turn to "respawn", after which you get to choose which lane you want to deploy it in next. An exception to this is Rix, who through his special ability "Rapid Deployment" can be redeployed prior to the very next turn already.
Below: Lich and his "signature" card Chain Frost. 
Active ability: 
 Sacrifice (2-turn cooldown): Condemn another ally and draw a card. If that ally has 6 or more Attack, draw an extra card.