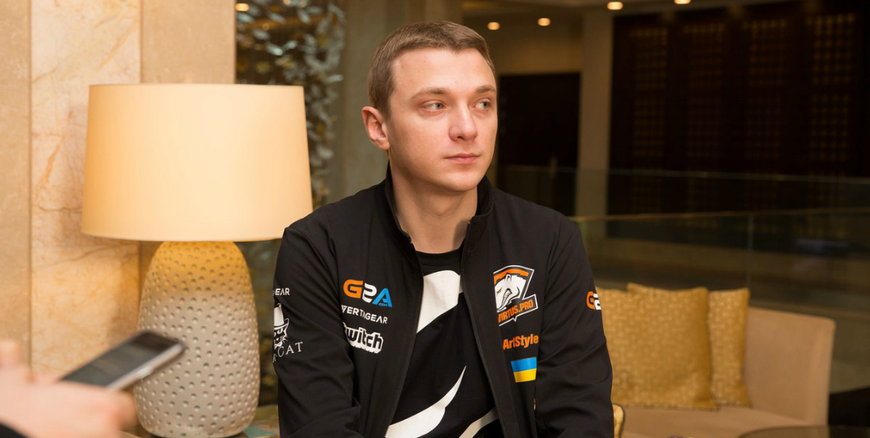 In an interview with Championat.com, Ivan "ArtStyle" Antonov shared his views on the role of coaches in today's Dota 2 scene. Virtus.pro's mentor also recalled his days of playing for Natus Vincere G2A and spoke about his personal plans for The International 2017.
On being a coach
 "It's a thing they've had for a long time in China, and we're only embracing it now. […] The only issues are, how much do the players need it, and how responsive they are. It so happened that here [at Virtus.pro], I've got five people who are willing to work and to develop. Every now and then I correct something somewhere, and it actually results in victory. Looking from the sidelines, if I see something in the enemy's picks, or in our own picks, some weak spot, some strong spot, I will bother to emphasize it, so that we play our strong strategies, so that the drafting isn't all over the place and we don't play poorly.

I think there's a big difference between a football coach and an esports one. Even though in CS:GO, the coach is the sixth player, standing behind, helping, giving orders, watching things from a distance and providing advice. It's not something I can do; I only get to see my guys before a game and after it.

I recently watched an interview with Johan "n0tail" Sundstein; they're trying to build a team around their coach. I don't know how good of a call this is. I like the way we're working now. Frankly, my guys don't particularly need a coach as far as drafting is concerned. They have other vulnerabilities, which I'm trying to help with. 
On ending his career as a player
"I'm not so much self-critical as fair towards myself. I can admit that back then, I wasn't in a position to win ASUS or even get into the top three. Afterwards, I tried to play for Natus Vincere G2A a couple of times. We did grab a few top spots occasionally, placed second or third all the time, and were only losing to two teams, OG and Team Liquid, who are still strong. Since then, I think I can comfort myself a little with the thought that I have achieved something after all. Everything's fine right now.

In fact, it wasn't like I stopped playing professionally back then. The way things went, at one point I had good offers. I made a bit of a wrong move with them, and ended up playing with Na'Vi for another season. It became clear to everyone that that roster didn't work together; we parted ways as friends. Akbar [SoNNeikO] left, and so did I. At that time, I was without a team. And it so happened that these guys invited me. I agreed, since I had a lot of respect for each of them, I liked them very much, and I wanted to work with them in whatever capacity I could. I'm gaining experience from them too, and improving as a coach."
On TI7
"I'm pleased that my team has given me this opportunity to show what I can do. I really will try to make sure that these five guys win The International, and that CIS Dota becomes very strong globally and regains its former reputation. These five people have the full credit for what's happening to me now. I'll do everything for them, too."
Author: Alexey "Lopanya" Borisov
source header image: Virtus.pro