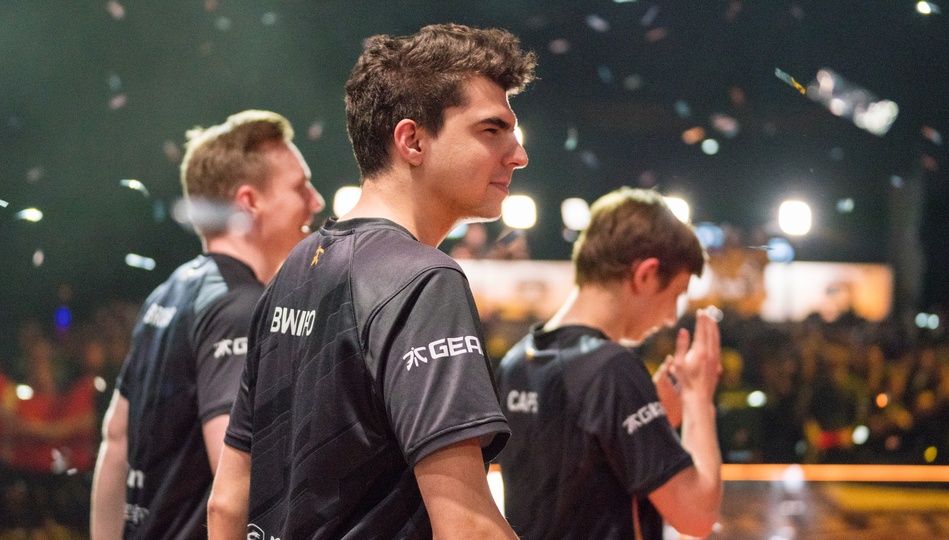 Becoming Bwipo: How the latest EU LCS champion was born
Apr. 8, 2018 – the sun graced Copenhagen, Denmark ahead of a clash of legacies between Fnatic and G2 Esports. As if highlighting the importance of the moment, the wind blew at a steady pace, urging the two teams to clash inside the sold-out Royal Arena. Fans, too, rushed to the venue, enticed by the prospect of meeting their favorite teams three hours before they marched towards the stage.
Gabriel "Bwipo" Rau hadn't expected to be part of the festivities, much less play on stage during the European LCS finals, but there he was, ready to rumble under the spotlights. He had proven himself capable of filling the void Paul "sOAZ" Boyer had left vacant due to injury a week before in the semifinals. Even then, he had been wondering whether he deserved to be there.
After all, the 19-year-old top laner was only a substitute that who had never performed in high-stakes situation, and he was only called for when Fnatic's playoffs spot was a done deal. He also knew he didn't fit in his team's story: short of missing the 2016 World Championship, the team had acquired Rasmus "Caps" Winther and sOAZ before the 2017 Spring Split, and Mads "Broxah" Brock-Pedersen during that season. Even Zdravets "Hylissang" Galabov, who joined in the 2018 offseason from the Unicorns of Love, had paid his dues to the European LCS and played with the team throughout the 2018 Spring Split.
"I got two wins [during the season], and it didn't have that much of an impact, we were locked in the top two," Bwipo says. "I struggled with the mentality of, "Do I deserve to play on this stage? Am I supposed to be here with the other guys that have been working a lot longer than I have?""
As history shows, he was ready.
* * *
The finals victory was, at the time, a culmination of Bwipo's efforts at becoming the best he could be, but it was also the case for those that looked after him on his way to Copenhagen — all the way back to his days climbing the ladder as a 15-year-old. He reached Challenger tier at only 16, during Season 5, which prompted him to double down on gaming and school until his mother, sensing her son's wish to become a progamer, encouraged him to pursue gaming full-time.
The way she saw it, the worst that could happen was a two-year break from school, and it didn't work the other way around. "If you hit 25 and you finish university," Bwipo says, "the odds of you getting picked up by an LCS team are much lower than if you're 18-19 years old."


Many pro player stories begin with the all-too-familiar parental resistance and skepticism. Fortunately for Bwipo, his story was nothing like that.
Bwipo's mother was ready to support him in any way she could — cooking, taking over chores, anything that could help him focus only on gaming, which he did on a 24/7 basis. She was on board with her son's dream before he had become half the player he currently is, and that bolstered his morale immensely, especially given that such support is rare in esports. Many pro player stories begin with the all-too-familiar parental resistance and skepticism, where a youngster is pushed to pursue education over a job that's built on volatility. Fortunately for Bwipo, his story was nothing like that.
"The most important part is: my mother saw it as a one-time chance," he added. "She didn't even understand what I was doing on my computer, she had no idea; I could have been watching videos all day, taking a two-year break from school. But the fact that she trusted me, and I had that on me, really helped me push myself that I was doing what I needed to be doing to make it. Every single day, week, month, I spent doing it. It's almost two years, and I wasn't making any money — or here and there winning random LAN events getting a few hundred euros a month, if that — and she's supporting me all the way."
The support from his parent enabled favorable conditions for Bwipo to pursue self-improvement in League of Legends, but that alone was no guarantee. Many talented players rise up to the top 0.06 percent of the League of Legends community (Master tier and above) but move no further. Even fewer make it to a competitive team, let alone a Challenger squad — or the LCS. 'What's the difference maker?' someone might ask for the umpteenth time in a prospect-turned-pro story. The answer is no secret: a good mindset.
Bwipo's mother did not need to understand League of Legends to know that it was important to him — enough that he would watch VoDs and replays endlessly and take mental and physical notes; play more to uncover more situations to examine, more mistakes to prevent in the future, more openings to exploit; and review his gameplay in a quest for optimization.
He even examined and optimized spell rotations, the most basic aspect of League of Legends — a matter he anecdotally reminds me of when pointing out Cho'Gath's ability to nuke carries down should the player create that opportunity and follow it up with correct E and Feast usage. In essence, every aspect of the game a player looks at from a solo queue standpoint — including barebone rotational play, team fighting from a specific role, and laning fundamentals on a champion — was affected by Bwipo's process, and he had made sure to point that out. In a way, he was relating to the person on the other end of the microphone, or of this screen; it doesn't matter how many times you see other players do it if you haven't done it yourself.
That included watching League of Legends streams, by the way.


To get in touch with Dexter is one thing; to convince him that a player is good is another.
"Rather than grinding, I did that by studying myself and looking at other players," Bwipo says, excited. "I watched streamers like imaqtpie, which are generally considered as entertainment streamers. But this guy is pretty fucking good, you know?! He's a Challenger player consistently, with multiple accounts in Challenger. Everybody watching this guy, the 25k viewers he gets daily, can get to a high level by mimicking or at least trying to understand what he's doing and copying it."
"Not everybody can; some people take a lot more time, some people take less time. The point is: you don't necessarily have to grind, you have to be busy with the game, and most importantly enjoy it. With enough time and effort, I think you can get there."
Without missing a beat, he followed up on another matter he had faced in solo queue (and others still publicly point out to whoever is willing to listen): that odd game where teammates fall apart, causing them to lose despite having 15 kills and two deaths. Bwipo cites the two deaths as obvious points of improvement, followed by itemization and creep score. As long as, in the end, it fulfills self-improvement, rather than anything else. "You can decide to blame the teammates that you're never going to see again and focus on that, rather than focusing on yourself," he says.
The last part did not necessarily extend to solo queue, and there were several moments in the semifinal against Team Vitality and the final against G2 Esports where he had taken note of his errors. On Apr. 8, he was not blaming others for his misfortunes in solo queue, but himself for mishaps he had made on the biggest stage in Europe.
* * *
While the parental support was what initiated Bwipo's first ascend through the ranks, perhaps he wouldn't be a champion had it not been for an analyst called Shaves, or Edward for his friends. If his mother cut a rough diamond out of her son, Shaves provided the burnishing.
Shaves was more than willing to teach him the ropes of macro gameplay, as he saw a dedicated player who consistently gravitated between top 10 and top 25 of the Challenger solo queue ladder, and he felt confident in helping him reach the next level.
"[Shaves] was good friends with Dexter, and he basically coached me to the point where I could rank top 10, top 1 on EU," Bwipo says. "Once I did, Shaves went to Dexter and said: "this guy is good, is a good talent" and proved to Dexter — by explaining my gameplay — why I'm better than some of the other talents in Europe."


Overnight, Bwipo had gone from playing in lineups where he was the strongest individual player to one where he was the weakest.
Marcel "dexter" Feldkamp played League of Legends competitively between 2013 and 2015 as part of teams like Lemondogs, CLG and Elements, and he had seen many players lose focus and drop out of the professional scene as well as what led to such downfalls. His willingness to work with Bwipo, then an unknown prospect, was justified, if only due to the combination of work ethic and power level. Bwipo was also going into the unknown, as he was effectively handing his future chances at becoming a pro to someone else.
"For me, specifically, I told [Dexter], "I trust you, I trust your decision, and I think you know what's best for me,"" Bwipo recalls. "I told him: "I'm going to make sure that I hit top 25, top 10, and that I'm a valuable product, that teams can look at me and realize that I have the consistency to stay high-ranking, I have a champion pool broad enough to enter a competitive team.""
Dexter handled contract negotiations, introduced Bwipo to potential suitors — some of which were oblivious to him — reviewed offers, and made sure his client focused on playing the game and nothing else. Bwipo answered in kind: maintaining a high ranking in solo queue wherever he went, making a strong impression wherever he landed (Turkey's Dark Passage in early 2017 and the CIS' RoX from June to September), and gaining experience in gaming house and stage situations in Wildcard regions. More importantly, he made sure to become even more valuable along the way.
"I had the idea of having a crowd, although smaller, that was there; the white noise [in the headsets]; playing outside of the comfort of your home was really the most important thing I learned in there," Bwipo recalls. "There's also being a better teammate [...] I don't know if I would've learned that in the Challenger series, because everybody's an online personality in there mostly."
That last part of his growth, Bwipo understood, came not with in-game skills and records and, frankly, had little to do with League of Legends. To become a better teammate, Bwipo had to learn how to talk to, give and take feedback from everybody else on the team.
"I do notice that sometimes, people feel attacked when others bring up the fact that "you shouldn't play [a situation] like this." Your wording is very important in how you bring it up to certain players, because not everybody can handle "you played this like shit." That's a very aggressive way of explaining something, and that works for me — that's how Shaves and I became friends, and that's how we handled each other. I can see that working individually, but in a team, there's no room for this. [Feedback] needs to be clear, simple and effective," he elaborates.
Only by playing offline, side-by-side with their teammates can one master communication, and with the online nature of Challengers play, where a person cannot read body language or look someone in the eye, that wasn't possible for Bwipo. The top laner didn't have to wait till he entered the LCS to truly understand the difference between a solo queue star and inseparable cog from a championship-winning machine, as his experience in Turkey and in the LCL covered those basics.
"You need to be able to tell your team, "It doesn't matter if you could have played it mechanically better," and you can address that by saying "the situation is okay, but we got mechanically outplayed, but what's important is the situation itself. How did you get there? How do you avoid it if it was bad? How do you recreate it if it's good? How do you follow up on the play itself?" I learned how to say that without spinning a story around it, being clear, and making sure that nobody feels attacked when I do it."
* * *
In January, the work of Bwipo, and Dexter, finally paid off. The rookie entered LCS and donned the jersey of a legacy team — Fnatic.
Finally its announced. Been working to get this very talented player a shot at showing how good he is. 2018 will be @Bwipolol's year 🙌 https://t.co/SAhkPZf2W3

— Marcel Feldkamp (@MarcelFeldkamp) January 8, 2018
Overnight, Bwipo had gone from playing in lineups where he was the strongest individual player to one where he was the weakest, but he was ready to assume the role of a sixth man. His experience working with Shaves in Turkey and CIS allowed him and sOAZ to bounce ideas off one another, rather than have an exclusive teacher-student dynamic, despite the Frenchman's nine-year tenure in the game. Sometimes, their champion pick preferences differed; other times, their thought processes would when it comes to enabling winning conditions.
"Rather than tutelage, we both complement each other," Bwipo says. "Naturally, I have a lot more to learn from him than he has [to learn] from me. I'm more of a second-opinion for him, and he's more of an all-around for me; he's a second opinion, I can watch his gameplay, learn from his gameplay, understand and get into his thought process, and understand the game a lot better. He doesn't get that from me because he's very, very smart about the game."


"The biggest thing about my mindset that I think I have an advantage over other people on is: even if I listen to someone that says 9 out of 10 things wrong, if there is that one thing he says that's right, I'll listen to it." — Bwipo
If anything, it accelerated Bwipo's development, with sOAZ and the remainder of Fnatic around to assist him — and it helped his teammates go the extra mile in solo queue after several media outlets had reported that they were on the low-effort train on that front during 2017. It also brought one more contributor to Fnatic's champion-related discussions – where no Aatrox pick suggestion would fly without being examined and promptly shut down.
"With champion picks, it's the same idea. A lot of players have their own picks that they think are good, and the rest of the team doesn't," he said. "In Fnatic, we have this [system] where we hold a quiz, and we ask each player individually: What champion do you rate, at what point, in a role? We list them all up, and the number one [pick] doesn't mean that it's necessarily the best, it just means that the team wants to see this champion on the [composition.] Even if it's worse for the specific scenario, people like having it on their team, and they feel comfortable playing with it. That's something I've learned [in Fnatic] and that I wouldn't have learned elsewhere."
Bwipo wouldn't be there to tell us about all of this had he not been on this path. Before we parted ways, he took to the microphone one last time — asserting all that was said before.
"All in all, really big thanks to my mom again, really big thanks to Fnatic for picking me up, everybody that involved themselves with me because they all helped me. The biggest thing about my mindset that I think I have an advantage over other people on is: even if I listen to someone that says 9 out of 10 things wrong, if there is that one thing he says that's right, I'll listen to it. Anybody that gives me criticism, they can point out 20 different things; 19 of those I can disagree with and I can prove why, but the one time he's right I'll make sure I remember that."
After reigning over Europe, Bwipo and Fnatic are on course for the Mid-Season Invitational in Paris. Provided sOAZ injury persists, Bwipo will be tested against the likes of Kingzone's Khan and Team Liquid's Impact — a baptism in truest fire.