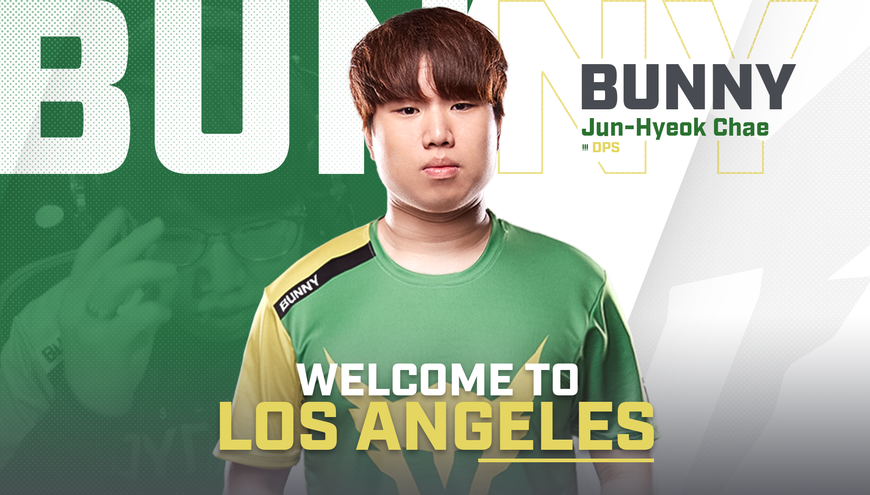 Jun-hyeok "Bunny" Chae has officially jumped shipped from Seoul Dynasty, with it finally being announced that his contract has been purchased by Los Angeles Valiant.
The 19-year-old South Korean had long been rumoured to join the Valiant, but it wasn't until early on March 31st that it was made official. Moving into stage 3 of the Overwatch League, Bunny will be hoping to get a lot more time playing as he saw himself benched for a good portion of Stage 2.
🚨 BREAKING NEWS 🚨 Please join us in welcoming our newest addition to #VALLA: Jun-hyeok "Bunny" Chae - transferred from @SeoulDynasty 💛💚➡️ https://t.co/grVSDIb9Qb pic.twitter.com/Aq9qaMbrU9

— Los Angeles Valiant (@LAValiant) March 31, 2018
The DPS player will likely get a chance in the Valiant's roster sooner rather than later, considering the franchise's performance got worse as the most recent Stage proceeded. Finishing eighth out of a total of 12 teams, Valiant be looking to improve their performance - and evidently they believe Bunny could be a component in doing such a thing.
Journalist Rod Breslau, on the same morning of this announcement, took to Twitter to report that the Dynasty declined a trade with Los Angeles Valiant that would have seen Koo "Xepher" Jae-mo and Lee "envy" Kang-jae switch teams. Not only that, Breslau claims that the Dynasty will play Stage 3 with an 11-man roster, meaning they will not opt to find a direct replacement for Bunny.
Seoul Dynasty declined a trade that would have sent Xepher to the LA Valiant for Envy, sources said.

— Rod Breslau (@Slasher) March 31, 2018
The Valiant, ironically, will first face off against the Dynasty in their first game on Stage 3, which takes place on Thursday, April 5th.