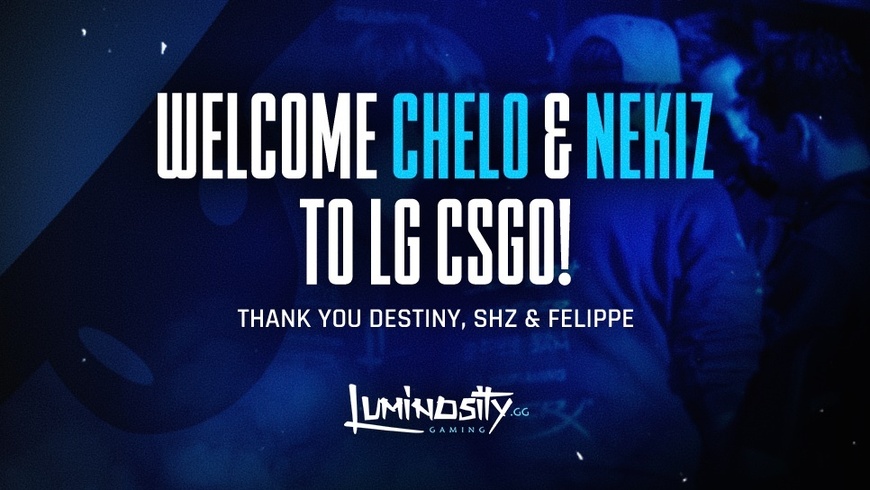 In light of the departure of Lucas Lucas "destinyy" Bullo Bullo and Bruno "shz" Martinelli earlier today, Luminosity Gaming will bring in Marcelo "chelo" Cespedes and Gabriel "NEKIZ" Schenato from the recently-defunct paiN Gaming. Coach/manager Filippe "felippe" Martens is also leaving Luminosity.
Chelo and NEKIZ
Last week, the contract between paiN Gaming's players and its organization ran its course. The sides did not come to an agreement, and the players decided to go their separate ways and test free agency. For chelo, whom many believed to be paiN's most talented prospect, and NEKIZ, free agency was short and sweet. 
🗞️NEWS: Welcome @chelok1ng @nekizcs to #LGCSGO. Thank you @LG_destinyy @LG_shz @LG_felippe for everything!💙Read: https://t.co/TCF3gQLzTX pic.twitter.com/PcMqniyOjj

— Luminosity Gaming (@Luminosity) July 13, 2017
NEKIZ offers his new team a dependable entry fragger, but the real steal of this acquisition is chelo. At just 19 years of age, chelo boasts a 1.20 Rating and a promising 63.9 percent headshot accuracy, according to HLTV. His raw mechanics are sharp, and he has a knack for making the kinds of dynamic, explosive plays that Luminosity has not seen since they had SK Gaming's roster. From Luminosity's press release on the roster changes:
We have a fundamental belief that roster changes at the first sign of problems is in most cases not the best solution. Every team and player will face its challenges, and have ups and downs. Unfortunately, in the recent months we seem to have hit a wall. The team atmosphere was frustrated and we could tell a change was needed. We look forward to pushing this project to new heights with the addition of chelo and NEKIZ.
The team will fight to defend its spot in ECS competition, and prepare for the upcoming EPL Season 6. The new starting roster is as follows:
Gustavo "SHOOWTiME" Gonçalves
Gustavo "yeL" Knittel
Gabirel "NEKIZ" Schenato
Vinicios "PKL" Coelho
Marcelo "chelo" Cespedes
source header image: luminosity.gg