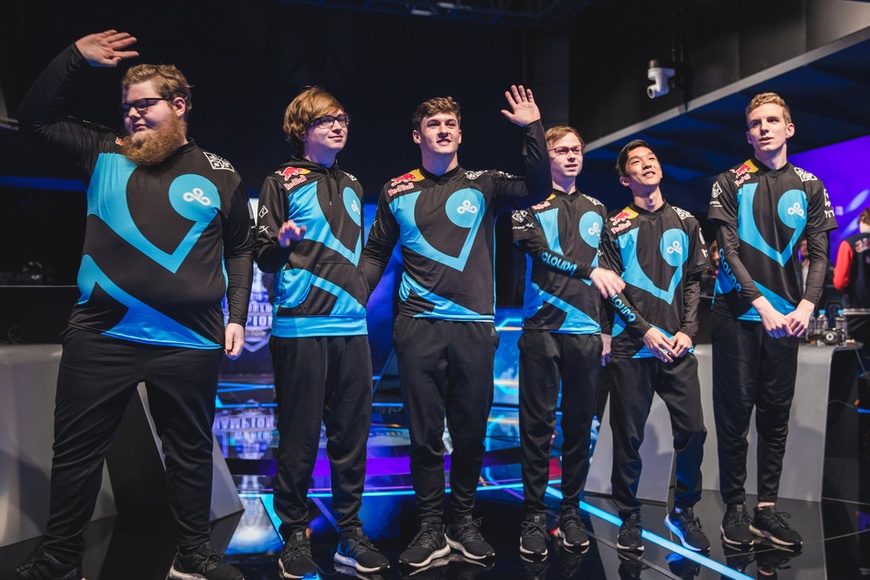 The 2018 League of Legends World Championship has delivered in terms of unexpectedly close matches, as Gambit Esports took Cloud9 to five games. However, when the time came for Silver Scrapes, Zachary "Sneaky" Scuderi and Tristan "Zeyzal" Stidam answered the call and took over Game 5, securing a 3:2 victory for the North American team.
The series started on a promising note for Cloud9 as they handily dispatched Gambit Esports in Game 1, despite Gambit's best attempts at controlling neutral objectives such as Rift Herald and Dragon. Cloud9 were still ahead in towers, and they exploited their early-game laning advantage (with Gambit's Orianna and Lucian/Alistar choices in mid and bot needing jungle interference to prevail). They would secure Game 1 for good after Gambit overextended at the 21:50 mark as they attempted to kill Nikolaj "Jensen" Jensen's Ryze, doing so at the expense of four members. Cloud9 spiraled a subsequent Baron Nashor takedown into a win, one minute after the buff expired, as they powered through Gambit's base.
The second game went in a wildly different direction as Gambit tracked Robert "Blaber" Huang's whereabouts and nullified his Kindred in the laning phase. On a more dire note, Cloud9 had committed a sin during the draft as they forgot about Mikhail "Kira" Garmash's prowess on Anivia and Olexandr "PvPStejos" Glazkov's terrific Urgot — with the two picks shining throughout the game starting a 14:20 skirmish in the mid lane. Kira's Anivia was too much to handle after it scaled, and Gambit had sufficient leads in the side lanes to net a victory.
The matter prompted Cloud9's head coach, Bok "Reapered" Han-gyu, to introduce Dennis "Svenskeren" Johnsen to Summoners' Rift for the first time in the play-in stage, and he delivered; Cloud9 played in a relatively clean manner, with top and bot lanes spiraling out of control. Eric "Licorice" Ritchie's Proxy Singed antics worked, as the pressure he provided on the map through farming minion waves behind enemy lines left Gambit reeling as they tried (but failed) to spark team fight engages.
The same cannot be said about Game 4 as Jensen set the tone of the game: Cloud9 would misplay a lot — a lot more than Gambit, which is to say too much to win a game. Despite the team picking up a lead in the bot lane (with Sneaky's Draven being particularly primed with an early Bloodthirster purchase), Gambit exploited the lead they earned in the mid lane (with Kira's LeBlanc somehow getting the upper hand on Jensen's Kassadin). Later team fights allow Gambit to set up side lane pressure in a 1:3:1 format with PvPStejos's Poppy and LeBlanc plowing through lanes, allowing their teammates to control Dragon spawns and Baron Nashor. A risky decision to take down the latter paid dividends, and Gambit forced Game 5 against all odds.
However, Gambit's luck had run out, as Cloud9 returned with a vengeance on Game 5. Sneaky's Kai'Sa and Zeyzal's Alistar were devastating against the Lucian-Gragas combo Lodik and Edward selected, and their teammates never recovered. Zeyzal, in particular, was the MVP of the series, if only for his showstopping Game 5 performance as he initiated key engages to secure the series and a main event qualification for North America's third seed.
Cloud9 have qualified to the Group Stage, but they have looked shaky in doing so. For the first time at the 2018 World Championship, they could feel the absence of ace mid laner Greyson "goldenglue" Gilmer as the latter's more calculative play would have given his teammates a reprieve, particularly in Games 2 and 5. However, they will not be able to use him as a substitute throughout the competition, unless Jensen is sidelined for reasons other than disciplinary or coaching decisions.
The team advances to face unknown opponents as the Group Draw takes place after Oct. 7's action. Tune in starting Oct 6. at 9 p.m. PT / Oct. 7 at 12 a.m. ET / 06:00 CET / 13:00 KST for G2 Esports vs. Infinity eSports CR, or after the final game of the day for the group stage draw, on the 2018 Worlds hub!