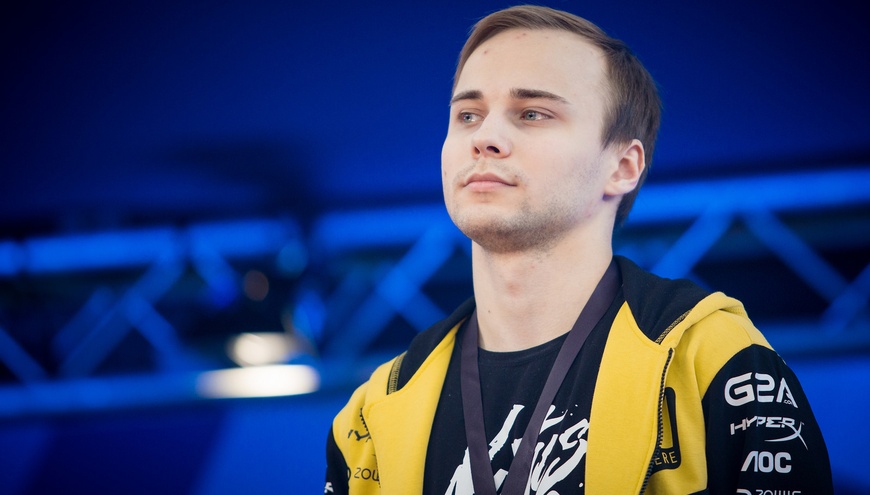 For a time, Dmitry "Ditya Ra" Minenkov was considered one of the most perspective carries in CIS. But after leaving Vega Squadron, he took a break from Dota for nine months, now playing with Double Dimension. Cyber.sports.ru talked to the former Natus Vincere player about Akbar "SoNNeikO" Butaev role in his signing to Na`Vi, how he was leading the team during The International 2016 and a bit on his career in the pro scene.
Why couldn't your first team — Power Rangers — break into tier 1?
It's very difficult for a tier 2 team to break into tier 1 without a single tier 1 level player. Tier 2 players usually break out to the top when they get invited to the tier 1 teams or through 2+3 mix teams: two experienced players, three less so, for example. There are very few exceptions to this rule.
How did you gather the No Logic Gaming mix?
Milan "MiLAN" Kozomara was my friend in Steam, he messaged me that they needed a player. I didn't really want to play at the time, I was tilted after leaving PR, but I put myself together and I happened to like playing with the team, we had good chemistry.
Did playing with NLG at The Frankfurt Major 2015 affect you getting invited to Na`Vi or was it due to SoNNeikO?
I don't think I would have been in the list of candidates if SoNNeikO wasn't there. There was a lot of players worth testing out in the scene. Without our acquaintance it was unlikely for me to end up in Na`Vi.
Grand finals at ESL One Frankfurt 2016 against OG: in the second game, they draft offlane Naix, in the third Amer "Miracle-" al-Barqawi plays a support Lion and Andreas "Cr1t-" Nilsen plays carry Riki and they still beat you 3:0. Did that tilt you?
Such lack of respect from them was quite unpleasant. Some were affected more than others. I personally didn't tilt much, it was second place after all. Plus, we went to the event in poor spirits, placing 8th at The Manila Major 2016 despite being ready for more. That evening, we were sitting in a cafe and suddenly get the news about our invitation to The International 2016.
How earned were Na`Vi's invites first to Manila and then to Seattle in 2016?
I don't remember all of the details about the Manila invite, but I think we were winning a lot of qualifiers at the time. About TI, having only six invites and us among them was unexpected. I was almost certain there would be eight. There was a very questionable situation between us and Fnatic. In the end we were the ones to go.
Right before TI6 you won SL i-League Season 2. LAN Finals where you showed the strength of Wisp/CK in offlane. As a result, in Seattle everyone except Wings Gaming first-banned those heroes against you. Was it a mistake to show this strategy before TI?
It was v1lat's doing. He imagined himself that it was our tried and tested strategy that we uncovered. In reality, when we were playing that StarLadder, we didn't have that strategy, we came up with it and honed it along the course of that event. As a whole, it is impossible to play in a tournament and save your strategies for later. It is best to win the event and get a morale boost.
Did you feel like you could aim higher after beating future world champions Wings in the group stage with Wisp/CK 2:0 in an hour [the only team that didn't ban them against Na`Vi]?
Of course we felt like we could accomplish more. There were a lot of games where just some minor things were going wrong, ultimately breaking everything apart. But when we felt to Loser's Bracket it was our death sentance. There was little chance for us to beat Team Liquid.
Was Ivan "ArtStyle" Antonov still the captain at the time or was SoNNeikO taking the initiative by then?
SoNNeikO was drafting at that time, before I was the one to draft. I wouldn't say that ArtStyle was the kind of "captain" that other people thought he was.
Who was he then?
When we just got together, he was both drafting and leading. But then SoNNeikO started drafting and calling most of the moves. ArtStyle was simply a part of the time, he suggested his ideas but no more than other players.
Who was the best captain you have ever played with?
You can achieve a lot of success with SoNNeikO, but he is very difficult to play with. Team chemistry becomes complicated. He has his own plan in his head, his own idea and everything must go the way he says it should. Sometimes it is simply impossible to execute or people simply don't want to do it that way and he gets very upset about it. I wouldn't say he wants to be a captain himself. He was perfectly fine being just a player in Na`Vi, but someone had to be the lead. He had to be one.
Did you leave Na`Vi by yourself or was it someone else's decision?
After failing the Major qualifiers, it was clear that the roster can't be saved. It was a disband, only Danil "Dendi" Ishutin and Victor "GeneRaL" Nigrini were left. I wasn't going to stay either way, even if the organization wanted me to. They clearly did not.
Why you didn't want to stay and why did Na`Vi not want to keep you?
After TI, we tried to rebuild our game and keep playing together, but it was all for naught. If I could turn back time, I would've taken a break until the New Year.
After Na`Vi, you joined Vega Squadron. What went wrong there apart from the obvious poor performance?
It is difficult to name a specific reason, there were a lot of them. The players were communicating fine, but the game just didn't click. We were playing well for some time, winning some things, but then our play turned really poor.
When you had a break after Vega, did you think about retiring?
I did, but I decided to play some more. It's kind of boring to finish my career right now. I will continue playing as long as I enjoy Dota. There was a period when I really didn't like playing. I was starting a pub game and knew that everything will go wrong. It is a major issue that people simply don't want to play different roles. It is mostly Valve's issue, that they can't come up with a solution to this. One one had, you could make a role-based matchmaking, but it might turn the search time so long that Dota will finally die.
Do you think there are any other additions that could improve matchmaking?
They are constantly being implemented, like six-month bans. But at the same time, Chappie, whom people and pros on Reddit and Twitter ask to be banned, continues to play, constantly going afk with his Shadow Amulet. Maybe his status of a pro player saves him.