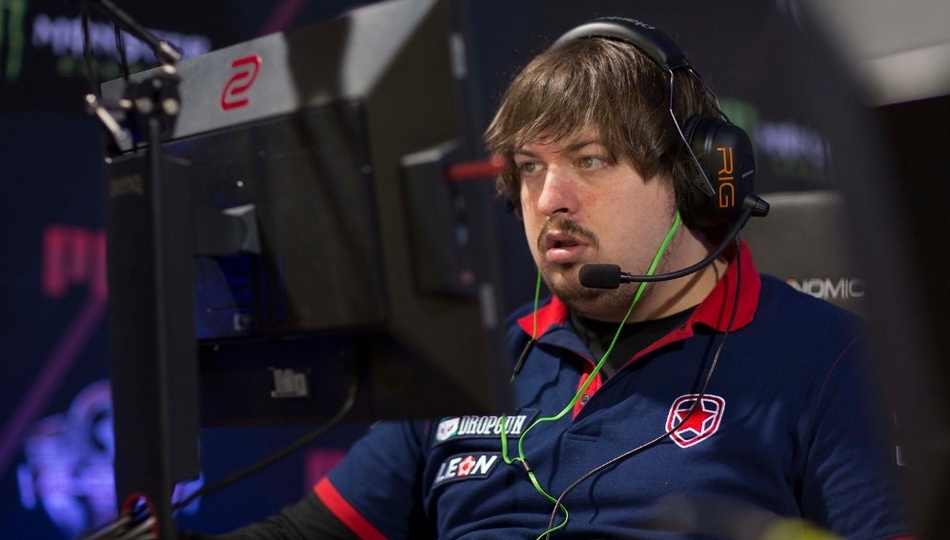 Dosia at FACEIT Major: "B1ad3 is rearranging our in-game approach entirely, on all maps."
On media day, we spoke to Gambit Esports IGL Mikhael "Dosia" Stolyarov on bringing in B1ad3 as coach and the team's state heading into the Major.
* * *
What's the current state of the team? What preliminary work have you guys gone through prior to arriving to London?
We bootcamped for about a week prior to the tournament in Sweden [DreamHack Masters: Stockholm 2018], then continued to bootcamp during the course of the event. All in all we're in good form.
Recently the team secured the services of ex-FlipSid3 Tactics coach, B1ad3. How has he assisted the team in the time he has been with you?
I think the addition bears more long-term potential, because B1ad3 is rearranging our in-game approach entirely, on all maps — from defaults to specific rounds that are currently employed by us. Everything is absolutely new.
You mentioned that B1ad3 is looking to revolutionise the way Gambit approach CS. From the perspective of a captain, what sort of work did you do with B1ad3 one on one?
We didn't go over anything one on one, we only go over things as a team.


We don't have a person who stands out as an in-game leader
What does this process include?
Andrey gives us a massive amount of information that we're to somehow memorise. We try to employ this information during matches.
For a very long period of time Gambit had issues with landing on an in-game leader — initially you took on the role, then it was AdreN, etc. In your mind, why do you feel this has been an ongoing issue in the team?
Amongst us, we don't have a person who stands out as an in-game leader and, I think, people thought that they could fulfill the role a little bit better. However, at the end of the day, it turned out that we probably didn't have enough patience, persistence etc. Somehow it all looped back to me.
As you mentioned the role ended back in your hands — has your approach to in-game leading changed in any way since your first attempt?
I think the only thing that really changed was that I became calmer when it came to everything that went on, because shouting at teammates, or anything of the sort, wouldn't lead to anything good. I've become calmer, that's about it.
Let's talk about Gambit's newest addition, mir. How has his arrival changed the way Gambit function?
If I'm honest, nothing changed. He just arrived as a great player who is able to fulfill the role the team needs him to. Nothing outside of this, really.
Are there any characteristics that mir brings that Gambit lacked in the past?
I don't know, but I hope that he will show what he has at this Major. He is a very quiet and calm person, but I would like to see some more aggression, perhaps, towards the opponents.
Let's talk about the New Challengers taking off on Wednesday. You're facing TyLoo in your first match-up. The Chinese are a team that have comparatively limited exposure to international-level teams. Have you guys prepared anything specific against them? How are you going into the series?
We haven't prepared yet, but we will definitely prepare against them this evening. We will also prepare tomorrow. We've played against them a fair amount, and the last time we faced each other, they took the win. We will approach them as worthy opponents.
Lastly , when you face off against teams from Asia, such as TyLoo, do you feel a difference in their style of play compared to your usual opponents? Or do they try to emulate the play style of European and North American teams?
They do [try to emulate the EU/NA style], but they still heavily rely on rounds and structure. In Europe, on the contrary, teams try to bounce off of their capabilities and skills, using them against the opponent. With them [Asian teams] it either works out or it doesn't, and as a result, it's difficult for them to play against Europeans.
More FACEIT Major coverage
New Challengers interviews
— 
 Lekr0: "We can't underestimate VP even though they had a bad streak."
— 
 Magisk: "I don't think that any team should be guaranteed a spot at the Major for being top 8."
 Features
— Three lessons we learned from DH Stockholm 
— Why FACEIT Major's system is so damn good
— Which CS:GO players could repeat a Major title — and what are their chances?
— The top 10 players for MVP contention at the FACEIT Major
— The five CS:GO Major series you should watch before the FACEIT Major