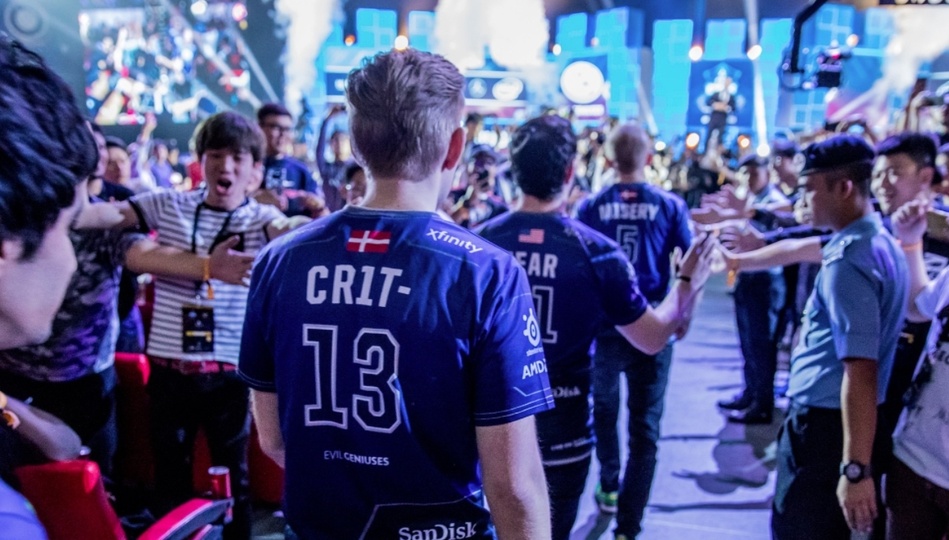 EG, NaVi, Fnatic and Echo: Analyzing the four biggest shuffles of the roster lock season
The final shuffle before The International 8 has ended. Below, we look at some of the key changes and how they could affect some of the biggest teams in the scene ahead of the race for the Aegis.


Evil Geniuses: With flexibility comes uncertainty
Evil Geniuses started off the shuffle season with a bang, releasing Saahil "UNiVeRsE" Arora and coach Avery "SVG" Silverman. Currently seventh in the DPC rankings, they looked to replacements — Rasmus "MISERY" Filipsen and new coach Kanishka "Sam" "BuLba" Sosale — to refresh the team dynamic. MiSeRy has taken over the captain role from Clinton "Fear" Loomis, while Syed Sumail "SumaiL" Hassan has attempted a transition to the offlane.
In their three LANs since the roster change, Fear and Arteezy often swapped mid and carry, with Fear also occasionally taking the offlane instead of SumaiL. EG;s experimental drafts have not amounted to much improvement over the previous roster, however: Fear's role-hopping has made him a jack of all trades, but master of none. He and SumaiL have both struggled in the offlane, showing poor performances on Underlord and Omniknight. When SumaiL plays Puck mid or when Fear shows up with Lycan, the players have much better individual games, but the team suffers without an experienced offlaner nevertheless.
An example of EG struggling to find themselves in these post-shuffle days is a comparison between their 0-2 loss to Team Liquid at ESL One Genting and their 0-2 loss to Liquid again at the DreamLeague Season 8 Major. In Genting, EG ran a set-up with Arteezy mid/Fear carry/SumaiL offlane with KDA ratings at 1.08/0.31/0.71. At DreamLeague, EG still played the more familiar combination of SumaiL mid/Arteezy carry/UNiVeRsE offlane with KDA ratings of 1.45/1.08/0.92. Even if both series were stomps in Liquid's favor,  EG with UNiVeRsE were able to perform slightly better, and role experience and stronger team identity most likely contributes to that.
Bulba coached a previous iteration of EG to their TI5 victory, but creative drafts and strategies cannot replace the reliability in the offlane that UNiVeRsE previously provided. The role flexibility can be an asset for MiSeRy and Bulba's drafting, but it can also prevent EG from mastering a particular style of play. Ultimately, Fear or SumaiL will need to commit to the offlane to give EG the stability they need to succeed against the better teams.
Fnatic: A pizza party to remember
While Evil Geniuses handled their roster changes with tact and professionalism, Fnaticdid not have such a smooth going. Immediately following their win against TNC to qualify for ESL One Katowice, Chong Xin "Ohaiyo" Khoo learned that he was being kicked from the team for UNiVeRsE, who had already arrived in Malaysia at that point.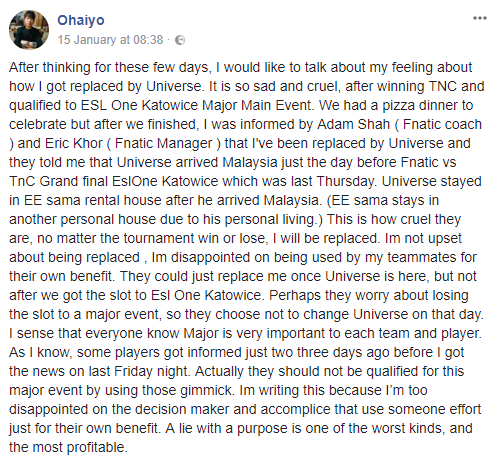 Amusingly, Ohaiyo currently has more qualifying points than his former teammates due to standing in for Team Secret at ESL One Genting. He has since joined LGD.FY.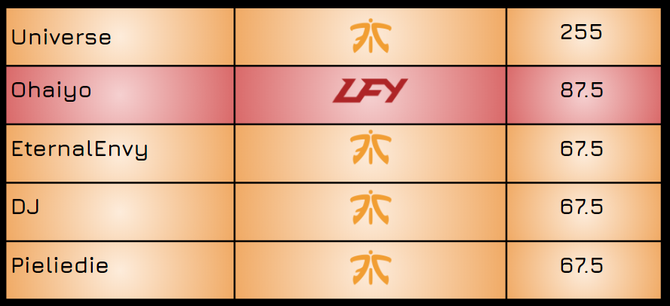 Fans of Fnatic will hope that UNiVeRsE brings a stable presence to the more unpredictable SEA roster, and it helps that the two players aren't that different in what they prefer to play. Since 7.00, UNiVeRsE and Ohaiyo have had a comparable level of hero diversity and both seem comfortable on popular offlaners like Underlord, Beastmaster, and Dark Seer. On top of it, however, UNiVeRsE has more experience on higher mobility offlaners like Puck and Nature's Prophet, which should open Fnatic up to global strategies.
As far as playstyles go, UNiVeRsE finds less farm than Ohaiyo, but he also dies less (3.18 vs. 5.37 from Ohaiyo) and finds more kills (4.21 vs. 3.90 from Ohaiyo). If UNiVeRsE maintains these tendencies, he can help secure key pick-offs without dying that will allow Fnatic to turn early game advantages into game securing objectives — something they have struggled with in the past.

Unfortunately, Fnatic have been unable to capitalize on these early game advantages as of yet. Despite winning their lanes in individual games against both Team Secret and Vici Gaming at ESL One Genting, Fnatic were unable to use their early momentum to close out those games. UNiVeRsE had mixed performances, having a high impact in some games as Tiny, but failing to find the same success on his Axe and Omniknight.
The roster still struggles with consistency and mid game execution, but they show promise when Abed Aze "Abed" Yusop and UNiVeRsE are put on higher impact heroes that can make space for Jacky "EternaLEnVy" Mao. It's only been one Minor thus far, however, and Fnatic will have a chance to find that consistency in the DreamHack qualifiers and at ESL One Katowice.
Echo International is born from Team World
SVG didn't wait long after leaving EG to create a new team, and so Team World was born in Europe. Less than a month later, TW announced they would be playing under the name Echo International and moving to the SEA region, with Wong "ChuaN" Hock Chuan replacing SVG in the captain's role.
Echo International. #WinterShuffle pic.twitter.com/6iCdtBph4z

— Wykrhm Reddy (@wykrhm) January 30, 2018
These international giants have impressive resumes, creating a dream team of a TI winner (Chuan), TI runner-up (Saksa), owner of several Major titles (ana), SEA expert (Forev), and a fresh face looking to prove himself (Keyser).
Although we don't have many matches from Echo International to guess at their expected performance, a look at their most played heroes over the past year can hint at their playstyle. Keyser will be transitioning to the carry role, with most of his history in the midlane. He plays tempo controlling, highly mobile heroes so we might expect to see more team fight oriented carries than the traditional heavy farmers. Keyser has experience on popular heroes like Lycan and PL, but he will need to adjust to playing Juggernaut or Troll Warlord in competitive matches.   
Forev's hero pool is non-traditional, preferring squishier initiators with high impact ultimates: his experience on Enigma and Puck will incentivise Echo to draft high impact teamfight heroes and look to close out games earlier rather than rely on late game carries. On the other hand, Forev has only played Underlord five times in the past year with only two matches with Tiny, so unless he expands his hero pool to include current meta picks, he may pose drafting limitations. 
ChuaN and Saksa both have histories of heavily position-reliant supports that don't rely on hard disables for team fight control. They play lower cooldown heroes that will enable their team to fight around the longer cooldowns of their cores. Unfortunately, neither of them are Earth Spirit mains. Finally, Ana has experience on all of the traditional mids and has demonstrated that he can be both reliable and flexible so he at least shouldn't be a bother in drafts. 
That said, Echo are poised to do well in the SEA region. They have the capability to play drafts that can fight aggressively from before the horn, dominate the early game, and use that to secure the win. But there's still a catch to that and if they exclusively develop this way, they will struggle internationally against strong laning and late game teams like Team Secret and Team Liquid. If Keyser can find a balance between farming and fighting while Forev picks up a few meta offlaners, Echo have the potential to become an international threat. 
Natus Vincere trade up in the DPC standings
In one trade, NaVi more than tripled their points in the Dota 2 Pro Circuit. By exchanging Vladimir "RodjER" Nikogosyan to Virtus.pro, NaVi gained Ilya "Lil" Ilyuk along with his 900 DPC points. Shortly after the trade, NaVi also announced that Akbar "SoNNeikO" Butaev was leaving the team — his captain's position to be taken by Lil — with Nikola "LeBronDota" Popovic joining to complete the roster, who already competed with the team to help them qualify for the GESC: Indonesia Dota 2 Minor.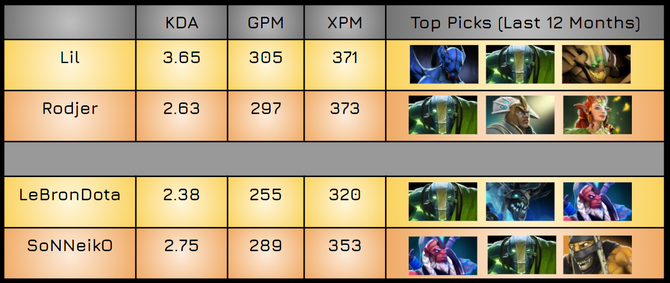 From numbers and hero preference, we shouldn't expect monumental changes in the NaVi playstyle. Lil and LeBron both play the aggressive, low cooldown supports that NaVi rely on. LeBron does pale in comparison to SoNNeiko from the numbers, but fans that know him from FPL and his time standing in for NaVi during the GESC qualifiers know he has the potential to be an aggressive playmaking support. And while roaming junglers like Chen and Enchantress aren't at the top of NaVi's new supports' hero list, both Lil and Lebron are more than capable of filling that role.
Unfortunately, continuing at their current performance level may not be enough for NaVi to make it to TI8. They have changed captains yet again to someone entirely new to the role. Lil has spent the majority of his career playing for VP, and he may struggle to adjust to NaVi's style. He and coach Alexander "XBOCT" Dashkevich will need to get creative and push their team if they want to maintain their ranking in the DPC. Right now, the best thing that NaVi have gained from this shuffle are Lil's points and the potential for more productive teamwork. NaVi will have their next shot at qualifying points at the ESL One Katowice Major.
Right now, it looks like Fnatic and Echo gained something from this shuffle. Fnatic have a much more stable offlane — something that is currently crucial for maintaining tempo in the transition to the mid game. While Echo remain a question mark, their players have the experience to abuse popular picks like Lycan and Puck.
With a green captain like Lil and a relatively newer player in LeBron, it is hard to say that NaVi won the shuffle, but their massive boost in DPC points is something of an advantage when they look towards making it to TI. As for EG, they may have gained fresh ideas and flexibility, but until SumaiL and Fear develop their role identities, EG will struggle to succeed internationally. If they can establish that identity, they'll be poised to dominate heading into TI8.