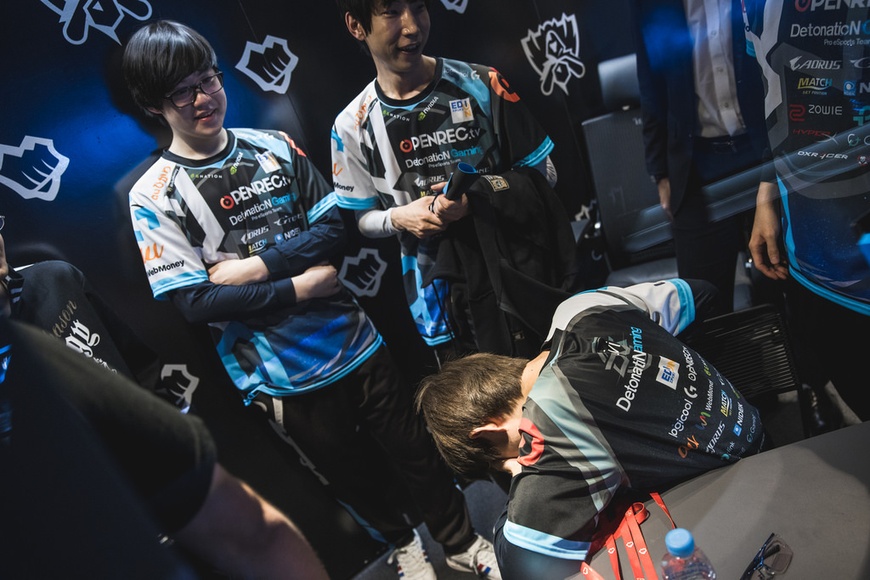 DetonatioN FocusMe has done what no other Japanese has done before: proceed past the play-in group stage in the 2018 League of Legends World Championship. The feat was rightfully perceived as momentous outside of the Japanese audience.
However, for active contributors to the Japanese League of Legends scene, that moment was beyond anything they had imagined.
DFMのタイブレーク観戦の様子です。ただただ、うれしい。 #Worlds2018 pic.twitter.com/9D3I1sQIzd

— katsudion (@katsudion) October 3, 2018
Caster Katsudion was overcome with tears as the team went further than any other Japanese team ever did. The closest a Japanese team had come to a second stage of an international showing was in 2016, where DetFM nearly qualified to the knockout stage of the 2016 International Wild Card Invitational that preceded the 2016 Mid-Season Invitational.
And he was not the only one, as standout top laner Shunsuke "Evi" Murase was overcome with emotion, expressing gratefulness for experiencing the day and taking active part in it.
やったやったやったやったやったやったやったやったやったやったやったやったやったやったやったやったやったやったやったやったやったーーーーーーーーー!!!!!!!!!!!!!!!!やったーーーーーーーーーーーー!!!!!!!!!!!!!!!勝ったああああああああああああああああ

— えびンモ/DFM Evi (@ebihuryahurya) October 3, 2018
今まで生きてきて本当に一番嬉しい。負けて泣いたのはあるけれど勝って泣いたのは初めてかも知れないそれくらい嬉しい日本が今まで越えれなかった壁を越えれた!!!応援してくれたみんな、見てくれたみんな、本当にありがとう

— えびンモ/DFM Evi (@ebihuryahurya) October 3, 2018
The Japanese press also celebrated DetFM's monumental feat after the team showcased convincing showings against Cloud9 and KaBuM! e-Sports in Group C, on the way to snatching a second-place finish following a tiebreaker with the Brazilian squad.
Detonation FocusMe earned their way to the knockout rounds and are among the most dangerous second seeds in the competition judging by their level of play. However, their opponent is unknown at this point. Tune in on Oct. 4 to find out who their opponents will be, live on the Worlds hub!