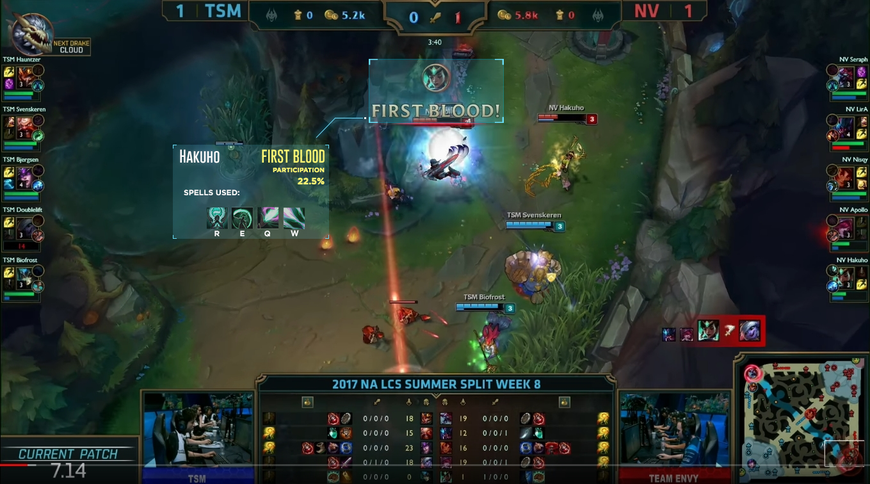 Esports One, an analytics platform designed to complement esports broadcasting for fans, has raised $3m in a seed round, it was announced yesterday.
The first platform has been created for use in League of Legends, utilising machine learning, computer vision technology, and a custom-built analytics database to create a unique broadcast overlay. Designed to "help esports enthusiasts understand in real time what is happening", the on-screen modules will show relevant statistics, both as a reflection of the teams' head-to-head history, and as an up-to-date look at how the match is going.
The investment was lead by XSeed Capital and Eniac Ventures, with Crest Capital also participating. With the extra budget afforded to the company, Esports One is looking to scale operations as they expand their horizons and bring on more employees.
"The close of our $3 million seed round is just the beginning," said CEO Matthew Gunnin. "We're continuing to make key hires, expanding operations and offices along with the upcoming launch of our esports podcast."
"We couldn't be more excited to have the backing of our investors. Their support will be pivotal as we get ready to expand games and execute on our biggest launches yet."
Users will have a choice of what information they would prefer to have displayed on the screen: with options such as player positional tracking, farming efficiency, prediction models and more. The possibilities to personalise the interface will be key in attracting users, according to Vic Singh, a general partner at Eniac Ventures.
 "This audience is groomed to expect the most advanced, competitive, and customizable technology," said Singh. "We are excited to support an industry veteran and a technology platform with computer vision and machine learning capabilities that bring esports spectators a deeper, more engaging experience through real-time data and analysis, a key missing ingredient in the viewing experience today."
It will be fascinating to follow the growth of Esports One as they aim to embellish the League of Legends viewing experience, and we can only assume that if it proves successful, we will see a similar model engaged with other esports in the future.