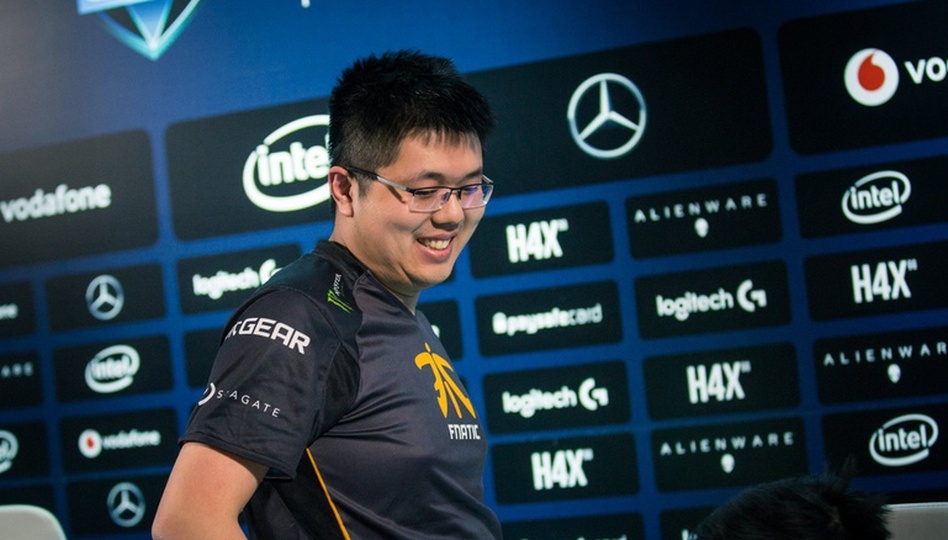 EternaLEnVy at Katowice Major: "We definitely outdrafted Team Liquid pretty hard."
Despite sharing a stacked bracket at ESL Katowice with the likes of Team Secret, Evil Geniuses and Newbee, Fnatic finished fourth at the most recent Major and took home some much needed DPC points. Cybersport.ru caught up with Fnatic's carry Jacky "EternaLEnVy" Mao to talk draft strategies and that epic Dark Rift play.
* * *
So, Jacky, overall you got 4th place in this tournament. What do you think about that?
I'm not happy with the result to be honest. But it really matters how we improved from this tournament, rather than just the result, you know?
What do you think you got from this event? It was obviously a bad experience, but an experience nonetheless.
I think we learned what works for our team and we applied it and were able to beat Secret. And against Team Liquid and Virtus.pro, I learned more about our team and could reflect on our mistakes. 
Considering that now legendary Secret game and that Dark Rift — what was going on in the team speak during this moment?
I went over the replay, actually, and looked it through everyone's perspective. I actually know what happened. What happened was I went it, I was dying. Usually, I try to be as efficient as possible in Dota, so the very moment I get stunned, I have free time to look around, I am always clicking everywhere. In this moment, I instantly looked at the minimap, looked at the creeps, and was like, "Throne is dying, I have to TP bottom." I pressed the button, and it was the helmet, the TP was in the courier, and I was like, "Oh, fuck." After a second, UNiVeRsE said he could TP us.
So it was your call to do this TP?
Yeah. It ended up being really epic the way it happened but I felt like we could've just glyphed. We were actually kind of lucky — we TP'd on a 1-hp creep. Their Invoker could've Sun Strike'd on our creeps but the skill was on cooldown. 
Considering today's game against Liquid, you picked three heroes which VP drafted against you earlier. Did you like this pick?
The way VP drafted against us was also the way they drafted against EG. EG picked Wisp and then they second-picked Gyrocopter. We also stole the idea of having second pick, but Wisp was too much so we still had to ban it in later games. We definitely outdrafted Team Liquid pretty hard. 
You were the only team in the tournament that picked Ember Spirit. His stats are not that good in the current meta but it worked for you. 
He's my favorite hero. It's one of Abed's favorite heroes as well. I'm always talking to him about Ember.
Some colleagues of ours said that it might be useful to use Battle Fury in the last game against Liquid. What do you think about it?
I don't think it should've mattered. I think we should've ended the game before it got to that point.
How's your adaptation to the SEA region going for you and Universe?
For the most part, around the same rate. I keep the same habits I usually have. I actually play a lot more pubs than I used to, because my apartment is five minutes away from the team house. 
How much do NA and SEA pubs differ?
I hate SEA [pubs]. I like EU pubs, it's what I miss the most, it's what I played when I was in NA. I only played NA pubs when local pros are on-line. In SEA, there are barely any pubs, and I'm constantly getting harassed. And there's 200 ping [to play on EU pubs from SEA]. 
More Katowice Major interviews

—  LeBron: "I feel disappointed with our results, but we have more time to improve"
—  Kyle: "We got drunk and bashed our heads against the keyboards"
— zai: "NA used to be very strong because of cocky players"
—  9pasha: "We didn't learn how to properly use RodjER yet"
—  Solo: "We've known that RodjER is a very good player for a long time, even before TI."