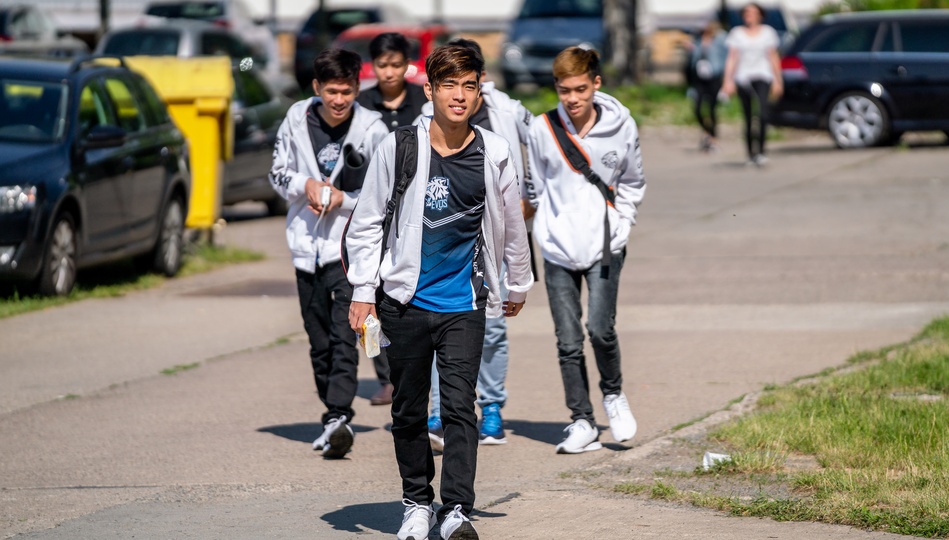 Crossroads: Meet EVOS, the torchbearers of Saigon Jokers' legacy
Vietnam used to be an afterthought when it came to the highest level of international LoL competition. Although the country consistently fielded a competitive squad in the Garena Premier League and occasionally in the World Championship, their representatives – Saigon Jokers and others – failed to break through to the next level. That changed in 2017 when GIGABYTE Marines came close to qualifying to the second round in that year's World Championship.
That nearly changed this year, too, with EVOS Esports coming close to upsetting the likes of Kingzone DragonX and showcasing a level of play nearly on par with North America's Team Liquid and Europe's Fnatic – all of that on their first international showing. The team is even set to represent Vietnam in the 2018 Asian Games in Indonesia and is looking to dominate the local scene.
However, EVOS's road to MSI was not smooth sailing; it reflected the trials, tribulations and hopes of its main protagonists – five players who manifested a specific part of the team's young-yet-rich history, intertwined with the Saigon Jokers of old – that had started more than a year ago.
* * *
Once upon a time, there was no EVOS, just a 14-year-old jungler, Nguyễn "YiJin" Lê Hải Đăng, evolving within Saigon Jokers' academy ranks. Even back then, he knew that he wanted to become a professional. When disaster struck in November 2016 with Saigon Jokers' disbandment, he dusted himself off, rolled up his sleeves, and carried on.
"After the Saigon Jokers disbanded, I got my fellow young SJ team members, and we went into the amateur scene for players who are not yet of age to play professionally," YiJin said. "We kept our heads up by playing there and winning a lot; we were actually the Southeast Asia champions in the amateur scene. That's the reason I could continue on my path to becoming a pro."


"I never lost hope, even during the toughest of times because I remember where I started." — YiJin
It's hard to lose sight of a dream while winning and when the scene is up in arms when thinking of the potential he showcased a year before he became a professional. The Vietnamese press even drew comparisons between him and Le "SofM" Quang Duy, Snake eSports' jungler since 2016 and one of Vietnam's most prominent players abroad.
Much like EVOS Esports in 2017, YiJin aspired to take the scene by storm, even if it meant playing in the VCS.b, Vietnam's Challenger series, for starters. The team and the player were a natural fit for one another: on one hand, YiJin was to become the best jungler in Vietnam; on the other, EVOS wanted to set the tone with an infrastructure of their own.
"I never lost hope, even during the toughest of times because I remember where I started," YiJin said. "I believe that my future is really bright and long ahead of me."
YiJin was barely getting started career-wise but his top lane teammate, Phan "Stark" Công Minh, was looking to get back into having one. Stark experienced the highest level of success Vietnam had to offer at the time as a member of Gigabyte Marines but decided to take a break in favour of academics. Truth be told, his feelings at the time facilitated the decision; he felt happy enough about his career and he did not feel a strong connection with GAM.
One month later, Stark had second thoughts about the decision – not about leaving GAM, but about leaving professional League of Legends overall. He realized that, as a student, he was not financially independent. He thought of his brother, who left school at 17 to open his own business and has since thrived.
"Actually, when I became a pro player, I could earn money myself," Stark said. "When I came back to school, I felt that I was using my parents' money, and that didn't feel good to me. I really didn't want to spend my parents' money when I was 18. So, when Slay asked me if I wanted to come back, I felt that I could be an independent person: being a pro player and having my own money. That's the reason I came back."
Stark realized that luck has been on his side. In March 2017, he landed in the Gigabyte Marines without having amateur or professional experience by virtue of his Challenger solo queue ranking, a matter he is grateful about to this day. Then, when Nguyễn "Slay" Ngọc Hùng spoke to him, EVOS Esports had just entered the scene and were looking for top Vietnamese talent to fill the roster. Fast forward to May 2018, and the two players prevailed over their old organization on the way to wreaking havoc in MSI.


Stark was also part of EVOS' darkest time to date and so was his support.
However, Stark was also part of EVOS' darkest time to date and so was his support. Lê "RonOP" Thiên Hàn, a veteran of the Vietnamese scene, was part of the Saigon Jokers' legacy that YiJin and Stark held in high regard, with the team dominating the Vietnamese circuit and reaching the International Wildcard tournament while he was on the team.
Since then, he saw the scene grow leaps and bounds beyond what it was. Vietnam became an independent region and had a guaranteed slot in international tournament play-ins, a far cry from the numerous qualifying rounds they underwent as part of the GPL circuit in Southeast Asia.
For that to happen, he had to rank at the top of Vietnam. He thought he could reach that spot in Cherry Gaming, but that team finished dead last in the 2017 spring split, and things were not looking up. Disappointment set in, and he eventually bounced to the second division as a member of EVOS Gaming, looking to reestablish himself at the top in 2018. Despite the structure's support, the team's first venture was a resounding failure.
"In the beginning of EVOS, we didn't have Warzone and Slay – only me, YiJin, Stark and two other guys," RonOP recalled. "We actually lost in the VCS.b, the second-tier league of Vietnam, and I was devastated. I was the Vietnamese champion for many splits, and now I fail to qualify and I'm stuck in the VCS.b."
However, the team made three key acquisitions: a player that sought to reconnect with a friend of his in EVOS, another one that had recently left an improved Cherry Gaming, and – most importantly – a spot in the VCS.a promotion tournament upon buying out the spot of a sure-to-be-relegated squad. "After we acquired them, we succeeded in qualifying for the VCS, and the rest is history," RonOP said with a smile, after beating Team Liquid and pushing KingZone DragonX to the limit in the Mid-Season Invitational.
Of the two acquisitions RonOP credited for the team's meteoric surge, Slay was the one seeking to reunite on the Rift with long-time friend Stark, who he had convinced to return to the competitive scene. They both thought EVOS was where it could happen, well after EVOS had experienced the setback at the VCS.b playoffs – but before their VCS.a qualification bid.
More importantly, he wanted to be somewhere he felt that he belonged. During his stay in Gigabyte Marines, the coaching staff did not recognize his contributions to the team. The matter escalated into a disagreement that led to his and Stark's departure from GAM, leading to a brief free agency period for Slay – unlike Stark's decision to remove himself from competitive League of Legends for a time. When Stark nudged him, it was a little too late to reunite at the time, but the two vowed to play together whenever possible.


Slay wanted to be somewhere he felt that he belonged. During his stay in GAM, the coaching staff did not recognize his contributions to the team.
"Actually, I went to Cherry Esports first, and Stark decided to come back," he said. "We talked to each other, and we thought that EVOS was a good place to be. EVOS's organization is really well run. They [offer] a lot of financial support and good facilities for the team. They have good recruitment, both the support staff and the players, so I thought that was the best place for me."
Slay's statements came before EVOS's setback the VCS.b playoffs, but that did not change his mind. When Cherry's season ended, he joined EVOS's VCS.a qualification bid and reconnected with old friends from the Saigon Jokers era, YiJin and RonOP included.
Slay's old friend and teammate on Saigon Jokers and Cherry Gaming, Đoàn "Warzone" Văn Ngọc Sơn, would join him as well, but he nearly didn't. The man that YiJin considers an elder brother was on the verge of retiring, after realizing that maybe, just maybe, his dreams were for nought.
Warzone was not always known as such. Early on in his career, he was known as Curot – a serviceable mid laner, but not much else. That was enough for Saigon Jokers and their sister team, Saigon Fantastic Five at the time. He helped both assert dominance in the Vietnamese circuit with eight first-place finishes between 2014 and 2016, but he was frequently traded to one or the other. But by the end of 2015, something needed to change.


"I was just someone who was usually forgotten and sidelined in every team I was on. Until now, it's an image that is haunting me and almost makes me cry whenever I think about it." — Warzone
"Every time I think back to the time when I was Curot, it was a bad time for me," Warzone recalled. "I was just someone who was usually forgotten and sidelined in every team I was on. Until now, it's an image that is haunting me and almost makes me cry whenever I think about it, so I just want to forget about it. In Vietnam, we have a saying: If you change your name, you will change your fate. I did just that, and I believe that it is true."
Gone was the moniker he thought of as 'childish,' and in came a more memorable one – one that he made memorable in Vietnam and, recently, in the Mid-Season Invitational. He not only called Lee "GBM" Chang-seok a Diamond 5 player but beat him fair and square in the MSI play-in. Gone, also, was his mental weakness as he took on fitness to help with that.
Even then, he experienced setbacks on an international scale with Saigon Jokers' inability to qualify to the World Championship or to Intel Extreme Masters main events. When those setbacks caught up to him on a domestic scale – first as a member of Friends Forever QTV Gaming, then with Cherry Gaming – he nearly called it quits.
"Actually, at the beginning of this season, I was thinking about retirement," Warzone said with a solemn tone after the team nearly sent Fnatic out of the Mid-Season Invitational in the group stage. "I tried to do other stuff outside of League. I was an insurance salesman for a brief period of time, and I didn't like it. I still wanted to be in the pro scene, and EVOS offered me [a place.]
"The procedure to join EVOS was really tough for me; it took two or three months, and during that time I was in a very bad state financially and I didn't have any money. I told myself that EVOS will be my last chance to prove myself on the international stage, and I will put all my focus in this opportunity."
His teammates at EVOS Esports could not be more thankful for his presence. Not only did the team qualify to the VCS.a, they prevailed in the finals against Gigabyte Marines in a narrow 3-2 showdown. In the process, Stark and Slay were able to return on the international stage; RonOP and Warzone experienced an international main event for the first time in the MSI group stage; and YiJin was able to showcase his prowess on the international stage.

The team's owner, Ivan Yeo, has already stated his plans to further build on the team's success, but EVOS have succeeded where the Saigon Jokers faltered: breaking the barrier. In fact, had EVOS been more calculative against Kingzone DragonX and Fnatic, they would have been the ones to play a tiebreaker against Team Liquid for the last MSI playoffs spot. Warzone went even further, asserting that the team was on par with Fnatic and Team Liquid throughout the competition.
Make no mistake: EVOS are indeed building on the ashes of the Saigon Jokers — be it in spirit or in practice.


"There's an interesting story I want to share," Stark said, animated. "Saigon Jokers were the reason I tried really hard to be Challenger and be a pro player, but when I reached Challenger, [they] disbanded. I still think that Saigon Jokers were a good model for a professional organization with the coaching staff and support staff, the connections and relationship between teammates. There wasn't much flaming around after a loss, and it was a very good environment."
The proof is in the pudding; RonOP, Slay, YiJin and Warzone all emerged from the organization's ranks at different stages in its lifetime, and they have synergized well on Summoners' Rift. They endured the negative backlash from Saigon Jokers' poor international showings (with Slay remembering those days as if they were yesterday), as the Vietnamese fans wished for more than International Wildcard and qualifier appearances.
Those fans' wish has been granted in MSI, may be granted in the Asian Games – where the whole team has a chance to represent the nation against Faker, UZI and others – and beyond, as EVOS could become of the most lethal units from a play-in region come World Championship time, should they keep improving.