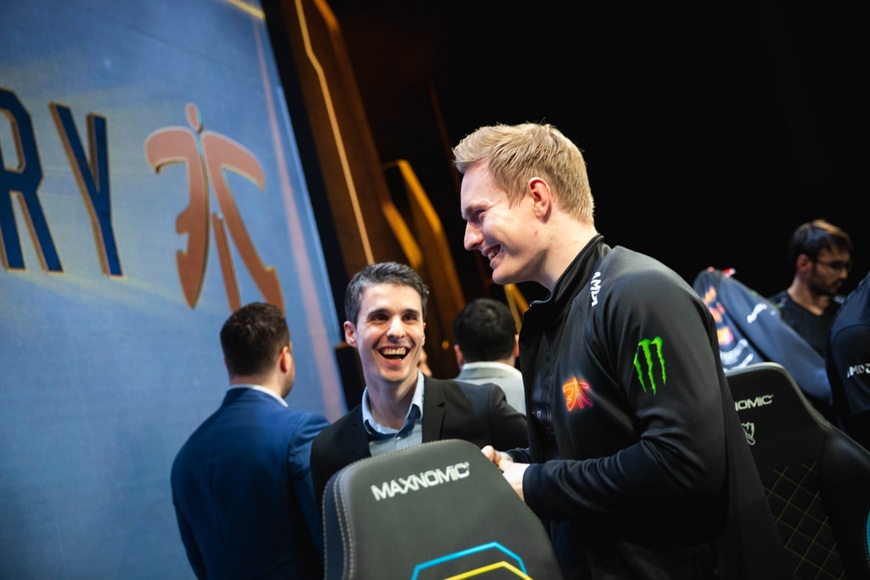 Fnatic have asserted themselves as the top team in the 2018 League of Legends World Championship's Group D as they beat Invictus Gaming twice: once during the regular round robin, and once in the tiebreaker game for first place. During the tiebreaker, Mads "Broxah" Brock-Pedersen's Lee Sin mechanics baffled fans, opponents and teammates alike.
The jungler spoke to Inven Global about the outplay (and Lee Sin's viability), what changed in Fnatic between their initial defeat against iG in their first faceoff and their two victories, facing Ning, and more. Below are excerpts from the interview:
Feelings on securing first place in Group D, not meeting iG's fate in the bracket draw
I am really really happy and excited to not only go to quarterfinals but also to go as first seed. If we actually placed as second seed, we would have been placed on the other side of the bracket. If we didn't beat iG today, we would have played kt in the quarterfinals. And if we somehow won that, we would have played RNG in semis. It would have been really scary. We dodged the two most scary teams in the tournament. I am really satisfied.
Lee Sin as a viable jungler in competitive LoL
For me, it feels really crazy. It almost feels like back when I started in the EU LCS. Recently, I have been playing boring champions like tanks. They can't really make plays in the same sense. Now that I am back on champions like Lee Sin on the World stage which is even more hype, making these plays feels really really crazy. It is the best feeling. It is so sick.

For example, when I outplayed Ning's Gragas that game, I really felt like a god after (laughs). It is a really nice feeling. Generally, when you make plays on Lee Sin at the Worlds stage, it gives you the best feeling you can ever feel. Sometimes my teammates react to my plays like 'URGGHH, WHAT DID YOU JUST DO?!?!!?!' It just makes it even better (laughs).
Fnatic are set to play against EDward Gaming on Oct. 21 at 06:00 CET / 13:00 KST / Oct. 20 at 9 p.m. PT in the 2018 LoL Worlds quarterfinals, and you can watch them live on the event hub!