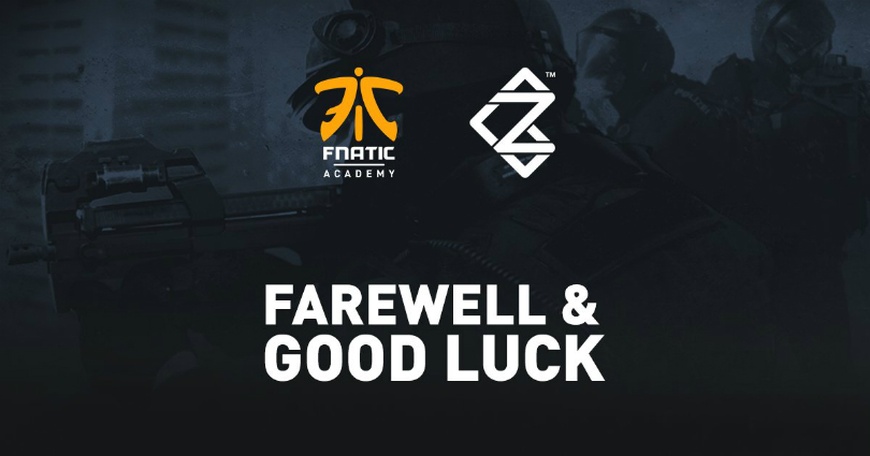 In August 2016, Fnatic established an academy roster, aimed at nurturing young up-and-coming CS:GO talent. Since its beginning, the roster has seen various iterations, including one with academy member turned starting roster in-game leader, Maikil "Golden" Selim, who now represents North American organisation, Cloud9.
August 2017 saw the effective roster's contract ran out, seeing to the promotion of both current CS:GO Team Director, Andreas Samuelsson and Golden to the starting roster, meanwhile Alex "Karus" Sağlamoğlu and Linus "Bååten" Bååt Andersson departed to Team5, while Niclas "PlesseN" Plessen joined Swedish team, Jalapeno.
In a bid to replace the departed roster, Fnatic signed victors of the second season of Swedish esport reality show, GAMERZ.  As described in their press release, four of the players withstood the boot camp test, seeing to a permanent signing under the supervision of coach Stefan "StSander" Andersson. Ex-BIG rep, Niels "luckeRRR" Jasiek, was added as a fifth, consolidating the roster.
Last night the organisation bid farewell to its academy roster, citing Valve's multi-ownership restrictions as the main reason behind the decision to part ways with the team. Implemented in time for the FACEIT Major — London 2018 Minor Championship open qualifiers, rule 6.7 reads:
6.7 - Conflict of Interest
Teams and players should not have any financial interest in the success of any team that they are competing against. To participate in the 2018 Fall Major, players and teams are required to affirm that they have no business entanglement (including, but not limited to, shared management, shared ownership of entities, licensing, and loans) with any other participating team or its players. If teams or players have an agreement or business arrangement that may be of concern, then please reach out to the tournament officials for further discussion.
The following six individuals are no longer affiliated with Fnatic Academy:
— Alexander "AlekS" Andersson
— Johan "Meddo" Lundborg
— Adam "ec1s"  Eccles
— Matej "MaTaFe" Fekonja
— Niels "luckeRRR" Jasiek
— Stefan "StSander" Andersson
Fnatic CS:GO Team Director, Andreas Samuelsson, expressed optimism regarding the departed players' future CS:GO careers:
It has been an honour to work with such talented up and coming players. Even though the journey in Fnatic was short, the guys made huge progress, both individually and as a team.

I know that all of them can go very far in the careers if they keep working hard with the right mindset. I wish them nothing but the best in the future!
Four of the five players have decided to continue collaborating as a team, while Meddo will be parting ways with his former teammates. Ex-Fnatic Academy will be finalised with the addition of trial player, Kamil "kamil" Kamiński, who was also a former GAMERZ participant.