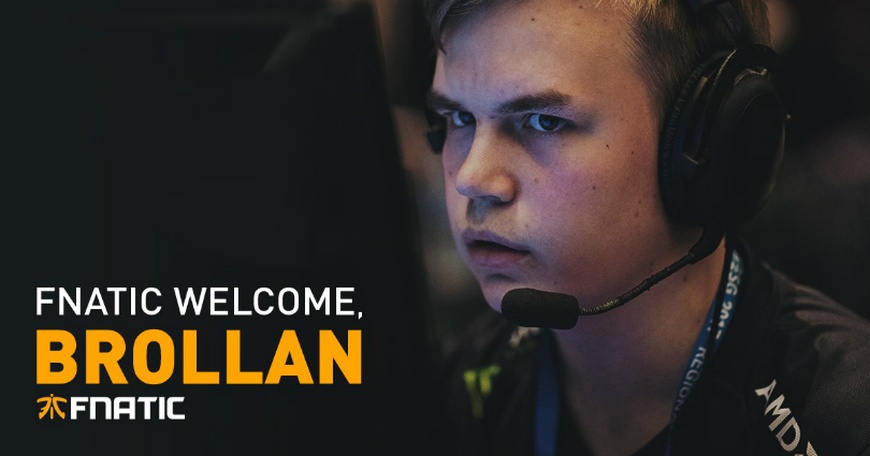 Recently, rumours circulated around Fnatic's acquisition of a fifth player to finalise their CS:GO roster. Since the departure of Robin "flusha" Rönnquist, the team had to temporarily employ the services of Belgian stand-in, Adil "ScreaM" Benrlitom. The headshot machine's tenure was cut short at just over two weeks, as a young Swedish talent has been signed to take on a full-time role in the team. The youngster in question is ex-Red Reserve's Ludvig "Brollan"Brolin, who was previously reported to be potentially joining the roster not too long ago.
Seasoned Fnatic veteran, Jesper "JW" Wecksell, sees part of himself in 16-year old Brollan:
I am very excited to welcome Brollan to Fnatic, not only because it means we finally have a full team again but also because I know that Ludvig is the final piece of the puzzle.

He is extremely talented, he has a hunger that spreads within the team and he is an extremely hard worker. I see the 16-year old version of myself in him.

The motivation within the team has never been higher, and now it's time to get back to business and show people exactly what we are made of.

A new era is coming - welcome, Ludvig!
Fnatic's Coach, Jimmy "Jumpy" Berndtsson, is happy to return to full-Swedish comms:
[Playing with ScreaM] felt really good considering we went from Swedish to English, the communication actually felt quite good.

But it's the small things, like positions or something you want to explain in a Swedish way; you don't have the same vocabulary in English that you have in Swedish. In a few situations, it's always going to be harder [in international squads].

We need to sit down with the team, now, to refocus and adjust a few things as we move forward.
With the addition of Brollan, Fnatic's CS:GO starting roster looks as follows:
— Richard "Xizt" Landström 

— Jesper "JW" Wecksell
— Freddy "KRiMZ" Johansson
— Simon "twist" Eliasson
— Ludvig "Brollan"Brolin
— Jimmy "Jumpy" Berndtsson 
Fnatic's refreshed CS:GO roster will make their LAN debut at the LAN finals of IEM Chicago, taking place at the Wintrust Arena in Chicago, Illinois, USA. Here they will face fifteen other teams in a bid to secure their share of $250,000, as well as a point towards the Intel Grand Slam.