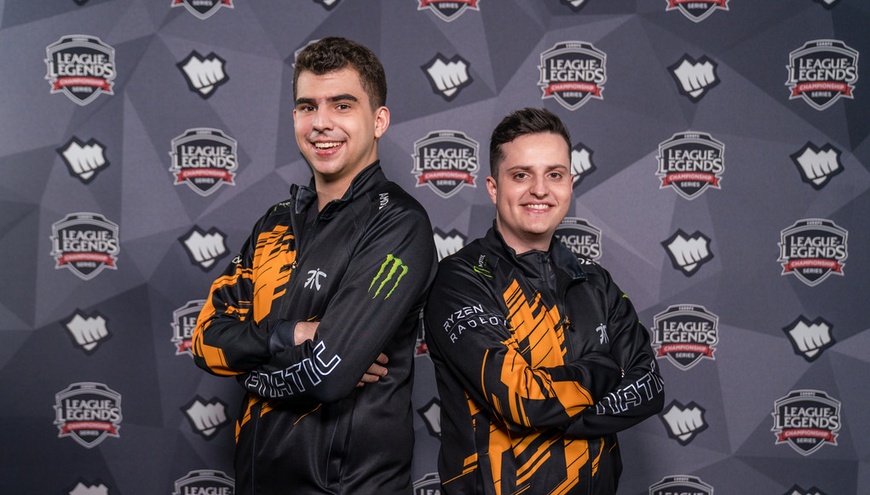 Fnatic are set to start Gabriël "Bwipo" Rau over Paul "sOAZ" Boyer in their game against G-Rex on Oct. 13 in the 2018 League of Legends World Championship. League of Legends team director Joey "YoungBuck" Steltenpool announced the news via Twitter.
Starting roster tomorrow:BwipoBroxahCapsRekklesHylissangSoaz has played phenomenally so far, with that said we have full faith in Bwipo to also perform on a high level tomorrow.

— Joey Steltenpool (@JoeyYoungbuck) October 12, 2018
The context allows the team to test Bwipo on the world stage, although sOAZ was a consistent bright spot in the team's performances in the group stage. Despite suffering crushing defeat against Invictus Gaming, sOAZ (on Sion) nearly brought his teammates back into the game from a highly compromised start, until a poor Baron Nashor call doomed them.
The roster will be as follows on Oct. 13:
— 
 Gabriël "Bwipo" Rau ▲
— 

Mads "Broxah" Brock-Pedersen
— 
 Rasmus "Caps" Winther
— 
 Martin "Rekkles" Larsson
— 

 Zdravets "Hylissang" Galabov
— 
 Paul "sOAZ" Boyer (sub) ▼
The news comes after 100 Thieves crushed G-Rex in Day 3 off strong play from Ssumday on Urgot. Bwipo's aggressive laning tendencies are set to create an advantage on one of G-Rex's weak points, or at least absorb pressure away from other lanes, setting the stage for high lane pressure across the board. Bwipo's entrance at this stage also allows Fnatic to test their six-man roster's capabilities on the world stage.
However, fans interpreted the change in a different tone on Twitter replies, considering previous roster juggles involving sOAZ and Bwipo. Bwipo notably replaced sOAZ after the latter injured his hand during the 2018 spring split playoffs, and remained as the starter during the 2018 Mid-Season Invitational during the Frenchman's rehab — a matter that caused controversy at the time, and that performance coach Urszula "Xirreth" Klimczak later tackled, as noted by Bwipo in an interview with Cybersport.com.
The matter prompted sOAZ to voice his backing for the decision to lay misinterpretations to rest, as the two have played off one another frequently during the 2018 LCS summer split, with sOAZ entering the fray in times of need during the playoffs.
I have full trust in bwipo to perform on the big stage tomorrow. I want you guys to support him as much as you support me and stop the soaz vs bwipo negativity. We don't need that #FNC

— Paul Boyer (@sOAZ) October 12, 2018
Fnatic's game against G-Rex will take place on Oct. 13 at 4 a.m. PT / 13:00 CET / 20:00 KST, and you can watch it live on the Worlds hub!