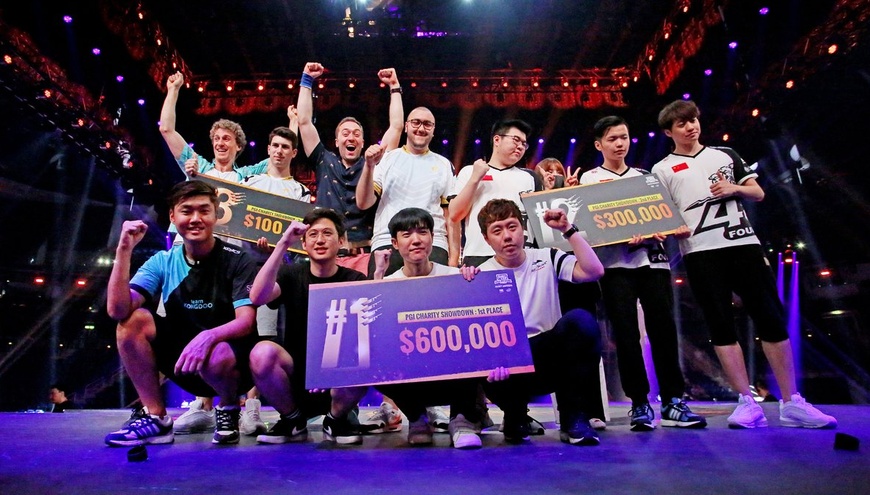 Gen.G Gold put on a dominant display in the third-person pespective (TPP) portion of the PUBG Global Invitational 2018, and they proved their mettle by taking first place at the Charity Showdown, too.
Two of Gen.G Gold's players - EscA and SimSn - played alongside EVERMORE and Juan and managed to accrue enough points over the eight rounds to put in a comfortable victory. This win bagged them $600,000 for charity, and furthered Gen.G Gold's reign at the top of PUBG - though this could be cut short if they're dethroned in the upcoming first-person perspective (FPP) portion of the tournament.
The top three teams - who all landed in the money - are as follows:
Gen.G Gold's EsCa & SimSn, EVERMORE, Juan - $600,000 (2060 Points)
Four Angry Men's GuCun & GODV, Kenny, mifengaaa - $300,000 (1680 Points)
Pittsburgh Knights' Voxsic & TEXQS, Ben, Rowa - $100,000 (1665 Points)
With personalities and top talent such as Mike "shroud" Grzesiek, Tyler "Ninja" Blevins, and Guy "Dr DisRespect" Beahm all vying for the top spot, it was an entertaining competition but most of the focus was on them. This was both in and out of the game, with the observers and casters giving them a generous amount of the spotlight, and fellow competitors gunning to take them down as quickly as possible.
Towards the middle of the eight rounds, it was clear that Asian teams were ahead of the competition, with the likes of Four Angry Men and Gen.G Gold establishing themselves at the top of the pack. This carried through to the end of the competition, though European squad Pittsburgh Knights finished only 15 points behind second place. The difference between third and fourth place was a massive 590 points, proving there was a significant difference in skill between the top three teams and the remaining 17 squads.
The FPP competition spans over Jul. 28-29, with the likes of Team Liquid, Welcome to South Georgo (WTSG), and Oh My God looking to topple Gen.G Gold.