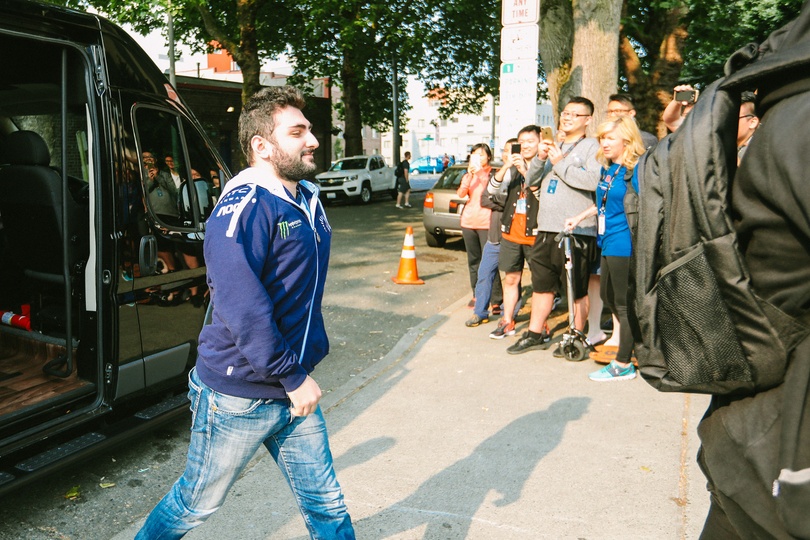 GH at TI7: "A bad day is no reason to lose confidence"

The International coverage hub

More interviews from TI7: 

Bulba: "I want to find [what went wrong for us in the group stage]"
Mason: "I didn't know if I wanted to play Dota for a living"
7ckngMad: "I've never believed in the metagame, the word to me is bullshit"
Fly: "I wouldn't call myself as ruling with an iron fist"
Capitalist: "PPD is the best possible analyst that Dota has"
While it is Kuro "KuroKy" Salehi Tahasomi that is the heart of Team Liquid Dota, a lot of what the horseheads accomplished in 2017 was thanks in large to Maroun "GH" Merhej. A versatile support with what seems an endless hero pool, GH has been a key factor in Liquid's double StarSeries championship and their wins at EPICENTER and DreamLeague. 

On press day, before Team Liquid were shocked down to the lower bracket by Invictus Gaming, we spoke with the Lebanese player on joining what's now considered to be the most favored team to win TI.
* * *
GH, you are fairly new to the scene, you were very unknown before you were picked up by Team Liquid. How did that happen?
I have been playing Dota for a long time now, 10 years or so. I played a lot of pubs, so I met most of the players in pub games. Recently, before I joined Liquid, the team manager contacted me and asked me if I'd be interested in joining. I was fan of the players so I just accepted and the rest is history.

So you actually were the fan of the players? Was it surreal in any way to be asked to play alongside them?
You have no idea. Kuro, especially, is a veteran. Being in the same team as one of the veterans is something new.

What's it like to play alongside Kuro, he is a very experienced player. As you said, he's been in all seven Internationals. Do you learn new things every time he speaks?
Always, always. You keep learning. He tries his best to learn himself, he's striving to win. He teaches us a lot, on a personal level and in the game. Playing under Kuro is something different. I admire him for his personality, as I do all my team-mates, they are incredible. 

When you play, what is the atmosphere like? You have a lot of versatility, you can go from playing Tusk and Winter Wyvern to something incredibly aggressive. 
Certainly, it's a new experience for me, as I haven't been in the professional scene for a long time. At first it was kind of difficult to follow, to understand the gameplan but as we play, we figure out things together and we learn to compromise and learn to be a team. 

In terms of versatility, Kuro just told me that I should just play heroes I feel comfortable with. That's how we found our heroes.

What do you think did you bring to Team Liquid?
It's hard for a person to talk about himself, but how I feel is they needed a position 4 player and they wanted to see how many boxes I can tick-off, I guess. Maybe I did, maybe I didn't, maybe they didn't have a choice.

Personally, I feel confident about the team, about my plays. Overall I just bring friendliness, and out-of-game behavior is just as important as in-the-game.  
This is just like any other tournament.
Do you ever feel scared to express your opinion? Does the atmosphere in Team Liquid allow for that, given how many experienced players there are on the team that might know better?
Here, I need to clarify some things. First of all, Kuro has been playing Dota a lot competitively, so he probably knows better from his experience. Whenever I have something to say, I usually think about it for minutes instead of just spewing words. I consider it several times and if I don't find anything wrong with it, I say it. 

The worst response that I had wasn't even that bad. He just gave me his point of view. It's a pretty friendly environment. 

Do you ever lose confidence as a player, considering you went basically from zero to hero?
I'm going to be honest: sometimes you do get bad days. Sometimes you just play bad. These days don't last however, they are like 10% of your games, so the other 90% is you playing well if you're a good player. 

A bad day is no reason to lose confidence. 

Shake it off, move on, stay positive.
Exactly.

You pretty much dominated the group stage. How do you feel coming into the playoffs? 
I am always excited to play, especially on the main stage. But the idea that I have is that it's just like any other tournament. We just try to play our game. Even if you dominate the group stage you might not end up dominating the event. 

We don't really think about it. 

So you don't get psyched out about the fact that it's TI and it's $23 million prize pool?
We just try to play good Dota, that's it.

Do you think there's a secret pick this tournament, like "I don't understand why this hero isn't picked more". I thought Treant would be picked more because of the slow ganks.
Personally, I can't think of any hero that is that surprising. I feel Visage could be a good hero. I play a lot of it, so I know it's strong, but I haven't seen it put into full efficiency.