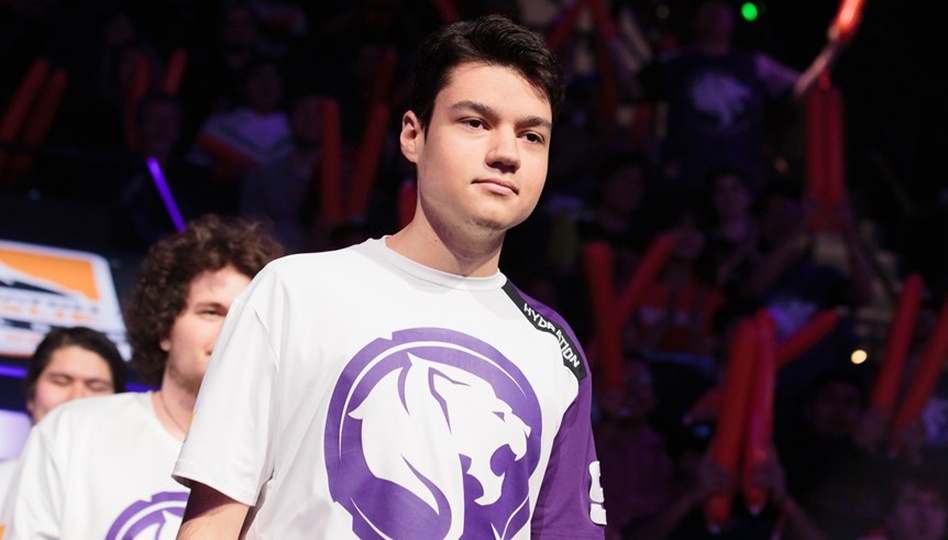 "We want to win for you": Humble in his newfound fame, Hydration remains a rare breed of player
He watched from the sidelines, as Indy "SPACE" Halpern, Jay "sinatraa" Won, and Matthew "super" DeLisi emerged to great fanfare and success. Space brushed Kim "Fleta" Byung-sun and the Seoul Dynasty aside in a one-sided series, while Sinatraa and Super upset the Los Angeles Gladiators. The desk gushed about the stars, showering them with praise and accolades. He knew how they must have felt better than anyone. After all, he had been them once.
Age is oftentimes hard to judge in the competitive scene. João Pedro "Hydration" Telles's debut with The 1 Percent was almost two years ago, yet very little has changed. His exceptional prowess on projectile heroes terrified his competition even as an 18-year-old, leading to a second place finish in GosuGamers Overwatch Weekly NA #20 and a strong third place finish in the Alienware Monthly Melee: May with Counter Logic Gaming. Despite Genji's brief disappearance from the meta during the triple tank meta, Hydration continued to push the hero, honing an explosive killer instinct. But on Jul. 27, 2017, everything we'd know would change.
Doomfist was released to mixed feelings. The movement of the hero was buggy and required precision and practice to generate enough momentum to take full advantage of his high mobility. He never truly found his place in the meta. His one shot approach left many cautious in a team-oriented competitive scene, which punished mistakes. Hydration embraced it. He grinded the hero, finding out the small nuances of his movement. He saw in it the same duel potential as many others saw in Genji. Hydration has been more than happy to hand out tips.
"I usually pick Doomfist whenever I see a situation in which he actually is a good pick, such as tight maps," he explains. Doomfist's additional kill potential comes from his ability to deal additional damage if his target hits a wall. This makes close-quarters combat a niche strength for closing out extended fights.
Quickly, news of his mastery hit the competitive player discord, as coaches in scrims whispered about the pocket pick. Nonetheless, Hydration was not content becoming a one-dimensional player, continuing to escalate his Genji and Pharah play under the radar. With North America's bias for mechanically skilled hitscan players, Hydration's standout performance among the region's dearth of projectile talent led to a few offers during the Overwatch League trials period.
"I just always focus on continuously improving," he emphasized in our interview. "It's always good to have a proper mindset when you actually do want to be one of the best."
His future home, the Los Angeles Gladiators, built their team around strong tank and support partnerships, leaving the three DPS players to work out the synergies on their own. The rotating pool of players looked to assess the strengths of the team on each map and allow more flexibility to play to their own win conditions. But before long, the high level of play began to open the young star's eyes. He could no longer get away with what worked before, facing down the onslaught of new Korean additions. When asked which team he struggled most against, Hydration was a little tight-lipped, initially only citing New York Excelsior before clarifying.
"My experience in the league shows me that Korean teams are all very strong and coordinated".
After a disappointing first stage, the Gladiators made another Korean addition of their own, acquiring London's Baek "Fissure" Chan-hyung before Stage 2. The results were immediate, as Los Angeles shot to the top of the Stage standings.
"Fissure is like a leader in our team, he brings a lot of confidence for all of us and is very good at making plans mid-game," expressed Hydration. The tank's efforts opened up space for Hydration to cut through his enemies, earning much praise from Inven and Reddit for his play on Genji. His newfound fame has done very little to change his down-to-earth personality. He stays out of the drama, which has enveloped many other young players exposed to the limelight. He remains confident, yet humble, attributing the growing fan base in his native Brazil as the drive to play even better every day. "We want to win for you guys," he reiterated. "We want to make sure you enjoy watching us play, and thanks for supporting us."
Hydration is a rare breed of player. Sandwiched between the beta era of play and the accelerated nature of the post-OWL landscape, he is a veteran of the scene with the growth factor of the new guard. He stalks his prey, watching patiently from the shadows preparing. He has and will be better than his competition, so be sure to keep your shields up. Hydration's not going anywhere.