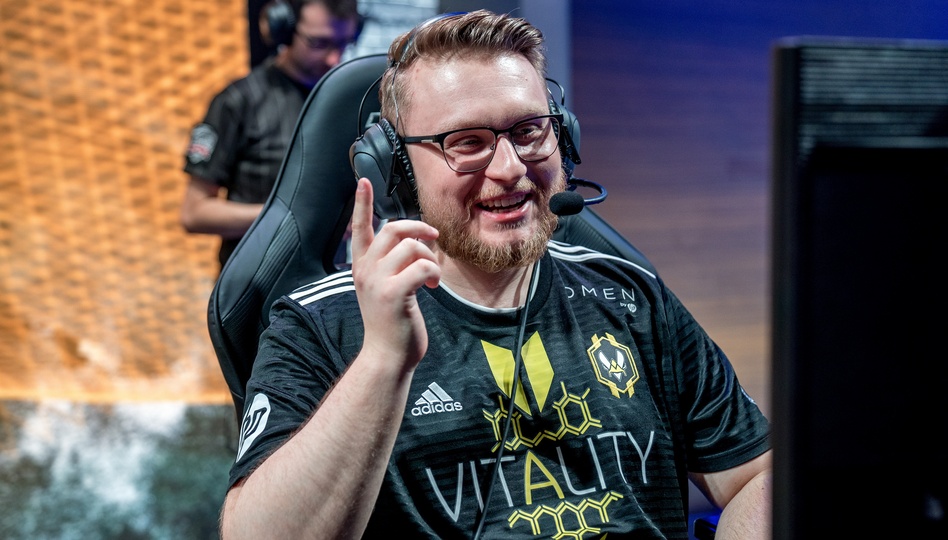 "We're very confident. Life made us this way": How Jactroll grew up to slay champions
On Oct. 10, Jakub "Jactroll" Skurzynski stood at the top of the world. His Team Vitality had just beaten the 2017 world champions Gen.G in Group B of the 2018 World Championship group stage. There was no time to consider the amplitude of what happened, given the circumstances that led to it — brawling for a victory despite the community at large dooming Vitality to irrelevance in the group.
For once, Vitality (and Jactroll) proved that they belonged in an international tournament. They've sought to achieve that ever since they came together. The players shared a common attribute: they all had a chip on their shoulder and a desire to prove themselves. Both of those applied to the Polish support too.
* * *
For Jactroll, the chip came early in his career. In Season 5 (2015), he was a casual solo queue player who happened to reach the higher echelons of the ladder in EU Nordic and East, and some would say he was fairly negative.
"I was letting things get to me easily, because I just wanted to win," he says, remembering those days. "I had the inner need of winning and if something went wrong, my mentality would boom as well."
Then again, he was not the only one; many players like him have the drive to win, aspire to higher tiers, be it in League Points, reaching Diamond I 99LP (the closest equivalent to Master the game offered at the time), and potentially breaking into the Challenger ladder. He made friends with a fellow solo queue player, and duo'd their way to top 10. LAN successes quickly followed the online ascension, peaking at a third place in the ESL Polish Championship in the spring of 2015.
The bittersweetness of the bronze triumph left Jactroll longing for more. He jumped from EU East to EU West, where the highest tier of professional players (such as current teammate Lucas "Cabochard" Simon-Meslet) and Polish players (such as Remigiusz "Overpow" Pusch and Sebastian "niQ" Robak) grinded solo queue. Improvement naturally followed. By the 2016 spring season, his team, Overused, had beaten the locally star-studded Illuminar Honor Gaming in the Polish Championship but a much more significant prize than money awaited Jactroll at the very next challenge.


"I had the inner need of winning and if something went wrong, my mentality would boom as well."
"A month later, I played in my first English-speaking team," he recalled. "There was one big tournament, in Centennial Hall in Wroclaw. The audience was big. It was the first time my family came to see esports live. There were 4-5 thousand people watching me, and we won. It was the breaking point when my family started supporting me."
Bolstered by his family's support and the victory he just scored, he carried his momentum to the higher echelons of Challenger solo queue in EU West, a sign that he belonged in the competitive scene in Europe. The timing was impeccable as at that very time, experienced Polish coach Adrian "Hatchy" Widera sought to build two Polish super teams and held tryouts with the aim on taking on the Challenger Series. One of the line-up projects became Team Kinguin, a squad that competed in the 2017 Challenger spring split — but Jactroll wasn't in it.
"He wanted to create two [rosters], but I didn't manage to end up on either, even though I think my performance in scrims was the best one," he recalled. "That motivated me as well to show that I am actually the best Polish support outside of the LCS." Little did he know that, in time, he would be in the running for that title — LCS included.
* * *
However, Jactroll was at a crossroads. Although his League of Legends career seemed promising, he was also a high school student in his senior year, with final exams looming. He contemplated the matter, see-sawing between his options, until his father interjected to help him solve his son's dilemma.
"My dad said some smart words to me: 'Son, you can't be good in two areas, but you can be great in one. At best, you can be average in both, so you need to decide what do you want: science and school, or gaming.' So I chose gaming," Jactroll said.


"Anything [my father] says to me has great value. He was a major factor why I went all-in."
Jactroll knew he already had his family's support, but his father's advice cemented his determination. The number of parents supporting their children's choice to pursue pro gaming over studies is rare, but Jactroll's father's advice stemmed from his lifelong experience as a self-made, hardworking individual.
"My father built something from the beginning [...]," Jactroll said. "He went to the UK with nothing. He didn't even know the language, but he worked pretty hard for several years and now he's heading five or six Polish shops in the UK and has a good standard of living. He worked for this from the beginning. He was buying "damaged" shops and renovated them on his own, without any help.
He worked really hard, and he doesn't want me to be like him: he doesn't want me to work hard physically. He's always wanted me to achieve greatness in something that didn't require hard physical work for many years to live well. Anything he says to me has great value. He was a major factor why I went all-in."
And so it was that Jactroll took an offer from AGO Gaming after stumbling out of contention for Team Kinguin, and moved to Warsaw on his own — away from family and friends, but also away from disruptions to his gaming ambition. He needed that, as AGO were unable to beat Team Kinguin and therefore struggled to assert themselves locally. More than that, the ladder grind became his escape as AGO did not fully honor their end of the contract, creating even more unrest.
"I was pretty depressed back then because my boss had not paid me," he said. "I hadn't got any salary for 4-5 months. I was eating fast food, I gained 25 kg in eight months. I didn't go out with any friends, I just wanted to be someone in League of Legends. And when we were that bad as a team, I knew that solo queue was my only chance to go somewhere."
His doubts regarding the team were grounded in reality as, despite qualifying to the 2017 Summer Qualifier for the Challenger Series, they were unable to qualify to the tournament. Then, as his contract expired, he announced his free agency on Twitter. He received a single offer for tryouts, but it was more than enough.
I'm happy to anounce that I will be the part of @GiantsGaming in upcoming challenger series summer split! https://t.co/BwLmd4nSr9

— Jakub Skurzyński (@Jactroll) June 7, 2017
"I was super happy that I couldn't sleep," he recalled. "I told myself that I was going to win the try-outs. And then I did — after 3-4 days of testing, they said they want me. I flew to Malaga from Warsaw, and for more than one year, I didn't see any of my friends or family. I didn't have time; I didn't want to have time. Even for Christmas I didn't want to go home because it would be several days of no practice. And after Giants Gaming, I think you know the history."
* * *
History does indeed speak for itself. Coached by current FC Schalke 04 Esports head coach André Guilhoto, the squad led by Berk "Gilius" Demir asserted itself in the Challenger Series, powered by Daniele "Jiizuke" di Mauro's insane mechanics and Amadeu "Attila" Carvalho's adaptative laning. Giants showed that they belonged far higher when they secured their ticket to the 2018 European LCS spring split, doing so off strong macro play — unheard of for a Challenger Series squad not made of LCS veterans.
Although Jiizuke, Attila, Gilius and Jactroll were let go, they found a home within Team Vitality, where they would meet underrated top laner Lucas "Cabochard" Simon-Meslet and, later, experienced jungler Mateusz "Kikis" Szkudlarek. Vitality weren't about to play like rookies in the LCS.


"Everyone of us went through something tough but that actually made us charismatic and strong."
They all had something to prove. Attila was right to say that he would become the first Portuguese player in the LCS. Jiizuke went against the grain in Italy and carved himself a path to the big league, enjoying little support outside of his teammates and community members. Although later benched, Gilius asserted himself as a potent facilitator and will certainly garner attention in free agency. And Kikis, who always had what it took to play in the LCS, proved the fact all over again, this time with a like-minded and hard-working squad.
How about Cabochard? Well, all he was missing was a qualification to the 2018 World Championship — let alone contributing in a significant way to a victory against Gen.G. Cabochard cut off all distractions during the season, because he wished to prove he was ready — and his team was full of players out to prove themselves to Europe, and the world.
"That's why we have such a strong bond within the team," Jactroll stated. "Everyone of us went through something tough but that actually made us charismatic and strong."
* * *
Vitality stayed true to their Oct. 10 form when they faced Cloud9 and the best team in the world at this time, Royal Never Give Up. Despite having the lesser draft against Cloud9, they squeezed every last ounce of gameplay in an attempt to win. Against RNG, they made a statement when they scored a kill on Jian "Uzi" Zi-Hao, and the Chinese team did not take kindly to that.
But if you had to ask them, they wouldn't care who they face. They've stood atop champions before and prevailed or, at worst, learned and grew. A few defeats aren't going to shut down their morale or confidence that easily. Jiizuke will still go for broke, and so will Kikis — one odd jungle pathing at a time — Cabochard, Jactroll and Attila.
In short, they will not go quietly into the night. They will go for broke, whether they bulldoze you or not.
"We're very confident. Life made us this way."