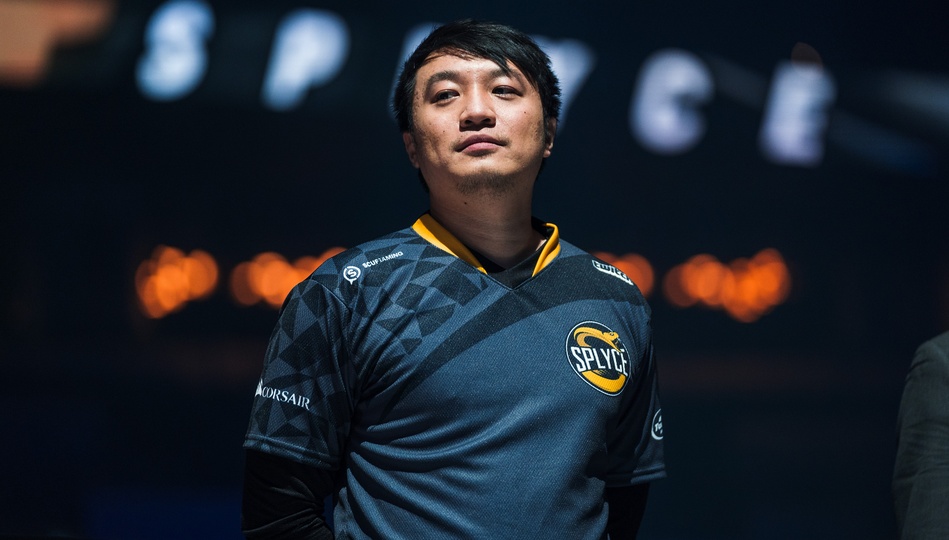 KaSing on taking on shotcalling: "I realized I had to step up, I couldn't just be known for my mechanics."
Raymond "KaSing" Tsang discusses joining Splyce and how he had to change to be the shotcaller he is now — and the one he wants to be in the future.
* * * 
You've changed teams quite a bit since the last time we talked. Initially, you were in H2k-Gaming, then Team Vitality, then Red Bulls, and now Splyce. The circumstances that made you join Splyce were completely different than with the previous teams. Can you tell me a bit more about that context?
Back when I was in Vitality, we were doing really well in the regular season, as you saw. Unfortunately, we lost in the playoffs, because we just didn't play the meta correctly; I think that was the meta where Azir was really OP back then. We knew he was strong, but we thought we could play stuff against it, against the meta. Vitality back then were a team that played a lot of pocket picks. We had a different idea of how to play the game. It worked in the regular season because it was a best-of-1, but you can't just do that in every playoffs game. 
That was the fault of Vitality and it didn't feel like we were meshing towards the end. That kind of sums up the team for me back then. I felt like I was missing something as a player, I felt I wasn't as good as I was in my prime when I was in H2K and went to Worlds. In Vitality, I didn't improve as much.


I felt like I was missing something as a player, I felt I wasn't as good as I was in my prime when I was in H2K and went to Worlds.
I went to Red Bulls to try and get better, be a good shotcaller and leader in-game. There were four rookies: Moojin and Thal, the two Korean imports; and Sedrion and Magifelix. Back then, we had a good run; I wouldn't say it's wasted because we lost to Schalke in the end in the qualifiers, but what I did learn was how to be more decisive the way I'm talking. Back in H2K, I was a secondary shot-caller, giving my input, but I wasn't decisive as I am now. Red Bulls taught me a lot in terms of how to be a good teammate and empower your teammates. Even though there were four rookies, MooJin went to Flash Wolves and is world class now, and Thal went to SK Telecom T1, which is amazing for him — from solo queue in Korea, to Red Bulls and SKT. 
With Splyce, this last season has been hectic. I joined the team towards the end [of 2017]; I had a lot of offers on the table and Splyce's was the one that won me in the end. And thank god for that because if they didn't wait for me, I think I'd have no good team in the end. I'm glad they believed in me and trusted the fact that I'd be free and able to play for them. 
Obviously, in the Spring Split we had a rough start, kind of like now in the Summer Split. I think it's just that we came from different backgrounds, everyone did their own thing. For example, I am very vocal and so is Odoamne from when he used to play for H2K. But going into this team, I felt every player had a lot of potential, as I knew they were all very selfless. No one was sticking to just one style. 
Splyce have been the redemption team for me. I like to think I chose them to prove myself as to why they should've chosen me over any other support. We struggled at the start of the split [...] which sucks because to be shotcaller, you have to be confident, you have to make sure everyone understands and doesn't question your calls. Right now, I feel maybe can do way more. I want to be this world-class shotcaller in the future, but it's going to take time and effort. The last few games, I felt I got carried more than me doing my share of work. I got the likes of Janna and Zilen before, meta picks I really enjoyed, but now the meta has changed, you have to adapt, and I have to do my job too. 


Splyce have been the redemption team for me.
I'd like to continue with Mac and Duke. I've talked to them in the past quite a bit and it was very clear to me that 1) they had experience; and 2) each of them had a very specific role in Splyce, even though they can bounce well off each other. As a player, what's the impact of this whole dynamic?
For me, it works really well not just with the rookies but the veterans as well, as it syncs us. Having more than opinion is really useful, as you don't tunnel on a single thing. The "good cop, bad cop" thing is really useful as well, because one voice reminds you that you can't fucking do this in LCS and the other one tells you that you can, but only in certain circumstances. 
Peter [Dun, head coach] does a good job in understanding what the team needs to do and he's very lenient when we make mistakes. But Duke, for example, every single time I talk to him during post-analysis, he's very hard, and I like that. I prefer someone who is very blunt and direct. I am not someone who likes to beat around the bush. I know they're doing it because everyone wants to win, not because they want to flame you and tell you that you're bad. In the end, I'll never take criticism in a way as to be offended emotionally. I'm so blessed to have them in Splyce.
And obviously Mac too. [laughs] But he's more of the good cop, though. He helps me a lot for the laning phase. Having him and Duke as secondary coaches is really useful.
Going back to the shotcalling part, you're reuniting with Odoamne, an old teammate of yours, but this time, you're the one being more proactive.
When I was in H2K, when I first joined them, I wasn't a shotcaller, Hjarnan was for me. I was someone who was good mechanically and I could sometimes say when I was going to hook someone. But as I gradually got used to my place, I realized the support is the one that needs to shotcall because, in the end, the ADC can't do it — he'll play really bad, trying to follow everything on the map, while last-hitting... It's too much. I realized I had to step up, I couldn't just be known for my mechanics. 


I want to be a shotcaller who can think everything out for everyone else, so they don't have to think about this.
I had a turning point where I tried to watch VODs every day, try to listen in on other teams, how they do their comms. [...]
There are two different styles of shotcalling. You can be either assertive in everything you say, or be more prone to democracy, where you create a discussion and gain input from the players involved in the specific subject. For me, I want to be a shotcaller who can think everything out for everyone else, so they don't have to think about this. That's my goal. 
On the democratic part, there's always the possibility of someone agreeing, but not be super involved in the moment, so it's always a risk. And on the non-democratic rendition, it's more about maybe someone actually disagreeing. How do you deal with disagreements about decisions and calls from the other players?
Usually, that comes at VOD review. You follow the call first. If it goes badly, then, of course, you can discuss it after the game because you want everyone to be on the same page. With my own shotcalling at the moment, I am thinking what's the best call for everyone, because I can understand which lane takes priority or needs help. It's quite easy when it's democratic, because if it wasn't, you wouldn't even know if they're winning their lanes, you have to ask them. Democratic shotcalling is good in the sense that it gives you way more info than needed compared to having no info. 
Anything else to add then, though you did say a lot already? [laughs] 
Maybe you're wondering why Splyce specifically because I had a lot of different offers on the table back then. And the reason is, I felt Splyce had the most potential, in my opinion. Of course, it's hard to say, because if I say anything else, that might potentially lead to different roster changes and that's not good. But what I can say is Splyce waited for me and I really liked the roster. I had a good relationship with Kobbe and even if we never played on a team, we played duos together and I was good friends with him outside the game. 
The only one I didn't know was Xerxe, [who came from] UoL. I thought he only wanted to fight, didn't really understand how to play the game. With Odo I played at H2K and enjoyed our time a lot; we went to Worlds after all. And with Nisqy, we were good friends before he joined EnVy. I knew that he was a nice guy, I felt he was the type of guy I'd like to play on a team with because I like when the environment is really positive. That kind of explains why I chose Splyce.
* * *
Even though Splyce had a terrible 0-4 star to the Split, the "vipers" look to be rallying back, pulling off two in a row versus H2K and ROCCAT. But if they want to balance their record again, Splyce will have to go through both Fnatic and Schalke this weekend, or finish the week with another negative score.
More EU LCS Summer interviews

— 
 Hylissang: "Even Rekkles suggested that we should try with Bwipo bot."
— 
 Jankos: On WoW, dieting, and his secret love of waffles
— 
 Hjarnan: "We want to beat the shit out of NA teams [at Rift Rivals]."
— 
 Kold: "[This year], I'm the best version of myself that I've been in years."
— 
 Sheepy: "I like authenticity and building upon people's beliefs and goals."
— 
 Totoro: "It's too hard on the bottom lane because we have no clue what [the opponents] will pick."
— 
 Attila: "We never look to copy the Koreans. [...] Sheep are not going to make the meta."
— 
 Jiizuke: "You need to want more in life. Otherwise, why are we living, right?"
— 
 Hussain: "I'm not opposed to bot lane having more variety if it's done in a healthy fashion."
— 
 Amazing: "Carrying is such an overrated term; it's about caring. Caring is how you carry."
— 
 Memento, Norskeren, Profit & Blanc: ROCCAT's bootcamp adventures
— 
 SirNukesALot: "I don't drink alcohol, I don't go to parties. All my free time goes to solo queue."