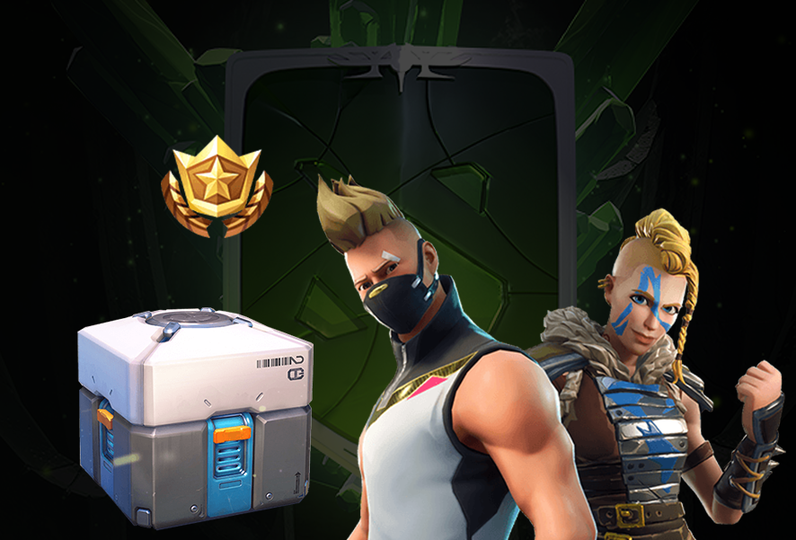 Loot boxes are history: games are now making money on battle passes
Over the past year, battle passes have become an ever-more common distribution vehicle for cosmetic items in competitive games. Players are getting an additional progress system, while the developers get a reliable source of income. In this article, we'll look at the reasons the gaming industry needed battle passes and the way they work in a number of specific titles.
Battle passes are the new loot boxes
Publishers have turned to battle passes after their go-to method of monetization, loot boxes, became less efficient. Loot boxes took the biggest hit in the fall of 2017, and it was the publishers' own fault.
The largest scandal surrounded the loot boxes in Electronic Arts' Star Wars Battlefront II.

It began when WB Games added War Chests to its single-player title Middle-earth: Shadow of War. You needed the loot to unlock the game's "real" ending. The items could be obtained in the game, but it took hours of grinding — and that was after you were done with the main storyline. Then Destiny 2 came out, in which you could get cosmetic items by either earning a lot of XP (in a rigged system) or buying loot boxes. The publishers of both games charged $60 for a copy and offered season passes — whereas in the original Destiny, free DLC was presented as a justification for microtransactions.
However, the largest scandal surrounded the loot boxes in Electronic Arts' Star Wars Battlefront II. They contained powerful infantry and vehicle enhancements. The crates could be purchased for in-game currency, but a single crate took over ten games to get, and the arcade mode had a daily credit limit. Credits could also be used to unlock "heroes", key Star Wars characters that you could switch to during a match. Players had to choose between a chance to occasionally play as Darth Vader (who took 40 hours to unlock) and being able to play comfortably the rest of the time.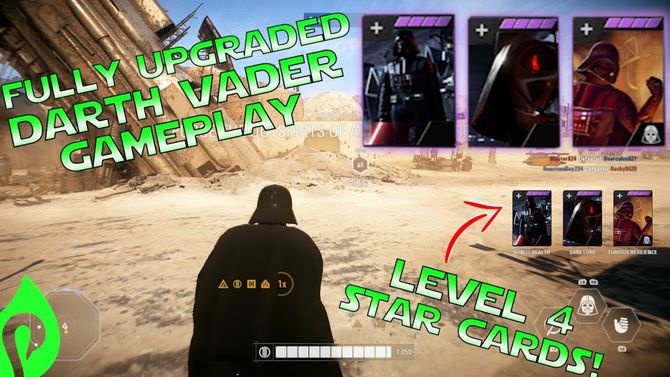 Electronic Arts attempted to rationalize the grinding in a post on Reddit, saying they were seeking to "provide players with a sense of pride" for unlocking the characters. Their community manager's comment quickly broke the website's new downvote record and is currently rated -668k. As a result, EA moved away from putting abilities inside loot boxes, and decided to altogether discontinue them in all their titles except FIFA.
Even before the release of Battlefront II, loot boxes became a matter of state concern.

However, even before the release of Battlefront II, loot boxes became a matter of state concern. In May 2017, China made it mandatory for companies to disclose the probability of a rare item dropping from a paid crate. Most publishers complied with the new law, but some tried to find ways around it. Thus Blizzard stopped selling Overwatch loot boxes in China; players now buy the game's premium currency and get the boxes as a "gift".
Other countries pondered whether loot boxes should be considered a form of gambling. The Netherlands decided they should, provided that an item from a crate could be sold for real-world money. On Jun. 20, 2018, Valve blocked Dutch players from trading items on Steam and using its marketplace. In Belgium, it was ruled that FIFA, CS:GO, and Overwatch were in violation of the country's gambling law, but there have been no sanctions against their publishers so far. The Swedish government is considering equating loot boxes with gambling, while France has suggested using a coordinated strategy across the EU. The Netherlands are already promoting their approach among their fellow EU members.

It appears that early in 2018, both players and governments took a loathing to loot boxes for the same reason: they provide no guarantee of valuable reward, while incentivizing increased spending. In this situation, battle passes came in very handy; players would now spend specified amounts of money and have at least a rough idea of what the reward was going to be.
It began with Dota
A battle pass is a paid subscription that gives additional rewards for playing the game. Usually, players get quests for cosmetic items which often cannot be obtained in any other way. Subscription duration is capped at three months.
The first battle pass was arguably the The International 2015 Compendium; it was then that Valve first introduced the questing element.

The first battle pass was arguably the The International 2015 Compendium; it was then that Valve first introduced the questing element. It was a fairly chaotic experiment, a mix of everything: players were simultaneously rewarded with coins and points. The points went towards leveling up the Compendium and provided guaranteed rewards, while the coins could be exchanged for random items that had been added to Dota ahead of the tournament. A complete hodgepodge, but, as it turned out, a lucrative one: users spent $67.3 million on the Compendium and the points. Valve got to keep less than half of that money; 25 percent went to the tournament prize pool, and federal taxes ate away 35 percent of the rest.
A game's distribution model and season system directly influence how easy it is to maximize profits from a battle pass. For instance, Dota 2 is a free game that currently only offers its Battle Pass ahead of The International. Because of that, Valve has made a lot of rewards unavailable via in-game means. If a player decides to collect all items from the three Treasures, they're going to have to fork out extra money. To get Level 2000 (and the ultimate reward, a Roshan figurine), you have to spend in excess of $700.
How it works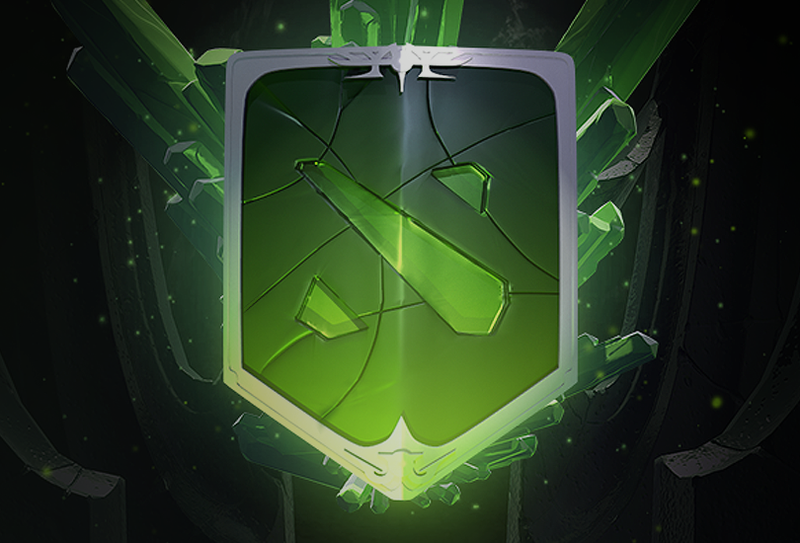 Dota 2
Following the success of the The International 2015 Compendium, Valve decided to keep going, and started releasing two battle passes between tournaments. Gauging their financial success is impossible; the purchases didn't go towards Major prize pools, and the publisher didn't disclose any figures. After a while, players began to complain about the dropping quality of Battle Passes. Valve tried to diversify them (e.g. by introducing quest chains), but no passes have been released since TI7.
Over four years, Valve has perfected the The International Battle Pass formula. Each year, come May, players purchase them for $10 or $37; at the latter price, they get a level 75 pass right away, but both come with good rewards:
Players get quests as well as access to unique game modes in which they can level up their Battle Passes. That being said, the quantity of loot you get without further investments has been diminishing. In 2017, you could reach level 285 (and that's without bonuses from teammates), whereas this year, even level 100 is not easy to get. Meanwhile, the reward line still extends all the way to level 2000.
Valve incentivizes spending money on a Battle Pass in the following ways:
Three Treasures with Immortal items. Released at different times, they are rewards for attaining a certain Battle Pass level. In 2018, it's virtually impossible to get more than one Treasure #2 or #3: additional ones don't become available until Level 98 and level 140, respectively. There's also the Collector's Cache, to be purchased separately; on the upside, it grants levels for the chests themselves.

Chat wheel messages. These are a great way to get a rise out of opponents and cheer up teammates. In 2018, they've become especially popular because of Virtus.pro, whose players use them throughout the match. Their opponents, as well as some commentators have been muting all five VP players for a long time already, but

viewers enjoy it

.

Unique Arcana-tier items. So far, Valve has only released one exclusive Arcana, for Io in 2017. The company explained its decision, saying the hero placed second in the 2016 Arcana poll. This time around, Rubick may become the lucky hero; last year, he was only 8.7 thousand votes behind Pudge. There's a counter-indication, though: Rubick has appeared in this year's vote, whereas you couldn't vote for Io in 2017. Additionally, an exclusive Immortal item has been released since 2016; so far, Legion Commander, Kunkka, and Lion have gotten one.

Premium rewards. Since 2015, Valve has sent Aegis replicas to those who attain level 2015, and a Roshan action figure was added in 2017. It did look

rather terrible

,  but Valve has promised to fix this with the 2017 rewards.

In-game effects. Since 2018, alternate animations have been on offer for Phase Boots, Blink Dagger, Force Staff, Bottle, Eul's Scepter of Divinity, Mekansm, the fountain, and TP items. Radiance and Shiva's Guard are the furthest down the line, at levels 675 and 1245 respectively.

Discounted item bundles. This year, a hundred levels and seven #1 and #2 treasures were sold for $25, saving 75%. Because of a Steam Store error, the The International 2017 bundle could be purchased twice, and Valve missed a similar bug in 2018.

Test access to new ranking systems. In 2016/17, seasonal matchmaking with its own MMR was available to Battle Pass holders, and in Nov. 2017, ranked play switched to a semi-annual season basis. In 2018, Valve offered Pass buyers a form of matchmaking that included role selection.
Valve's formula has gone virtually unchanged since 2016, but it's still working great. The International's prize pool has been growing at a slightly slower pace than last year, but Valve has always solved such problems with additional rewards. It seems, though, that some things will have to change in 2019: players are very unhappy about the company lowering the cap on rewards obtainable at no extra cost. Perhaps it's a good idea to keep working on quests; players liked the Cavern Crawl replacing the three quest chains.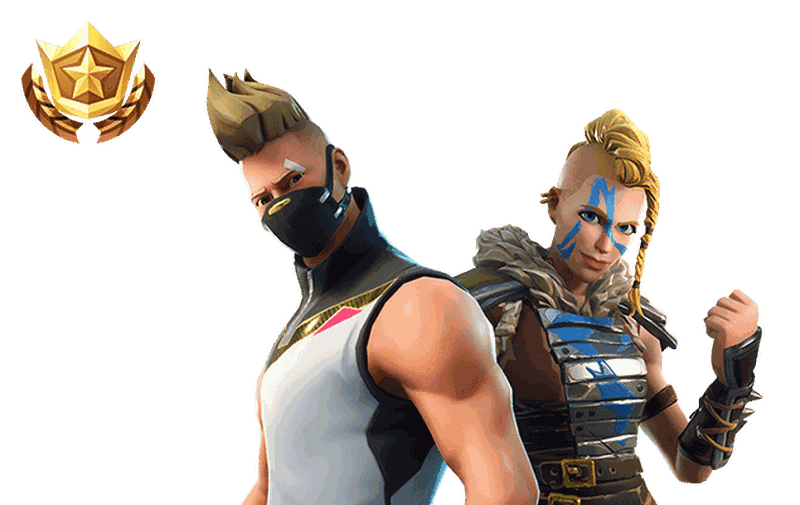 Fortnite
According to SuperData estimates, Epic Games earned $318 million from Fortnite in May 2018. The Battle Pass for the battle royale mode has been its primary vehicle of monetization. An upgrade to the free season pass, it's valid for two and a half months and costs the in-game currency equivalent of $10. Here are the main rewards in Fortnite's fourth season:
| | |
| --- | --- |
| With Battle Pass | Without Battle Pass |
| Five outfits | — |
| 1,300 V-Bucks | 200 V-Bucks |
| Three gliders | — |
| 20 sprays | — |
| Five emotes | Two emotes |
| 13 emoticons | 2 emoticons |
| Five contrails | — |
| Two backpacks | One backpack |
| Four pickaxes | One pickaxe |
The Battle Pass is levelled via quests. Levels can be bought, but don't have to be: no extra spending is required to get level 100. Other differences from Dota include:
The player's progress from before upgrading to the paid version of the Pass is factored in. Premium bonuses for all existing levels are given at purchase.

The Fortnite Battle Pass pays for itself right away. Players get two experience boosts and two outfits, a combined worth of 3.5 times the cost of the Battle Pass.

Patient players can spend money on a Battle Pass once and get it free of charge from there. A subscription costs 950 V-Bucks, which is even slightly less than you can potentially earn in a season. The important thing is to resist the temptation to buy an outfit from the shop.

Fortnite players know their Battle Pass rewards in advance. Unlike in Dota 2, there's no randomness involved, no wondering how many chests you're going to get this time or how much of what's inside them you're going to like.
The greatest upside of the Battle Pass is that it complements the gameplay experience instead of becoming an end in itself for the player. You get a whole week to complete the quests, and most of them aren't tied to a specific weapon or tactic.
Epic Games barely ever tweaks the Battle Pass system, but keeps improving the content. Thus, it's made an agreement with Lionsgate to make the ultimate Season 3 reward a John Wick outfit. Additionally, each season has its own theme, such as blockbusters, superheroes, and so on. This is why outfits and other items from Battle Passes don't get boring, despite being released all year round.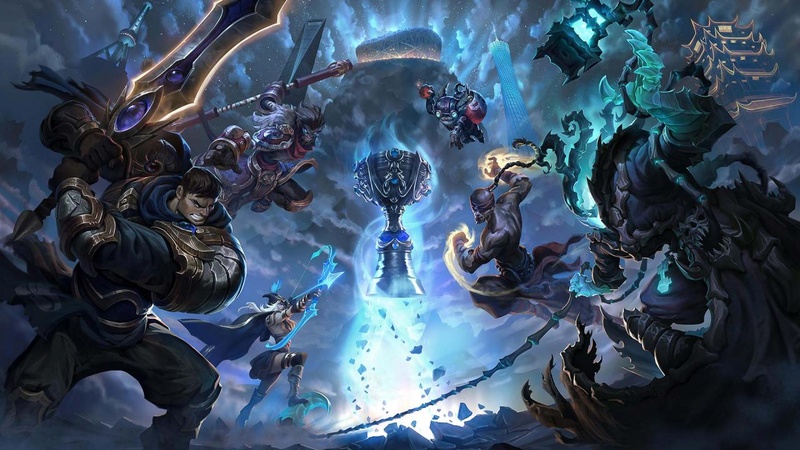 League of Legends
In 2017, ahead of the World Championship, Riot Games introduced the first League of Legends Master Pass. Priced at $10, the subscription contained a unique player icon, one Gemstone for crafting unique cosmetics, and 40 additional quests. The latter were unequally distributed across six weeks; as the tournament drew nearer, the missions became scarcer. The cost of the pass was slightly reduced each week.
Completing quests earned the player tokens that could be exchanged for in-game currency key fragments, loot boxes with skin shards, a summoner icon, and a loading screen frame. The most valuable of these was a set containing an alternate color scheme, or chroma, for the Championship Ashe skin, and a golden Championship ward skin; the bundle could not be obtained without buying a battle pass.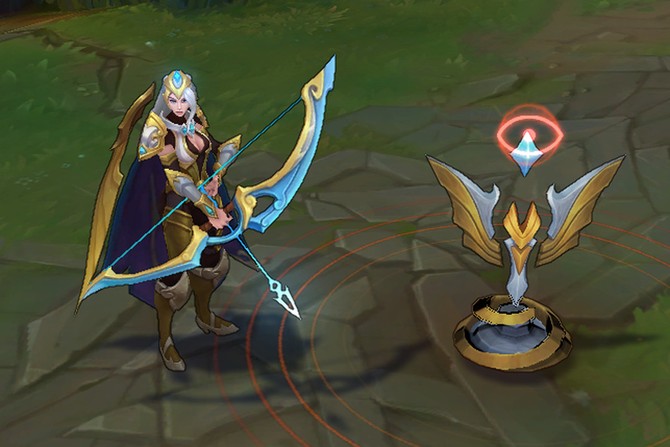 Thus the Master Pass contained next to no exclusive content; on the other hand, it made farming for standard rewards easier. This wasn't the first time Riot Games took a very tentative approach; it wasn't until 2016 that the company had agreed to increase tournament prize pools using proceeds from skin sales. League of Legends developers are yet to announce whether there'll be a battle pass ahead of the next world championship, but haven't introduced one for either the 2018 Mid-Season Invitational or Rift Rivals.
PUBG
PlayerUnknown's Battlegrounds got its Event Pass with the release of a new map, Sanhok, on Jun. 22, 2018. It costs $10 and is valid for a month, two and a half times shorter than Fortnite's Battle Pass. Meanwhile, the game itself costs $30 and has only been cheaper once, during 2018's Steam Summer Sale.
PUBG's developers squeeze all they can out of Event Pass owners: it only contains daily missions. Often, these missions need to be completed on a specific map, even though there are currently only two filters, Miramar/Erangel and Sanhok. On top of that, some of the quests are virtually impossible to complete.
Complete the following in three games on Miramar:
* survive for 20 minutes;
* deal 200 damage;
* take no damage from the bluezone;
* search two airdrops;
* revive two teammates;
* kill three players;
* reach the top 10;
* take less than 100 damage;
* don't use Med Kits.
Players are mostly rewarded with items and skins. Which is all fine except the fact that some of the items will disappear after a month — or even sooner! This doesn't happen in either Fortnite or Dota 2. The free version of the Pass comes with three permanent items, which is, again, worse than in Epic Games' battle royale.
All PUBG Season 1 rewards:
The Event Pass is no less glitchy than PUBG itself. Mission completion keeps failing to go through, with no discernible logic. The devs ought to follow Epic Games' example and put the missions on a weekly basis; this would provide enough time to get rid of the bugs.
PUBG players reacted strongly to yet another form of monetization being introduced into an unfinished game. An angry post on /r/PUBATTLEGROUNDS garnered over 68 thousand upvotes and was, for a while, the top-ranking topic on all of Reddit. Only one of its 4.4 thousand comments came from PUBG Corp. staff. The company's director of communications reiterated a hope that the developers will do a better job optimizing and fixing bugs.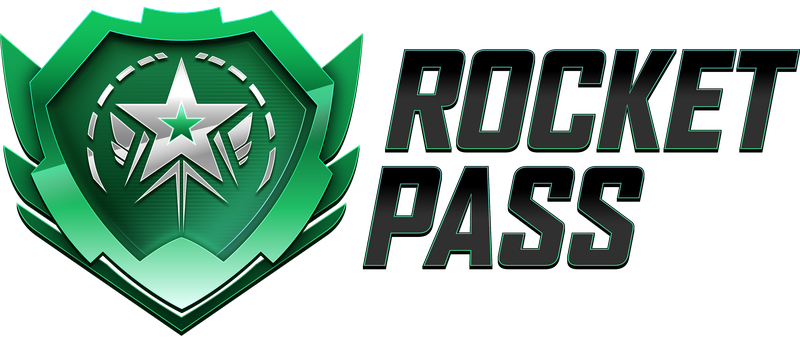 Rocket League
Rocket League got its seasonal subscription this summer. The model is a little different from Fortnite's: players level up their accounts to earn seasonal rewards. The Rocket Pass makes farming for free loot quicker and drops extra loot for further levels gained. The paid version costs ten Chest Keys, which can be purchased for $10 or traded from other players. Levels are also available in exchange for Keys.
Notably, the first Rocket Pass will not come with quests. The developers are wary of harming the game's competitive spirit by making people play for quest objectives rather than victory. Psyonix is considering introducing rewards for successful teamplay and for playing specific game modes — but not this time.
The rewards are yet to be revealed, but the devs have promised they won't include chests. What they will include is the means to open them: keys, in the paid version, and decryptors in the standard one (loot from a decryptor-opened chest can't be traded).
For now, the Rocket Pass looks no less generous than Fortnite's subscription. A significant downside, however, is that it does nothing to spice up the gameplay. Even in Dota 2 and Fortnite, one gets tired of questing for loot, and Psyonix's proposition is merely to keep on playing.
Impact and prospects
Battle passes make players log on more frequently and spend more time in the game. This is especially the case with PUBG, where you have 24 hours to complete a mission, while the required map doesn't necessarily come up in matchmaking. Dota also requires you to put in more hours if you want to complete the Cavern Crawl in time.
Battle passes are attractive because of the free loot and various rewards for its purchase. Epic Games is the most generous publisher in this respect, and players happily keep on spending money. Valve and PUBG Corp. ought to take note; otherwise, they might turn off even their most loyal customers.
Battle passes require further investment even after purchase. Dota's Treasures take this to an absurd level: you have to spend money on a Battle Pass to then be able to spend money on chests in it.
Valve and PUBG Corp.'s recent actions make one think that publishers are going to sell battle passes ever more often and the rewards are going to be ever smaller. It works: fear of missing out does not depend on the magnitude of what you're missing out on. On the other hand, battle passes help retain hardcore players, motivate the casuals to play more, and, most importantly, prolong titles' life cycles, which are currently on the increase across the board. Thus Ubisoft has promised to support Rainbow Six Siege for ten years — all thanks to sales of annual content sets. And, as it appears, battle passes are the reason it's going to be a long time before we hear of Fortnite 2, PUBG's sequel, or even Dota 3.