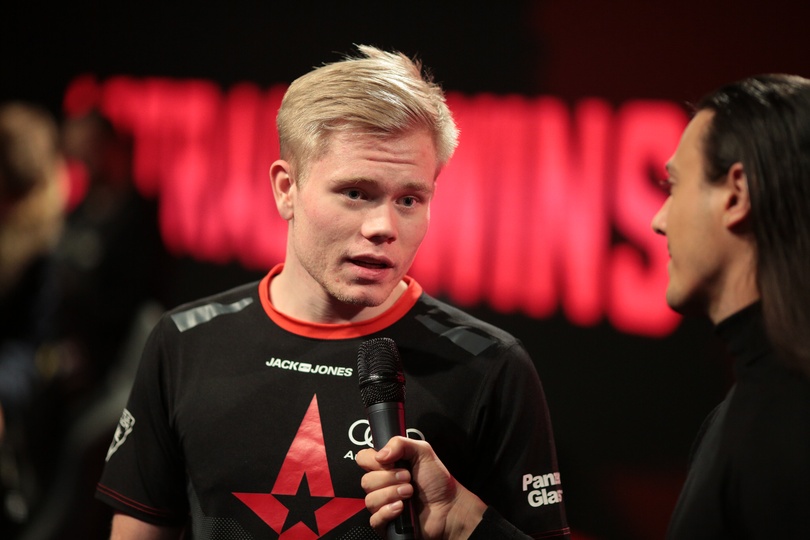 Magisk at FACEIT Major: "I don't think that any team should be guaranteed a spot at the Major for being top 8."
Despite losing the grand finals of DH Stockholm just last weekend, Astralis are nevertheless coming into the FACEIT Major as the biggest favourites for the title. The twist? They're not even in the Legends stage.
At media day before Major's Challengers phase, we sat down with Emil "Magisk" Reif to talk about the loss to North at DreamHack and his thoughts on the new Major seeding system Valve are implementing for Katowice 2019.
* * *
I'd like to begin with a question about DH Stockholm. Could you take me over the series with North? Few expected the result, yourselves included, I presume. What do you feel you could've improved over the course of Stockholm?
I think now we're just focusing on the individual stuff. People felt a bit off and you could definitely feel that. We haven't played official matches for a few weeks and it's easy to feel when you haven't played a LAN tournament for quite some time. 
We're always going into a tournament to win but we also knew that it was not the tournament we were focusing on. Before DreamHack, we were practising for the Major and we used the tournament not as a practice, but as a warm-up. Of course, it was disappointing losing the final but to be honest, they just played better. Their players were good individually and I felt they played some good CS and maybe even overperformed a little bit. But that's how it is in CS. I feel you always have to overperform in a way in order to win tournaments so props to them for playing good CS; we weren't on the level to beat them in Stockholm.


No top team performed at 100 percent [at DH Stockholm]
Right now, we're looking to get back into the grind and start working our way back into our normal level. 
Moving on to the near future: the Challengers stage. Danny [zonic] said that you guys kind of felt a little bit off after the player break. Why do you think that happened? Is it the relaxation?
I just think it's because we haven't played a tournament for a long time. It's different playing at practice to playing at LAN tournaments. We just needed to get back into it. I felt we were getting better throughout the tournament and we were definitely getting back to that level of being good as a team but it was still not 100 percent yet. We're just excited to start grinding our way back to that level we know we can reach. 
I think it's the player break and you could even see it on some of the other teams as well. I didn't feel any team was at 100 percent at Stockholm. MIBR have potential for a lot more; I felt like mousesports also didn't perform on their normal level, and neither did Natus Vincere. No top team performed at 100 percent. The reason why North dominated the tournament was that they were more ready than everyone else and it felt they had that surprise of MSL being the new AWPer. No one really had a 100 percent idea of how they were going to play after they changed the roster.


We're not going to underestimate anyone — you can't afford that in this format.
Let's talk a bit about the match-up with compLexity Gaming you will play [at New Challengers Stage, round 1, 21:30 CEST — Ed.]. What are you going in with? They showed some promise in the AM Minor, a new leadership in stanislaw and ShahZam joining as well. What's the approach from you guys?
We're going to go with the same approach as every single match. We'll be fully prepared, we'll be looking at which maps we want to play and which maps do they hate — just the normal stuff. We're not going to underestimate anyone — you can't afford that in this format. We know they can play some good CS, but we'll focus on our own gameplay and then be prepared for whatever they bring.
Lastly, a quick question about the new Challenger invites that Valve have devised for Katowice 2019. What are your thoughts on it?
I think it's a good start. I don't think that any team should be guaranteed a spot at the Major for being top 8. Right now in CS, there are too many upsets and I feel too many teams can be good in one tournament — be not "lucky" but just deliver a few upsets — and then be top 8. Just look at Quantum Bellator Fire from the last Major. No hate against them, because they did play some good CS at that tournament and they definitely deserved the top 8, but other than that, they've been really bad, not even beating tier 3 teams. Right now, we're the best team in the world and we're not even in top 8. We're not even guaranteed the Legends stage like they are. I feel only top 2 or top 4 of the Major should be guaranteed for the next one because you can almost guarantee they will have a certain level for the next Major as well, unless they really go through many roster changes. 
Top 4 is definitely my maximum, because the level of many teams is going up and down. One month, one team can be good and then they can be really bad the next 10 months. That's why you have to find good balance between the Legends [and Challengers] stages, because you have too much advantage for the next Major as well. 
* * *
Astralis vs. coL will close the first day at the FACEIT Major tomorrow. Astralis will need to finish top 8 by the end of the phase to move onwards and contest the Major trophy.  
More FACEIT Major coverage
 Features
— Why FACEIT Major's system is so damn good
— Which CS:GO players could repeat a Major title — and what are their chances?
— The top 10 players for MVP contention at the FACEIT Major
— The five CS:GO Major series you should watch before the FACEIT Major