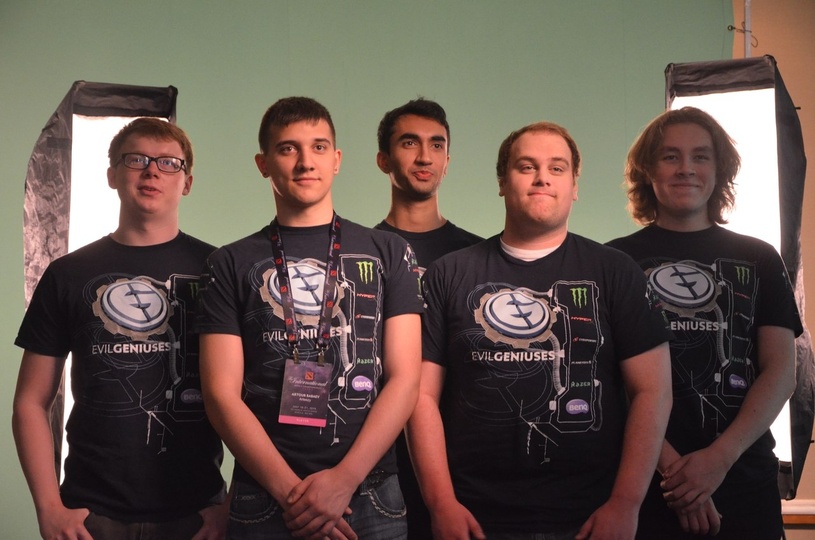 Mason at TI7: "I didn't know if I wanted to [play Dota] for a living"

The International coverage hub

More interviews from TI7: 

Bulba: "I want to find [what went wrong for us in the group stage]"
Mason "mason" Venne has known the highs and lows of competitive Dota 2. From playing at TI as part of the Evil Geniuses roster, to being on lower tier teams, the carry player is now back on the biggest stage, challenging the Aegis as part of Digital Chaos. Playing under Kanishka "Sam" "BuLba" Sosale, Mason is also kind of the third "captain" of the team alongside Doo-young "DuBu" Kim and the squad will ahve to give it its all if they want to get past iG Vitality on day one of the playoffs.

On press day, we caught up with Mason to learn more about his journey through various teams and why he ultimately came back to Dota instead of pursuing school. 
* * *
You are kind of an interesting player. You played for Take Five for a few months before TI 4, then you took a three-month break and then you immediately jumped onto EG as a sub to replace Fear. You place top three at TI 4 and then disappear off the map for a year again. Why did you take that year break?
I didn't know if I would care about Dota that much. Going into it, I was just playing for fun. Then I was asked to join Take Five, and that went well, it was fun playing competitive. Then I joined EG, played more competitive. I thought to myself that this was fun but I didn't know if I wanted to do this for a living for for a long time.

Therefore, I thought I'd take a break, move on to my life, go back to school. Then, as I was on my break, I watched tournaments, I watched people play and I realized "wow, this is actually what I want to do." I want to do this rather than just fucking go to school, rather than just having a boring job.

What did you go to school for?
Just general studies, I was undecided like everyone else in the world.

I find it very interesting that playing at TI wasn't enough for you, but just watching the tournaments was.
You don't know what you have until it's gone.

You take an awful lot of breaks between switching teams. After High Council you took two months before Shazam and then another three before moving to Dragneel. Is it like needing this break after you end a sting with a team?
It's more about looking for opportunities and keeping yourself open. So if you're on a team you don't really want to be on, it kind of wears on you. Also, people look at you and think "this guy keeps drawing bad team after bad team, maybe that's what he thinks of himself, he's only this good".

Before I joined DC, I was on a team called Doo Wop -- officially for six days but in reality for a bit longer -- but staying on that team would've done nothing for me as a player moving forward. It's important to try and take breaks and focus on yourself, try to improve yourself. 
If you're on a team you don't really want to be on, it kind of wears on you.
So you think it's important you don't waste  your time doing the wrong thing, you'd rather improve yourself by yourself, rather than being on a team with no potential.
Yeah, exactly. I feel it's hard to improve on yourself individually while being on a team, rather you improve as a team. If you're scrimming six times a day it's hard to look at yourself and reflect that you need to do something better because you're playing as a team. You're trying to think what's better for the team, not for you personally.

It's much easier to see what you're doing wrong in a pub. You improve as a player individually in pubs and then you bring that skill, that knowledge to the scrim and try to make it work as a team.

Why do you think Onyx is different than High Council, Shazam, etc.? What's special about them?
High Council and Shazam had low level priorities, they didn't really try very hard, they don't think about Dota outside the game, a lot of their players just played the game for the sake of it. They didn't really care that much.

On Onyx, DuBu, Bulba, Abed -- all these guys really want to win, they think about Dota a lot, it's a completely different atmosphere as opposed to some of the other teams.

I was talking to Bulba just now and he mentioned that you have some input during drafts as well. Do you like to elaborate on that, since you are the carry player?
I always try to give input on my hero especially. I am sure from your talk to Bulba you gathered I am kind of the third captain, I'd say -- I try to give a lot of input outside the game, I try to talk to Bulba in private about some things, or talk to DuBu or Abed, or Forev. I just try to tell everyone what I'm thinking, foster discussions, make it happen. 
On EG, we only expected to win, first place or nothing. On DC, we don't have that mentality.
It's the first time you're at TI since the EG days. Is that something you miss, just the atmosphere?
People ask me that and yeah, I did miss it, being at a premier LAN, on one of the teams that is actually competing here and not just watching from home like last three years. It's good.

Are you more nervous on DC than when you played for EG? One can argue that the DC players are not as experienced as EG's, especially when you look at PPD's era.
It's more like different expectations, not really nerves. On EG, we only expected to win, first place or nothing. On DC, we think highly of ourselves but we don't have that mentality. We want to do well, that's the mentality. If we get top 3 as DC, we'd all be really happy. We won't be "what the fuck...".