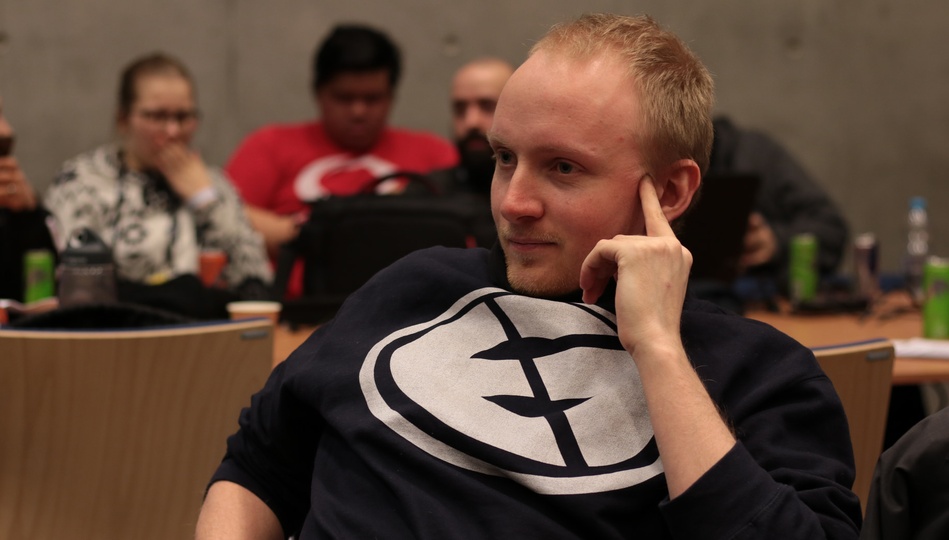 MISERY at Katowice Major: "Nobody really cares if Secret or Liquid are winning, but if EG does anything, everybody's all over them."
During ESL One Katowice Major, we caught up with Evil Geniuses' new captain, Rasmus "MISERY" Filipsen. The Dane talked about returning to EG, the team's recent results and why, in his eyes, the 2017/2018 DPC system isn't that much different from what Dota 2 already had. 
* * *
Talking a little bit about your time on EG: you've played with them previously, before they became a powerhouse. What was the scariest part of returning to captain EG?
I think the scariest part is Reddit and all the EG fans. I've always been very shy with media for the most part. I don't like the spotlight that much. Joining EG is, like, now I'm suddenly in there and winning or losing, there's always a big talk about this team, probably more than any other. Nobody really cares if Team Secret or Team Liquid are winning, but if EG does anything, everybody's all over them. So that's something that's definitely very new and a challenge, but I'm kind of already getting used to it. 
Speaking about that media and fan attention, does it bother you at all when SumaiL kind of draws attention to himself?
No, not at all, that's fine, I don't care about that at all.
Have you guys spoken about having any PR training? I mean, from my perspective, when he tweets it's just his personality—
Yeah, I think everybody thought that was a bad tweet. We also told him he shouldn't do it, because there is no good side in tweeting that. And in terms of him being more famous than me — I don't mind that. I understand what character I am in this team, I am not a super star like SumaiL or Artour [Arteezy]. And that's fine, I don't mean to be. 
I respect that, it's not for everyone and honestly it doesn't detract from your ultimate goals. Having said that, talking about EG, the recent results have been sort of mixed. People are still riding that old TI wave when EG won and now we're looking at the results: some are good, some are bad. What is your point of view on that? Do you feel you have something to live up to? Is it fair to compare the EG from that time to the current one?
I think people that are comparing the current EG to TI5 EG are just stupid, they are just looking for something. I don't see any logic, it was so long ago that everything is so different. The game, the players, every single thing in Dota is so different than it was back then. Competition is much, much harder. 
That's one thing. The other is, I think our results have been pretty good. We got a second place [at Galaxy Battles II], we got 3rd-4th place at a Minor [ESL One Genting] and now we're once again passing the groups. We haven't flopped a tournament yet and I think that's a good thing. We could've easily lost one of our series against some of the teams, got to the lower bracket and be knocked out before the main event. I'm happy we've proceeded to the main event of all tournaments so far and the series we've played on the main stage have been really close. I think we're a top 3 here, I don't think we should've lost to Virtus.pro and I think we wouldn't have lost to Fnatic. As for Vici Gaming, they are stronger than most of the teams here. We did go out sooner than I thought we would, but I'm still OK with it, we're still a new team. 


We spoke to ppd and talked a bit about playing with you and it boiled down to a few comments but on your side, how have you felt about working with him then and now taking over his old role in EG? I know it's not a fair comparison but is there anything you want to say about working with PPD?
I think it's really hard for me to compare EG from 2-3 years ago and PPD from 2-3 years ago to current EG and PPD. It's very hard to make anything useful out of that. I've heard a lot of things about how things used to be with PPD and the players around him and stuff. I think people change a lot. Back then it was more simple. Fewer strategies worked, there are so many factors that have now changed to everything being harder. 
Do you like where the game is at now?
Yeah, I like where the game is going. It is consistently getting better and more complicated at the same time. The competition is getting better and better as well. It's just growing in all possible ways and in all directions. I think it's also good they implemented these updates every two weeks. That's a really good thing, to keep the game up to date, so we don't have to wait three months with no patch. 
If there's one bad thing I have to mention, I would say it's probably the point system and the Minor/Major system. It's not fully thought through. We're playing some qualifier for EPICENTER, right, and it's best-of-3 groups, GSL format. And then, when you pass the group, you're playing another best-of-3 double elim bracket and a best-of-5 final. I think the whole qualifier took like eight days or something. It's more than the tournament takes, it's completely ridiculous. I don't know how they're allowed to do this. We could've met compLexity in the first round, then in the main phase we could've met them again. If they were to drop down, and then qualify for the final, we would've met them a third time. That's just so stupid, that you can beat a team three times.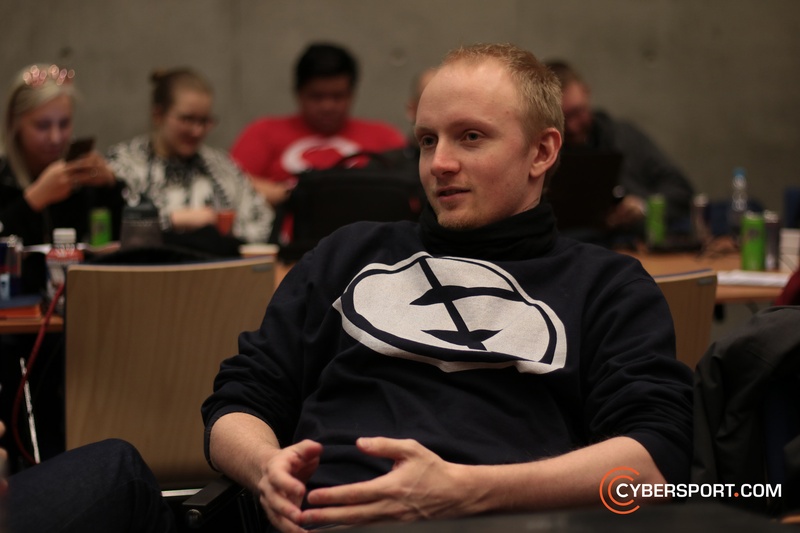 We don't have that much time to just sit there and play EPICENTER qualifiers for eight days, play multiple best-of-3s every day. There needs to be a rule about that, some kind of system they have to follow. There need to be some kind of requirements for the organisers of Majors and Minors on what the format should look like, how many teams, games [are there]. It needs to be more consistent.
It's also bad that for the first half of the year it was all 8-team Majors and a lot of teams got into top 4 in those Majors because some teams were really bad and then they got points that are really inflated in that way. That's really bad and has to be taken more serious.


We don't have that much time to just sit there and play EPICENTER qualifiers for eight days.
Just to reiterate: Patch system is pretty good, but the DPC system needs to be improved. Is it better than the previous system?
For me, the previous system was the same as it is now. I don't think Valve were doing anything big here, they already had this system, it just wasn't shown to the community. They already had some point system internally that they followed in terms of invites. Now it's just put on paper and given to people. Maybe now it's even less open than it was before. I'm not a big fan, I think they could've definitely done something better. 
Speaking a little bit about the DPC, you're going to have Bucharest coming up. What about these Majors/Minors, is there difference for you or do you just have to play them all because they all give points?
There are more hype around the Majors, because there's more on the line. I think we said no to StarLadder even though we were invited, I think: we had a really busy schedule and then we had some issues with SumaiL having to get visa for everything. We were really time-pressured.
Recently, you have been changing the roles a little bit in EG. What would you take away from that: did it simply not work out or maybe there's potential and you simply need to figure it out?
SumaiL is still getting used to his new role, so we're still a new team. Hopefully we're better with time. 
Final question: is there a wishlist you have for the coming patch?
I don't know, maybe some heroes deserve a little bit of a buff. But at the same time, I think a lot of the heroes that are not being used are going to be used sooner or later in these games. I think that will happen automatically. They can buff a few things, change a few things, but it shouldn't be too much. The meta always seems to change and take its own path.  
More Katowice Major interviews

—  LeBron: "I feel disappointed with our results, but we have more time to improve"
—  Kyle: "We got drunk and bashed our heads against the keyboards"
— zai: "NA used to be very strong because of cocky players"
—  9pasha: "We didn't learn how to properly use RodjER yet"
—  Solo: "We've known that RodjER is a very good player for a long time, even before TI."
—  EternaLEnVy: "We definitely outdrafted Team Liquid pretty hard."
—  Puppey: "Fata thought about switching his role for a while."
—  Resolut1on: "I haven't seen my girlfriend for a month and a half now."
—  YapzOr: "It's cocky to feel bad about a loss you didn't even practice for."
—  Arteezy: "We probably would've won TI5 if I was a better team-mate, honestly."
—  Fly: "Not doing so well [...] is what motivates me the most."
—  Matumbaman: "I would like us to be the most dominant team in Dota 2 history."
—  PPD: "I can be the loser. Somebody's gotta play the villain, right? I'm just a competitor."
—  Kyle: "I want to build a team that succeeds as part of compLexity."
—  Nahaz: "The pro Dota 2 scene is eunambiguously in a better place than it was a year ago."
—  MISERY: "Nobody really cares if Secret or Liquid are winning, but if EG does anything, everybody's all over them."
—  UNiVeRsE: "I never thought I'd see myself moving from America to another country just to play Dota."
—  Patos: "We need to step back a little and not try to play everything."