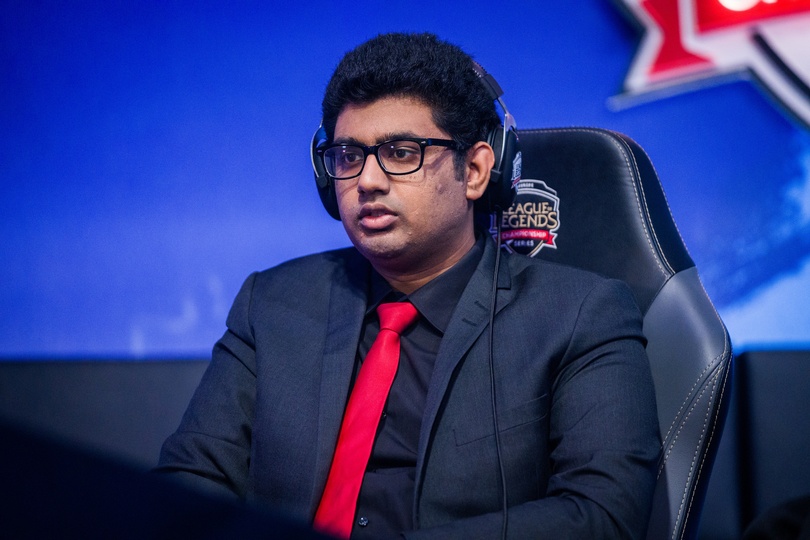 From the Middle East to LCS peaks: The story of Misfits coach Hussain Moosvi
Imagine moving to a country that is not your own, leaving everything you had known behind to venture to greener pastures with your mother and your siblings. Imagine having little contact to your extended family and, most importantly, the friends you've made before moving. Imagine building a network of friends from scratch, in a different culture, with a completely different social system. Sounds daunting enough, right? Maybe not to some folks reading up to this point.
Now, imagine that you are the eldest son in a monoparental Pakistani family, with your mother playing the role of a doting mom and the now-vacant one of the authoritarian father figure. Your siblings are expectantly looking for guidance and support, as your mother's attention is running thin between ensuring the family's survival and raising her kids. Not daunting enough?
Fine. You're 14 at the time, at an age when you're probably more preoccupied about the next gaming session, or whatever your passion at the time is. You have to grow up fast and adapt to life in Canada when you used to live in Abu Dhabi, United Arab Emirates. It's not only about picking up fluency in a different language and navigating through different systems; if you mess up, the whole family suffers.
Now, I see you panicking.
* * *
Hussain Moosvi was not merely imagining things when I met him. He had lived through it all, yet exuded serenity. That much I noticed when I first entered the room and laid my eyes upon him, a few moments after he was informed about my intention to meet him. He showed no sign of stress, but he was not indifferent either. It would not take long before an air of calm strength manifested itself as we shook hands following Misfits Gaming's victory against Team Vitality on Week 6.


"The hard part for me was not so much that I wasn't willing to make that sacrifice, it's that I wouldn't be the only one that would be sacrificing something if I did go for it." — Moosvi
Moosvi had always seemed discrete compared to players that would be otherwise all over the place, drawing a contrast between his calm and their happy-go-lucky demeanor before games. He also seemed to temper his expressions, displaying no overreactions, but not being emotionless either. Life had brought him to this point, and he was ready for it.
His past as his mother's right-hand man had paid off, but it cost him.
"I was there trying to assist her in any way possible," he said, reminiscing on the past with a twinge of a smile on his face. "It was hard dealing with all of that from a very young age. With all that said, I think it helped quite a bit that I had to learn how to be an older brother and sort of a father figure to my younger siblings. I've grown up as that personality, and that's pretty much all I know how to do as far as my family is concerned. I think having a relationship and having that experience, and the skill sets I had to learn going through that is something that helps me in pretty much every aspect of my life."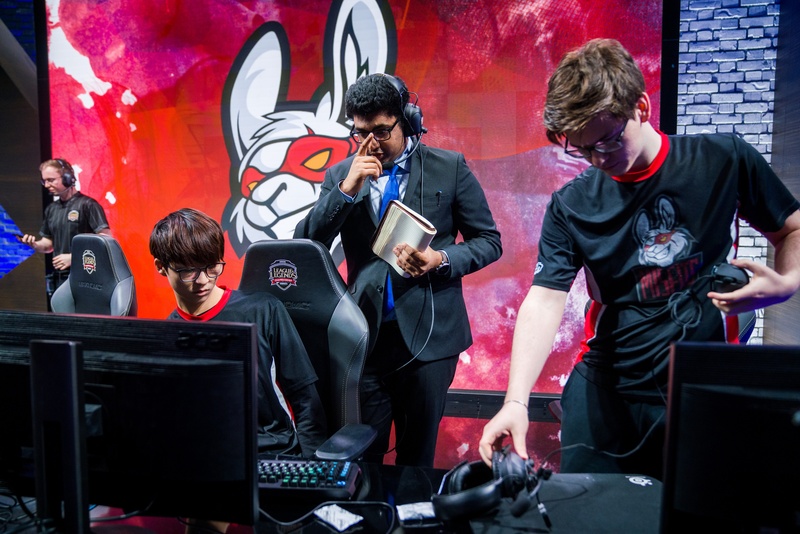 For his family's sake, Moosvi had to become its second pillar, as there was no other option. He had to switch between being his siblings' elder brother and the authority figure they needed alongside their mother. Moosvi needed to be more than a role model, but a beacon of hope too; when his family showed signs of wavering in the face of adversity, he was there to pick them back up. He was the person bridging the gap when his mother and siblings needed something done, so that they don't lose the light at the end of the tunnel. In taking on the crisis, he learned how to communicate, lest everything falls apart.
"I pretty much learned all of my communication skillsets naturally.," he said in hindsight, matter-of-factly. He speaks at a fast pace, with a tone of voice that is low, yet audible enough that anyone in the interview room could hear him. "The main skillset that I learned is communication and how to be an authoritative figure, and understand what someone needs emotionally at different points, and past that, a lot of real-life skills very early on."


He was accustomed to the sink-or-swim approach to life, and the ship was clearly sinking this time around.
Moosvi had to mature fast and early and pick up these things. His family needed to solve the puzzle of living in Canada and navigating through its transportation, healthcare and household-related systems, and looked up to him for support. Moosvi's father was assisting the household financially, which allowed them to survive, albeit barely, but that still left him with the weight of responsibility on his shoulders – a weight he would not be able to carry alone. Fortunately, support came quickly from within his own family.
"We were alone, trying to figure that out on the fly," he recalled. "It ended up being where we would just distribute responsibilities, realize responsibilities between the three of us – including my brother who is only 11 months younger."
For the sake of his family's survival, Moosvi learned how to communicate, delegate and collaborate – three skills among many that players and staff members within Misfits Gaming use. Just as a jungler cannot lay down a game plan on the rift without input from his lane mates, and as team fights can be messy without proper target calling, he needed to support his family before reaching this point.
"I'm pretty lucky to be where I am now, where I have been able to use those skills to find success," he said. "A lot of it is luck, and I won't deny that, but it is what it is."
And did he need that luck – and a whole lot of resilience to boot!
* * *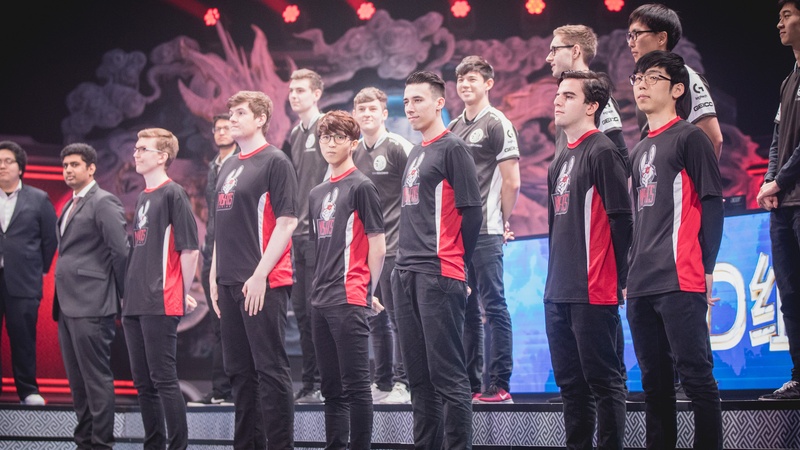 Although Moosvi's father did support his family financially, it was only the bare minimum needed for its survival. A few seemingly minor, but monumentally important things, he never provided. College tuition? "What's that?" Money never came to pay for student accommodation in Ottawa either, which is quite far from home, sweet home in Toronto. What's a young teenager transitioning to adulthood going to do? How about working at Walmart to pay for both, studying full-time, and indulging in his passion for League of Legends? Now that's overkill. But wait.
After spending two years in Ottawa, Moosvi went back to Toronto to change course in his studies, and his family could rely on him to face his father in a legal battle. Halfway through all of this, he dropped monetary support and stripped them of their savings, leaving Hussain's mother no alternative; she had to put herself through debt to guarantee the family's survival on the short-term.


For the sake of his family's survival, Moosvi learned how to communicate, delegate and collaborate.
At that point, Hussain might as well have flipped the switch and dropped his studies as well as his fledgling League of Legends career as a remote analyst to work full-time in McDonalds, but he persevered. However, when his team, Misfits (later known as Renegades), qualified for the 2016 North American LCS spring split, he needed to choose: dive head-first into esports and leave everything behind – including responsibilities, studies and the job at McD's – or drop esports altogether for being too risky of a pursuit.
Sacrifices had to be made, and there were two destinations: Los Angeles, CA or Toronto, Canada.
"There are a lot of people in esports — especially from the old days — that have made a lot of personal sacrifices to be where they are right now," Moosvi stated. "The hard part for me was not so much that I wasn't willing to make that sacrifice, it's that I wouldn't be the only one that would be sacrificing something if I did go for it. It would be a financial burden on my family if I went into esports. It would be an emotional burden on my family if esports didn't work out. On top of that, I have always been in the house taking care of everything, and all of a sudden I wouldn't be."
I got the idea that, maybe, had his mother not insisted that he pursue esports, he would not have made that sacrifice, but I may be wrong. At least, his family held strong, as his mother was able to rely on his younger siblings to take care of day-to-day matters, and Moosvi earned enough money not to be a burden on his family.
In theory, all Moosvi had to do was to prove himself worthy in esports. But then, Renegades experienced internal turmoil, narrowly escaped relegation and, most importantly, faced impending doom following an LCS ruling that would force the team's sale. Pressure mounted up for Moosvi — he was accustomed to the sink-or-swim approach to life, and the ship was clearly sinking this time around. For once, maybe he wouldn't emerge victorious from a setback and become an emotional burden to his family. Maybe 2016 was going to be the roughest year of his life – the end of all dreams, right when it seemed like he was getting a break. After all, he didn't network his way through esports enough, and his sole showing in the LCS nearly ended in relegation.


Sacrifices had to be made, and there were two destinations: Los Angeles, CA or Toronto, Canada.
"Luckily, the people within Renegades really liked the work I did, and they recommended me to Ben Spoont at the time of the sale. Through that, Ben gave me a shot," Misfits Gaming's head-coach recalled with a smile, and not solely due to not believing his luck.
Misfits's CEO went farther when taking over Misfits in Europe and building a structure that had since made its mark in the League of Legends competitive scene. One decision in particular has had far-reaching consequences, and Moosvi could not be happier: Spoont trusted him.
"He not only gave me a shot with Misfits, he also gave me full authority," the head coach recalls, his eyes lighting up slightly. "At the time, it was super rare to take power away from players as the core of the organization, and put it in the staff and trust staff decisions. That's what Ben allowed me in Misfits.
"I had no idea how Ben would be as an owner, and I'm just lucky that he turned out to be someone that allows me to lead in the way that I want," he added. "I've made a lot of mistakes along the way, but he's trusted me to fix all of it as we go on."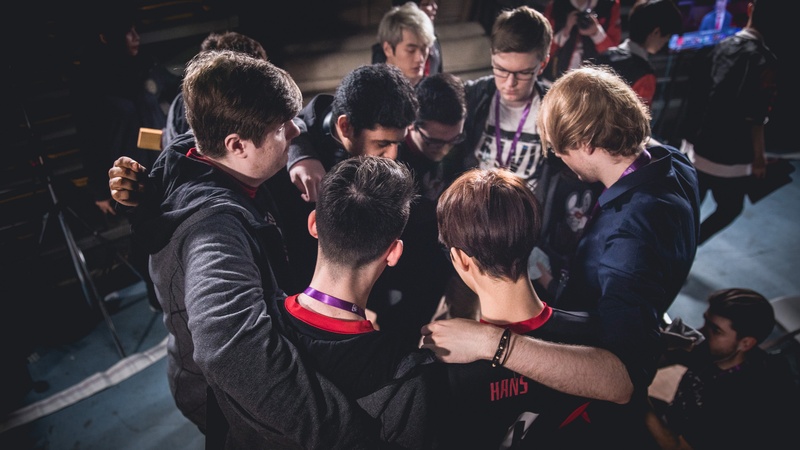 Since Moosvi's Misfits took flight to Berlin in 2016, their story never stopped impressing. From humble beginnings in the 2016 Challenger Series summer qualification tournament, to the rocky-yet-convincing showings in the LCS throughout 2017, the team got rid of its weaknesses and persevered all the way to a somewhat surprising qualification past the 2017 World Championship group stage. As a final curtsy to the western crowd before their exit, Misfits nearly beat SK Telecom T1 in a 3-2 showdown – the West's best performance against a Korean team in the World Championship.
Even though SKT survived the culling, the true winners were not Koreans. Hussain Moosvi finally had the makings of a big break and received several offers, before returning to Misfits: the organization had granted him freedom in his work, supplied him with a strong roster, and offered a work environment where he could blossom. Likewise, Misfits found their diamond in the rough and polished it, leading into Europe's best performance on the world stage since Season 2, and then retained the architect behind the performance. At the same time, the western fans celebrated, watching one of their own not bend the knee to Korea's finest.


"That was wonderful, to be able to look at her after that, and go home and meet her and say, 'We made it!'" — Moosvi
But the biggest winners of the day were Moosvi's family.
"My mom put herself in a lot of debt to try to get us through everything that happened over the past four or five years, and I'm happy to say that we're out of it," Moosvi said. "Esports is the reason. League of Legends is the reason that we've been able to do that.
"Personally, after the first spring split, I think we all knew that I was probably going to do esports long-term, but seeing this type of success and being able to present it to my mom was huge, because she's done so much for us," he added. "To be able to pay that back and say 'Thank you for giving me a chance to possibly completely screw over my life, and allowing me to take that chance. Here it is; I didn't screw it up.' That was wonderful, to be able to look at her after that, and go home and meet her and say "we made it!"
* * *
Gone were the days of scraping by in the name of survival, while also investing time in a passion that had yet to yield fruit. Gone was any sense of dread, as Moosvi's youngest had a rock-solid role model in their elder brother, a man that had persevered where many would have given up.
Gone also were the days where Moosvi's story was unknown to all but those who were close to him and his family, following Misfits' video feature retracing the trials he had faced — a video which inevitably reached his family circle.
"There are a lot of people in real life that I didn't actually tell any of this to, so it was their time finding out about it as well," he said. "I'm glad that it's finally out there. It took a while, but I was ready to tell my story, and I'm happy to see all the support that I've received ever since, and all the positivity and encouragement ever since for (a) A great content [piece] from Ella [Pravetz,] our new Director of Content, and (b) for supporting me through literally all the thick and thin that we've been through and that we're still going through on Misfits."
In came the sweetness of serenity, peace of mind, and relief. And most importantly, gratefulness for all that had happened. That was what I could notice as Moosvi left the room, smiling, ready to face Misfits's upcoming challenges head-on, as he had taken care of his own.