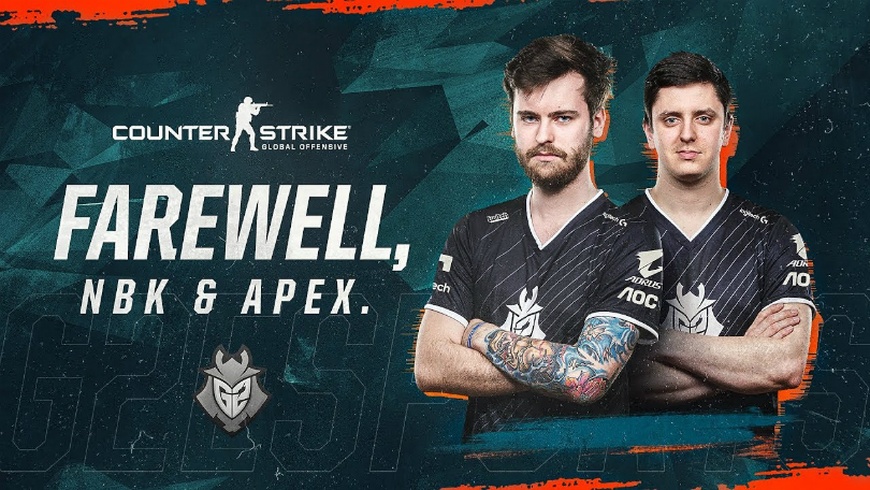 On June 4, 2018 two members of the former iteration of G2 Esports in Nathan "NBK" Schmitt and Dan "apEX" Madesclaire were officially benched from the starting roster of the Berlin-based organisation, replaced by the team's former coach, Edouard "SmithZz" Dubourdeaux and legendary French CS player, Kévin "Ex6TenZ" Droolans. Many were shocked by the move, considering the firepower and characteristics of the players benched, nevertheless Richard "shox" Papillon's plan was sought through.
Both Schmitt and Madesclaire have been inactive for the past two months, locked to the organisation due to contractual obligations, further complicated by buyouts rumoured to be around a massive $800,000 per player. It has now emerged, that both players have officially been released from the organisation, able to explore any options that come their way.
Today, we announce that we are parting ways with CS:GO players @G2NBK and @G2apEX. From everyone at the #G2ARMY thank you for your hard work and commitment and best wishes in your future endeavours!Read more: https://t.co/v2aYYGhZIo pic.twitter.com/maUE6vAoET

— G2 Esports (@G2esports) October 8, 2018
The duo is rumoured to joined former Team Envy duo, Cedric "RpK" Guipouy and Vincent "Happy" Cervoni, plus former Against All Authority rep, Mathieu "ZywOo" Herbaut, in the Waterboys roster, reportedly to be announced in a very near future.
If the rumours come to be true, the Waterboys roster will consist of the following five players:
— Vincent "Happy" Cervoni
— Cedric "RpK" Guipouy
— Nathan "NBK" Schmitt
— Dan "apEX" Madesclaire
— Mathieu "ZywOo" Herbaut