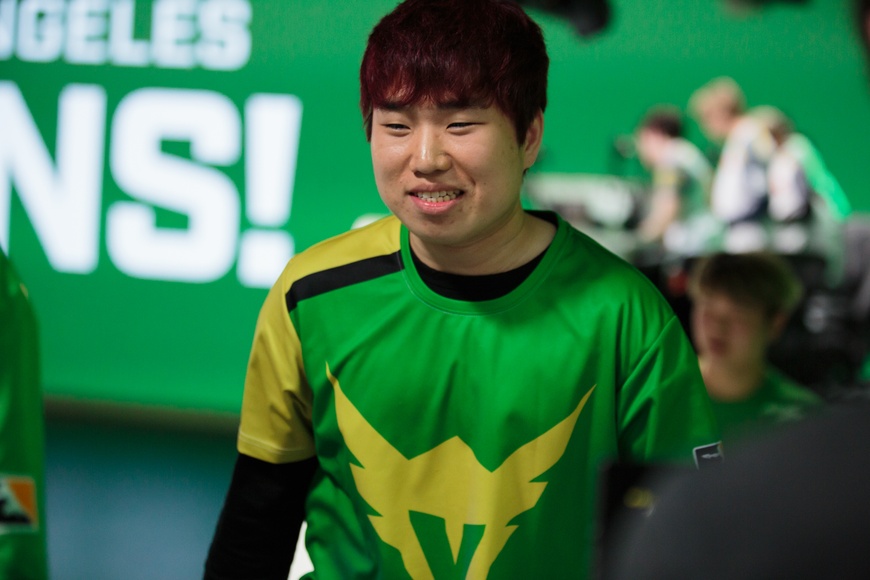 Moth's resurrection onto Architect on Volskaya Industries gave Shock enough damage and control to take Point A on their first attack attempt. Chae "Bunny" Joon-hyuk's debut in the starting Tracer role immediately saw impact, as he continued to deny Shock the comfort of keeping their supports safe. A key Pulse Bomb onto Nikola "sleepy" Andrews would save the round, as Shock never found an opportunity to regain control on the point. With the ability to flex onto Widowmaker, Valiant's dive composition on Assault looked much improved, as Terence "SoOn" Tarlier provided enough backline support to help Los Angeles swarm second point.
Shock recovered quickly on Blizzard World, taking first with little issue. However, San Francisco would hit a roadblock at the end of the streets phase, as the vicinity of the point to the defenders' spawn was enough to allow the tanks to stabilize on point after Bunny stalled progress. Jay "sinatraa" Won and "super" kept the pressure up going into the final point, catching out Space with a Pulse Bomb to finish the map. Valiant matched Shock's progress, finishing the map in just under a minute, allowing San Francisco one last chance to stay alive. SoOn's McCree kept their dive under control, as Valiant full held their opponents for the second win of the series.
Brady "Agilities" Girardi was swapped in on Ilios to take advantage of his Pharah on Well. While Sinatraa would eventually retake the point with a triple kill, Valiant had already reached 93% on their first possession, giving them enough time to retake the point once again to claim the first round.
Valiant's target focus was incredibly strong on Lighthouse, as Shock felt caged in by their opponents. Sinatraa's Doomfist knocked Koo "Fate" Pan-seung off the map before using his mobility to chunk down the rest of Los Angeles on point. Shock would force double overtime, but were unable to convert on Map 3. Sinatraa led the attack on Route 66, catching Valiant retreating into Big Earl's on Point A. Valiant would hold down the fort on Point B, before allowing SoOn and Bunny to run free, terrorizing Sleepy and Moth. Without healing, Shock fell to the pure shred of SoOn's Reaper, as the Valiant capped their third consecutive sweep.


The introduction of Son "OGE" Min-seok into the Dallas lineup had immediate results, as the Fuel looked a lot more confident challenging Fleta and the Dynasty on Volskaya Industries. While Kim "Fleta" Byung-sun would trade off Dylan "aKm" Bignet, OGE and Hyeon "EFFECT" Hwang combined on dive to take down Koo "Xepher" Jae-mo and Ryu "Ryujehong" Je-hong for a firm hold onto Point A. EFFECT hit a crazy Pulse Bomb stick to force out Seoul's counter dive with just over a minute left. Having baited out much of their early cooldowns, EFFECT had a much cleaner angle into the backline, as Dallas regrouped briefly before challenging the point againn. Seoul would not be able to challenge Akm's Visor, as Fuel finished the map. Fleta continued to find picks on Widowmaker, eliminating stragglers on first point to allow for a much larger timebank to close out the game. After catching both EFFECT and AKM, Dynasty secured the map with five minutes remaining, more than enough time to take the win in extra rounds.
Seoul's defensive play on Numbani kept Dallas on a time crunch, as Dallas narrowly finished Point A, only to be knocked off the cart right before Point B. Fuel's ultimate management saved Benjamin "uNKOE" Chevasson's Transcendence for the final seconds, as Akm and EFFECT kited away Gong "Miro" Jin-hyuk's Primal Rage to keep alive on point. As time ticked down, Seoul failed to regroup, instead taking fights on point to hopefully keep their momentum. While Byeon "Munchkin" Sang-beom would tear through the squishy backline, Fuel accomplished their mission of training the time bank. Another Tactical Visor netted three kills to hold Seoul for the series equalizer.
Dallas' defensive pedigree was on full display for the first round of Nepal on Village. Using the enclosed space on point as a type of natural barrier, EFFECT played around corners, letting Rascal's Junkrat provide most of the shield damage. After taking a confident win, Fuel narrowly avoided a single possession victory on Sanctum, thanks to Kim "Rascal" Dong-jun's RIPTire. Fleta kept his team alive with a series of Widowmaker headshots to force a third round.
On Shrine, OGE matched up against Miro on Reinhardt, but the true battle was between Rascal and Fleta. Knowing Rascal's Pharah would be the key threat on the point, Fleta focused his attention on the projectile player, allowing Seoul to concentrate on the single choke onto point for the win on Control. With their dive composition finally pieced together, Fuel looked stunning on Route 66, playing around EFFECT's aggression on Tracer. Fuel seemed in full control, as they finished the map with two minutes thirty seconds remaining. Seoul attempted to match their opponents tempo, but fell short as Choi "Wekeed" Seok-woo didn't have the same flanking impact as his counterpart.
The tiebreaker would come to Oasis, where Munchkin's re-entry into the lineup seemed to reduce the dive pressure from EFFECT. Seoul would be able to stall for Fleta's Doomfist to close out the first round on Gardens. Miro's blind charge onto Jonathan "HarryHook" Tejedor Rua in the final seconds of University kept Fuel from staying healed up. Seoul would take the series off of a pick onto OGE.

The Gladiators mounted a ferocious defense on Temple of Anubis, delaying Shanghai's push significantly before Cheon "Ado" Ki-hyun's Genji would find two kills and a de-mech with a Dragonblade to advance to the second point. Lane "Surefour" Roberts's kill onto Ado stopped the momentum push, as Shanghai tried to find ways around João Pedro "Hydration" Telles's Doomfist. Hydration's swap back to Junkrat kept his team alive on defense, and a Junkrat Tire would catch two to hold Shanghai's Progress at two ticks. The Gladiators' didn't seem to lose any coordination without their star tank, Baek "Fissure" Chan-hyung, as Luis "iReMiix" Galarza Figueroa continued to create room for his carries, taking the map with five minutes remaining.
Shanghai traded kills on Blizzard World, but were ultimately held on Point B, as Lee "Fearless" Eui-seok's Primal Rage was matched by IRemiix for the overtime hold. After baiting out cooldowns from the Dragons' tank line, Aaron "Bischu" Kim countered Fearless, opening the path for the Gladiators to clean up the point. As time began to tick down, Bischu would find three kills to escort the cart to Point B and the series lead.
Shanghai persevered through Surefour's efforts, as Weida "Diya" Lu clinched Nepal: Village with some truly impressive chain kills on Tracer. Kim "Geguri" Se-yeon's mindful Dva play kept the map tense, as Hydration was denied an ultimate on Point. The Gladiators were able to take back the point, relying on good coordination to lock down the sightlines and entry points for the win on Sanctum.
The switch to a more aggressive dive composition gave Los Angeles a lot more control of how they wanted to attack, reaching 99% on a single possession. Shanghai would mount a comeback of their own, reaching 97%, but Diya's Doomfist would not be able to find enough damage as Gladiators kited their way to victory. Geguri's Dva play was a rewarded with a big Self-Destruct on Point A to advance the cart to the following stage. The Dragons played gritty, brute-forcing their way through Point B, but were shuffled off of the payload in the final straightway. Surefour's Widowmaker dodged around high ground in the streets phase to captain his team to a win, as Shanghai never found their legs to defend.