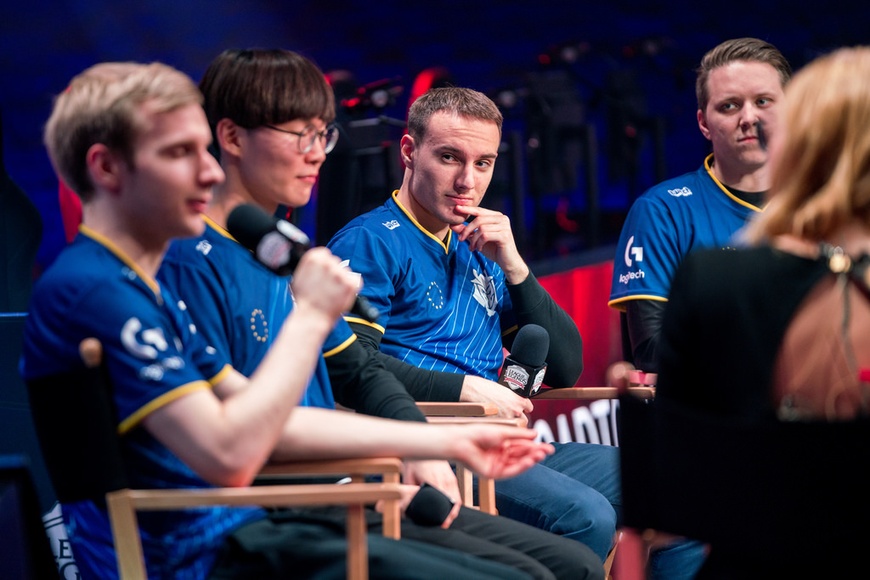 Chinese LPL teams may be sharing scrimmage related information among one another. G2 Esports mid laner Luka "PerkZ" Perković alluded to the matter after a set play backfired on Gen.G against Royal Never Give Up, and led to heated community response on Twitter and Reddit.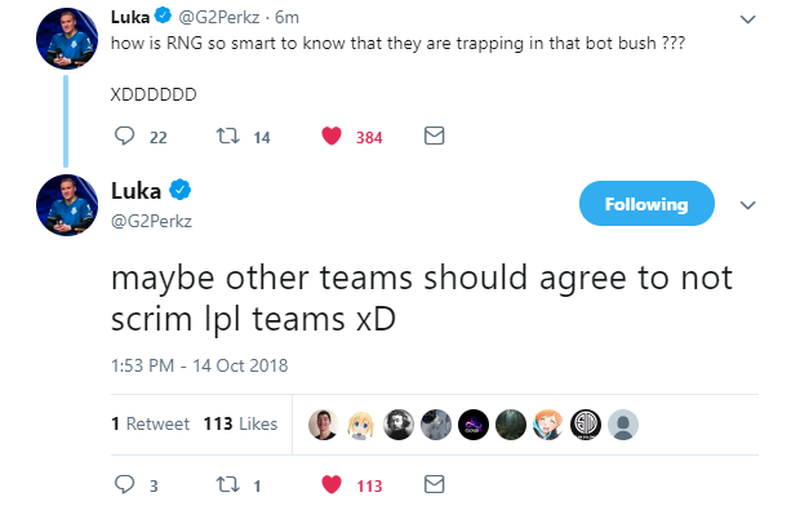 The situation that prompted the tweets lies in Royal Never Give Up's deciding match against Gen.G, where they countered a tricky Level 1 strategy Gen.G prepared for the matchup without having prior knowledge of where the Korean players were located.
Although one could boil the situation down to RNG's familiarity with the situation from scrimming other LCK teams, some speculate that such a situation never directly happened in a scrimmage involving Gen.G and RNG directly. Speculation that may be, PerkZ took that stance, leading to Andrei "Odoamne" Pascu revealing a witness account of another team doing so in 2016.
From seeing them all walk out of their room after our scrim was over, good enough source for you?

— Andrei Pascu (@OdoamneLoL) October 14, 2018
Odoamne was part of H2k-Gaming's 2016 Worlds semifinalist squad that scrimmed against I May, EDward Gaming's sister team, although they had EDG in their group. Considering his stance as a witness, it is hard to doubt that EDG's coaching staff was spectating scrims and gaining viable intel before the group stage. However, H2K Gaming still proceeded as the first place team in their group, nullifying such gains.
Fnatic team director Joey "YoungBuck" Steltenpool, who also coached G2 Esports during their domestically successful seasons in 2016 and 2017, had a lesson to pass along — broadening the scope to other regions, rather than solely LPL teams:
This is why you book scrims against opponents whose region is not in your group right before and during the event

— Joey Steltenpool (@JoeyYoungbuck) October 14, 2018
If Royal Never Give Up gained such vital information in that form, one could directly link Team Vitality's elimination from the group stage to RNG's ability to counterplay Gen.G's level 1. Had RNG lost the game off the level 1, considering Gen.G's heavily snowball oriented composition, they would have faced Vitality for a shot at second place, rather than Cloud9 for first place, and they would have risked elimination. This tangent was the cause of public outcry on Western social media.
However, the facts are much harder to accurately determine at this time, as there is no direct evidence suggesting that. For what it's worth, RNG may have scrimmed another LCK team who copied the strategy and recalled such an incident.