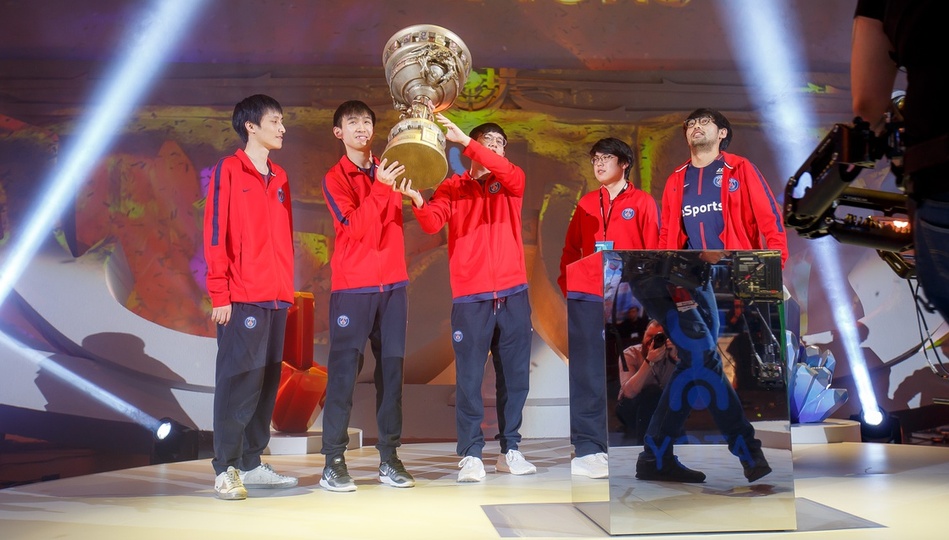 Pincers, flanks, and terrain abuse: How LGD are perfecting positional play
Positioning is one of, if not the, most crucial skills in Dota. While it's especially important against heroes with big AoE ults like Enigma or Magnus where a fight is won or lost depending on your spacing, it's also an incredible tool in teamfights. This is a basic concept that even lower level players have a good grasp of. In a fight, you put your supports close to the back, your cores in front, and you try to punish positional mistakes from your opponents.
Unless you're PSG.LGD. When watching them play, a pattern quickly emerges. Xu "fy" Linsen and his squad lean more towards out-flanking their enemies rather than engaging in a head-on fight. Thanks to this, they have become masters of manipulating their rivals movements to their advantage. At times, it almost looks like they're herding their opponents in fights thanks to some genius positioning.
Positioning according to PSG.LGD
---
At a basic level, PSG.LGD's positional play is all about pinching off the opponent. In game 1 of their lower bracket finals against Virtus.pro at the Supermajor, LGD decide they need to fight the Russians for control of the Radiant jungle. At first, things look terrible for them as Clockwerk quickly loses his life without even getting a spell off. In reality, this is a "tactical feed" from Fy as he needs to keep VP contained to this area as a support rotates in. VP don't know it yet but they're in big trouble.
If you look at the minimap, you'll notice how Yao "Somnus丶M" Lu (Shadow Fiend) and Yap "xNova" Jian Wei(Vengeful Spirit) rotate in while VP are busy bringing down the Clockwerk. Thanks to Fy sacrificing his life, SF and VS can move into a position where they've cut off all escape routes for VP. As they collapse in on their opponent, PGS.LGD waste no time in claiming the lives of Nightstalker, Death Prophet (who also wasted her ult), and Leshrac. A huge win thanks to a well-planned flank and good game sense from Fy.
The biggest thing Maybe and xNova did here was to use the terrain to their advantage. If LGD simply wanted a straight up fight, they could've just told the Clockwerk to draw VP closer to the river. Instead, they told Fy to hold position. Look at how he initially makes a small retreating move before actually turning around, walking towards the enemy. This enabled the two rotating heroes to come in from the side, cutting VP off. VP are left with no winning moves and are forced to walk towards LGD's territory.
This usage of terrain is something you'll see time and time again from LGD. They utilize the map's features almost as a sixth player. By herding their opponents into certain areas of the map, they run little to no risk of them ever getting away. The move does not only split VP into three groups but it also holds them in place. Let's have a closer look at how the heroes are positioned at the beginning of the fight.
Ame (Arc Warden), xNova (Vengeful Spirit), and maybe (Shadow Fiend) perfectly split up Virtus.pro.
The positioning from LGD makes it impossible for any of VP's players to retreat or initiate in any meaningful way. They've wedged themselves in and picks off heroes according to how likely they are to be able to run away. That's why the Nightstalker is focused before the Death Prophet is there. He only needs to make it past one hero to survive, while DP needs to make it past most of LGD. VP get cleaned up, one after one. Terrorblade only survived as he was never in the fight to begin with. A 4:2 win for LGD off the back of great positioning.
The subtleties of abusing terrain
---
The previous example was a good basic display of LGD's play. It shows how a row of trees was used to their advantage. However, LGD don't even require a large part of terrain to effectively use it against their opponents. An example of how jaw-droppingly good PSG.LGD have become at using the terrain to their advantage came from an earlier series against the same opponent in the very same tournament.
When we enter this fight, VP and PSG.LGD are just about to trade supports. The Chinese have already lost their Io and are about to claim Jakiro in return. At the surface, things may look good for LGD here as they're up a hero — Clockwerk was dead before the fight begun — but VP actually have the upper hand in the fight. Vladimir "RodjER" Nikogosyan is about to re-spawn, Death Prophet has her ultimate going, and Ember Spirit's Flame Guard is on cooldown. But in a single move, Ember Spirit enables PSG.LGD to turn the tide of the fight. One well thought-through move from Maybe turns a potentially lost fight into a key win. I cannot overstate how good this play is from LGD's midlaner. I'll let you watch the clip first
Did you catch it? Look at how Ember continues to walk towards the Gyrocopter to safer ground, even after Jakiro is dead. To Death Prophet and the rest of VP that signals a retreat, that Ember feels unsafe. Roman "RAMZES666" Kushnarev picks up on that and with VP's aggressive attitude he chases after. In reality, Maybe has just sprung a trap for Ramzes. Suddenly, the Death Prophet finds herself caught in a choke point, surrounded and without hope for survival.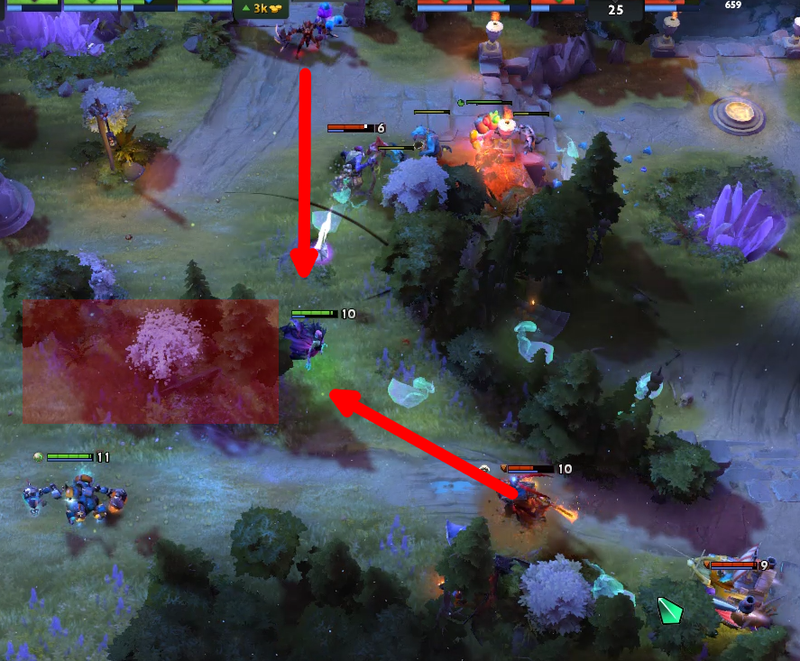 With Ember and Gyro below her, DP can't retreat south. Witch Doctor and Bloodseeker close off the path to the north. The only valid retreat was to the west but Maybe's Ember had just taken that away. By following the Ember Spirit, Ramzes' DP finds herself between two sets of trees. It might not look like much but in reality, it means that the escape route includes navigating through at least two Dire heroes — a certain death. Had Ramzes not chased after Ember Spirit, DP would've stood a chance at escaping. As it stands, VP's core is outplayed by a truly genius play from PSG.LGD.
Versus Mineski
---
This strategy isn't just a strong offensive tool but it can be used to incredible defensive efficiency too. An example of this came in PSG.LGD's series versus Mineski. LGD's top lane was going a bit too well and Mineski had to do something about it before Wang "Ame" Chonyu's Lycan got completely out of control. Challenging a Lycan/Rubick/Bane tri-lane isn't easy though. A fight with even numbers is a lost fight.
So Mineski rotate four heroes up top, hoping to claim a kill or two and possibly LGD's safelane tower. It's a great call as it will allow them to take over the Dire jungle right after. However, the play is read by LGD and, once again, they spring a trap. They know that Mineski want to surround their tier 1 tower and create a "kill zone" under it. So they use Ame as bait. He runs into the vision of Anucha "Jabz" Jirawong, act scared, and start backing off. What Jabz fails to realize is that Ame is backing off into an area that's easy to close off with just two heroes. With this in mind, xNova stands in the trees as Fy claims the entrance to and from the lane as his area of responsibility. Three heroes are more than enough to secure the area and will result in a decisive win for the Chinese.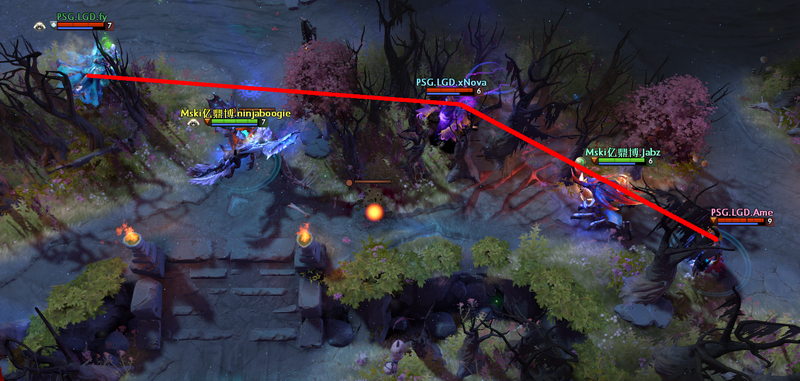 In the subsequent skirmish, Rubick moves in between Jakiro and Nyx Assassin. Not only does this screen Jakiro from going back to the jungle, taking away his only valid path of retreat, but he also gives himself the option to lift the Nyx Assassin. Ultimately, Fy's decides to hold his telekinesis in the first situation as he knows xNova had the range to chase and sleep the fleeing Nyx Assassin.
Thanks to Ame luring Nyx far enough out of position and again using the terrain to his advantage, PSG.LGD are able to turn what could have been a 0:3 fight into a 2:0 one. You could complain saying that they over-rotated as both Bloodseeker and Shadow Fiend ported in but then you haven't really paid attention to what this article has been saying. As SF TP'd into the shrine, he could advance through the lower part of the jungle while Bloodseeker's TP to the tier 1 tower allowed him to come in from the top. LGD didn't know how Mineski would react and therefore chose to treat it as a possible 5v5 fight. And that's how you can beat LGD.
Taking away LGD's strongest card
---
Against an opponent that relies heavily on flanking, the number one rule is simple: don't get flanked. Easy as that, right? Well, not really. Not getting flanked means that you need to know LGD's next move, preferably before they do. If we look closer at the first example we brought up in this article, LGD win the fight thanks to the rotation from Shadow Fiend and Vengeful Spirit. They manage to run through an area without any vision — SF even uses Shadow Blade to make sure he's not spotted. Imagine if VP had a sentry and a ward there. If they had, the rotation would have been caught and they could've fallen back.
Or — if your name happens to be Virtus.pro — you can simply out-execute them in fights. VP were the team to finally eliminate PSG.LGD from the Supermajor and in their final series we saw them figure out what was happening. This resulted in the Chinese looking toothless in engagements. Have a look at the clip below. PSG.LGD quickly establish the flank and while it might look like Elder Titan whiffs his stomp, it's actually a zoning move. He doesn't want the two heroes moving back. It looks like the perfect scenario until Doom decides to not use his ult, wanting to save it for either Faceless Void or Warlock. This decision meant that Doom died, never cast his ult, and VP were able to turn the terrain against LGD.
Another option is to simply not fall for their traps. You can't be greedy against a team like LGD. That's where the second and third examples come into play. Imagine if Ramzes would've been happy with the trade presented to him, and simply moved back to his shrine. If he would have done that LGD would have had to charge into the VP lineup in a more traditional manner. While no one can say for sure, VP probably would've won that fight if it was a "straight" classic engagement.