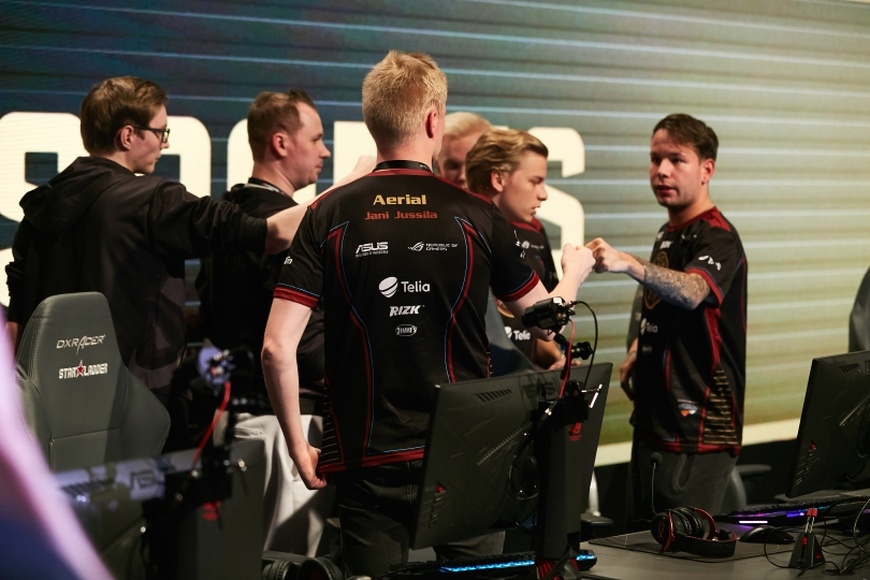 The LAN finals of StarLadder StarSeries & i-League Season 6 are underway, with eight teams through to the playoffs of the $300,000 tournament, taking place in Kiev, Ukraine. Sixteen contestants had to traverse a Swiss, best-of-1 bracket in a bid to make it through to the final stage of the event, and upon its conclusion eight teams were thorugh to the quarterfinals, while eight packed their kit for the long way home.
Find out what happened over the course of the group stage below:
The two teams to have reached a flawless run in Kyiv were Finnish ENCE and North American reps NRG Esports. Both teams sport 3:0 records over their group stage run. ENCE were able to take down TyLoo, The Imperial and mousesports on Inferno, Train and Mirage, respectively. Meanwhile, NRG bested Vega Sqadron, North and Fragsters on Inferno for the prior two, and Mirage.
Whats up, boys? 😎Fresh off after clinching the playoffs spot✅ 🎉#EZ4ENCE #esportsfi #StarSeriesS6 pic.twitter.com/FH5lOisAwl

— ENCE (@ENCE) October 9, 2018
The three 3:1 teams in Regenades, OpTic Gaming and Fragsters were successful in most of their matches, conceding but a single one to a stronger opponent. Renegades faltered in their opening match versus Cyberzen, conceding Inferno, only to follow up their run with three consecutive victories against compLexity Gaming, TyLoo and The Imperial on Mirage for the first to opponents and Cache for Imperial.
#RNGCS are through to the #StarSeries6 Playoffs after defeating @theimperialgg 16-12 at the first LAN with their new line-up! 👏🏻👏🏻👏🏻 #ytb pic.twitter.com/R4lSKuR7a8

— Renegades (@Renegades) October 10, 2018

OpTic were shut down by fellow Danes North in the opening round of swiss on Overpass, subsequently lining up three consecutive wins, much like their Australian opponents. BIG, Vega Squadron and mousesports all felt the wrath of the Green Wall on Inferno for the prior two and Nuke for mousesports.
PLAYOFF BOUND 👊Our boys in #OpTicCSGO lock up their playoff spot at StarLadder & i-League in a 16-13 victory that started off with a round 1 pistol ACE from @SnappiCSGO 🔥#GREENWALL pic.twitter.com/CGm4vfhbwP

— OpTic Gaming™ (@OpTicGaming) October 10, 2018

Concluding the list are Danish underdogs, Fragsters, who gave established teams a run for their money. The initial two match-ups against BIG and Gambit were fruitful, as Nuke and Dust 2, respectively, were secured. NRG upset their roll of a run, beating Fragsters on Mirage, only for the team to resurge on Nuke against fellow Danes, North, copping the fifth playoffs spot.
YES! We qualified for playoffs at @cssltv, let's take this all the way! pic.twitter.com/bhwlczz7JY

— Fragsters (@TeamFragsters) October 10, 2018
The final three teams in Vega Squadron, North and BIG had a close call making it to the quarterfinals, as each played the maximum amount of Swiss rounds, with the final one decided their fate in the tournament. Vega conceded matches on Inferno to both NRG and OpTic, while securing victories on Mirage and Train against Sprout and Gambit, respectively. The decider match was a series against HellRaisers, where the successfully bested the EU mix on Inferno.
We hit play-offs for the first time, that's a moment to remember! GG @HELLRAISERSgg 👊 We'll be facing @TeamFragsters on Friday. Day-off tomorrow to refocus and then back to the fight! 🦈 pic.twitter.com/Xn6swcTuyw

— Alex Lemeshev (@followLk_) October 10, 2018

North had somewhat of a shaky performance in their failed matches, where Inferno and Nuke were lost to NRG and Fragsters. The Danes did, however, take Overpass over OpTic and Train against Gambit. The decider match was against The Imperial on Train, which they bagged, copping one of the final playoff spots.
PLAYOFFS IN KIEV! 😍GGWP @theimperialgg 👏#HearTheRoar #StarSeriesS6 pic.twitter.com/0UcvVi4Wks

— North (@TheNorthIsHere) October 10, 2018

Last, but not least, BIG shone through, making another playoff run at a tournament. The EU mix kicked off to a very worrisome start, conceding consecutive matches to Fragsters and OpTic on Nuke and Inferno. Having refocused, BIG managed to pull three back-to-back wins out of the back,  besting compLexity and TyLoo on Cache, followed by an overtime victory against mouseports on Train.
GGWP @mousesports!We pull off the reverse sweep, and win three games in a row to advance to the playoffs of #StarSeriesS6! Once again, we did it #GEMEINSAM! Thank you for your relentless support! #GOBIG📸 HLTV pic.twitter.com/PpX1WvCAwb

— BIG (@BIGCLANgg) October 10, 2018
TL;DR table:
Matches will resume on Friday, Oct. 12, kicking off with a best-of-3 quarterfinal series between OpTic and Renegades, taking place at 09:00 CEST.