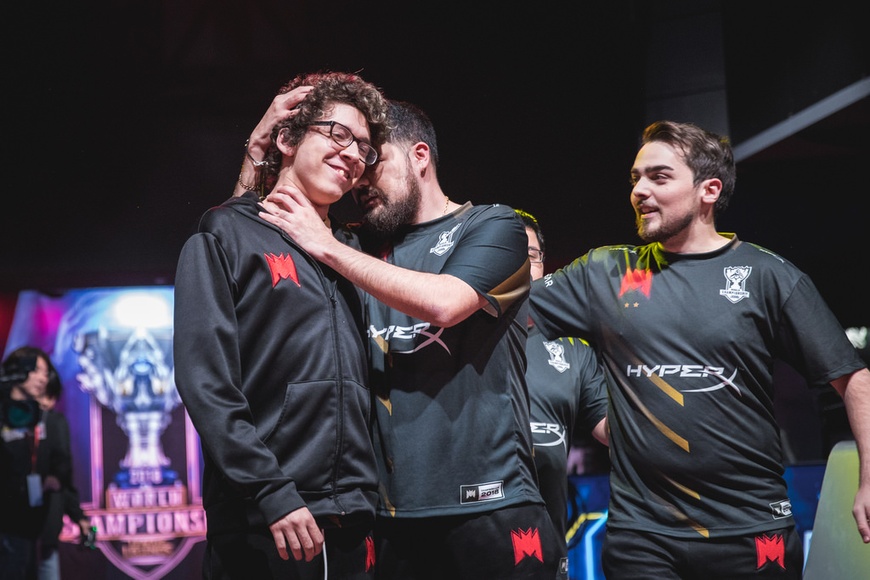 The 2018 League of Legends World Championship Play-ins weren't done delivering surprises, as Infinity eSports CR rose from the ashes, and as G2 Esports recovered from a botched Day 2 showing.
Group A standings
You are not hallucinating: EDward Gaming lost a game in Group A, and Dire Wolves are eliminated from the competition — and both events are Infinity eSports' handiwork. Against EDward Gaming's squishy team composition, they used Nocturne's Ultimate, Paranoia, to hide oncoming skirmish attempts from Rakan and Sion to game-winning effect.
However, their ordeal with Dire Wolves was undecided until the waning moments, when AD carry Renyu scored a Pentakill on Kai'Sa, in a back-and-forth team fight filled affair.
THE PENTAKILL FOR @Renyu_lol! #Worlds2018 pic.twitter.com/cgy0MGsZoo

— lolesports (@lolesports) October 4, 2018
EDward Gaming still secured the top spot of Group A as they exploited Shernfire at every turn, dooming Dire Wolves (1:3) to an early elimination following Infinity's resurgence (2:2).
Group B standings
G2 Esports prevailed decisively in what represented a significant turnaround from their poor shape during Day 2, raising further questions as to what happened in the early days. The team that had disrespected Bahçeşehir SuperMassive in their first faceoff showcased a much improved level of play, but not without hiccups.
In the two teams' first match of Day 4, Luka "PerkZ" Perković's Orianna ultimates were at times questionable, but the team prevailed off strong macro play, and as Martin "Wunder" Hansen and Marcin "Jankos" Jankowski took over. Later on, Petter "Hjarnan" Freyschuss became Ascension Gaming's bane as they were unable to solve his Kai'Sa, possibly much to FORG1VENGRE's delight.
thank mr forg1ven #Worlds2018 pic.twitter.com/gsfTsSXilo

— lolesports (@lolesports) October 4, 2018
The stage was set for a tense rematch between SuperMassive and G2 Esports with Group A's top spot on the line, but G2 Esports unveiled a trick other teams would be wise to notice as they flexed Akali and Urgot into favorable matchups — Akali into Aatrox, and Urgot into Galio. The gambit worked as Jankos benefited from the contributions of two significantly winning lanes (with Wunder's being particularly lopsided), and SuperMassive were unable to scale into team fights — their winning condition.
G2 Esports and EDward Gaming join major region third seeds Cloud9 and G-Rex as first place seeds in the play-in knockout rounds, set to take place on Oct. 6 and 7 starting 12 a.m. ET / 06:00 CET / 13:00 KST (or Oct. 5 and 6 starting 9 p.m. PT), and you can watch the action live on the Worlds hub!