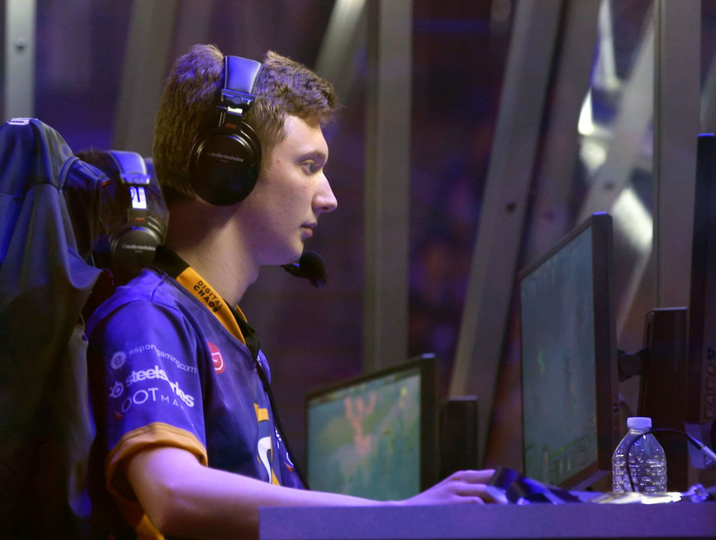 Resolut1on: "Objective-based Dota is the most important thing I learned in NA"

The International coverage hub

More interviews from TI7: 

Bulba: "I want to find [what went wrong for us in the group stage]"
Mason: "I didn't know if I wanted to play Dota for a living"
7ckngMad: "I've never believed in the metagame, the word to me is bullshit"
Fly: "I wouldn't call myself as ruling with an iron fist"
Capitalist: "PPD is the best possible analyst that Dota has"
GH: "A bad day is no reason to lose confidence"
Kuroky: "Sometimes you hit a wall and you have to work through it"
s4: "I've always wanted to play these mid heroes, like Puck"
On press day, we spoke with Team Empire's stand-in Roman "Resolut1on" Fominok on coming back to CIS and who else would he take on a team with himself and PPD.
* * *
How does it feel to be back on Empire as an organization?
I know a lot of people there and most of them are my friends. it's really nice to be there. But yeah, everything happened so sudden, because I didn't realize I was going to play one day before the tournament. We were trying to figure out what was best of us.

I interviewed XBOCT yesterday and he mentioned you're a very different player than Chappie. You like to be babysat in lane, take your time.
Yeah, Chappie is definitely different, he has a different hero pool, he plays heroes like Broodmother, Visage...

What was the adjustment period like, because the carry role is a pretty big one, especially before the biggest event of the year? 
I feel it works, and we are playing better and better.

Have you adjusted to the environment of the team well? 
I bring something that I know and understand from my past teams and I am trying to improve the team as a whole as best as I can.

What was is it like having Blitz as a coach? 
He's a very smart guy and a very good person. It's nice to be around him. I think I learned a lot from him, as a human being. He helped us in a way that strengthened our relationship as a team and helped us when we had issues and arguments between each other. 

Did you learn something in your DC to Planet Odd transition?
Yeah. when I was on DC I started to see the game differently compared to when I was on Empire. I learned a lot from these people, most of all Bulba, then Aui, 1437 and Misery. They taught me a lot about the game and I'm very grateful to them. 

When you went to NA, you were exposed to a lot of different ideas from a lot of different minds. What do you think is the most important thing that you learned since leaving CIS?
Hit barracks instead of diving Tier 4s. *laughs* Objective-based gaming. That's the most important thing.

Do you still try to take these risky plays though?
No, I don't have problems in that regard anymore. As I said, objective-based gaming is the most important thing I learned. When you kill someone in the jungle, you go to take tower. 

So, you've adjusted quite well into Empire so far. What would you say are some new heroes that you want to try, or are the rest suggesting the drafts? 
A lot of the times I'm picking my hero. 

That's pretty impressive, I have to admit, since you haven't played with the rest that much. Have they taught you something? 
Honestly, they're almost the same as the guys I played with two years ago. It's definitely smarter Dota, more intelligent, but some things that were happening two years ago are present still. 

I am definitely trying to teach them something. This is the biggest tournament of the year, so I am giving my best. 

I know you liked playing in DC and staying NA. Do you ever plan to go to a different region? Where do you want to go to learn?
I just want to have a good captain, that's the most important thing to achieve a top 3 at every single tournament, which is all that matters for the next TI. I'd like to build a stable team that is constantly top 3, top 5. It doesn't matter which region it is, EU, NA or CIS.

Who do you think is the strongest captain in the game, since you put that much emphasis on the role?
There are few right now. There's Fly from OG, Kuroky from Liquid and maybe PPD, but now he's retired, he's CEO now. 

Believe in yourself, man, make it happen. That'd be some team, PPD and Resolut1on in one place. Who else would you like to have on that team, just for fun?
You need a key player for mid, so maybe Abed or Midone. Then stable offlane player like Universe and then for position 4 -- Jerax.

What about GH?
Oh yeah, GH, he's almost 10K now.