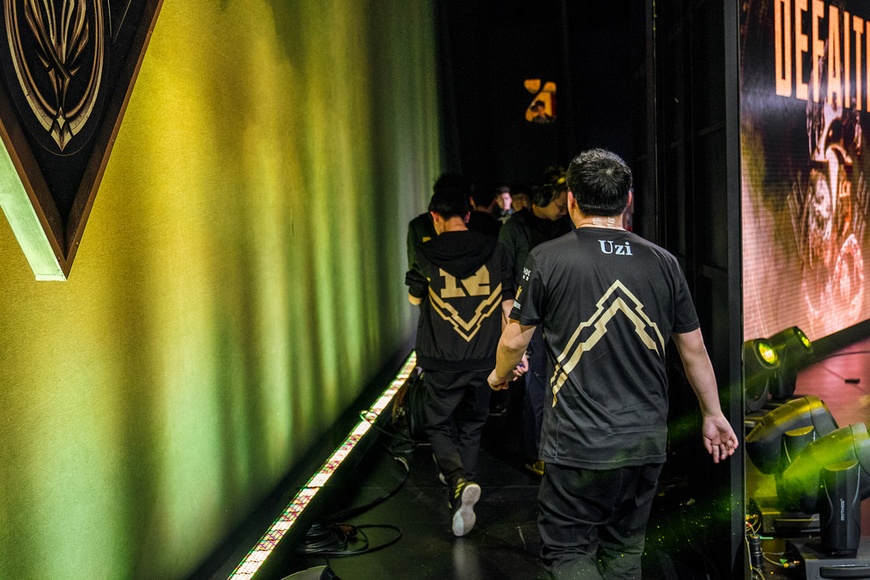 Royal Never Give Up are experiencing a setback early in their LPL Summer 2018 campaign as their emblematic bot laner, Jian "Uzi" Zi-Hao, is taking a short break from competitive League of Legends due to health concerns. The team announced the matter on Weibo (in Chinese), stating that the player would be following doctor's advice to begin a rehabilitation process in order for him to receive treatment and recuperation.
The team's roster is now as indicated below:
— 
 Yan "LetMe" Jun-Ze
— 
 Liu "Zz1tai" Zhi-Hao
— 

 Hung "Karsa" Hau-Hsuan
— 

 Liu "Mlxg" Shi-Yu
— 
 Li "xiaohu" Yuan-Hao
— 
 Dai "Able" Zhi-Chun▲ 
— 

 Shi "Ming" Sen-Ming
— 
 Jian "Uzi" Zi-Hao ▼ (Inactive, injury)
The player once considered retirement during his days at Oh My God in 2015, as his shoulder flared up. Whether the same injury has flared up, or whether it is a different one that has emerged is unknown, but the player has routinely missed the early parts of the LPL spring splits since his OMG days.
In 2018, Uzi has garnered more game time than during previous seasons as Royal Never Give Up emerged as the top Chinese squad during the LPL Spring 2018 playoffs, fending off favorites Invictus Gaming on the way to the player's first domestic title. Uzi then brandished his first international trophy at the 2018 Mid-Season Invitational, and helped China qualify to the 2018 Asian Games main tournament.
The team fielded Able (nicknamed 'the monster of hit and run' by South Korea / Esports Edison in China) during the early stretches of the 2018 LPL spring split and at the 2018 Demacia Cup, and will field him until Uzi is cleared by the medical staff to play.
RNG are expected to see little in terms of performance drop as Able has proven that he could play at LPL level previously, on top of wholeheartedly embracing the 8.11 meta changes by including Yasuo in his arsenal. Able currently showcases a 7.30 KDA ratio on average (4.09 / 1.36 / 5.86 KDA averages) and has a 16:6 record when starting games.