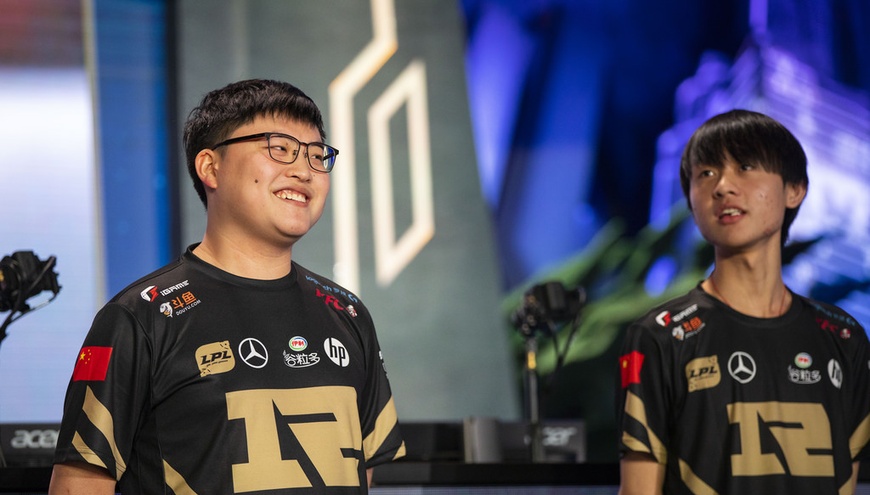 The 2018 League of Legends World Championship's Group B has been the theater of major commotion — unless you look at the top, solely occupied by Royal Never Give Up with a 3:0 record, when other teams are 1:2.
The team's bot lane duo, Jian "Uzi" Zi-Hao and Shi "Ming" Sen-Ming, spoke separately to different media outlets after their victory against Gen.G on Day 3: Ming regarding his former bot lane partner turned Invictus Gaming jungler Ning, and the other regarding the prospect of carrying the trophy and avenging his finals loss in 2014, which also occurred in South Korea.
Below are excerpts for your reading pleasure:
Ming: Facing Invictus Gaming's Ning after years spent sharing the bot lane (Travis Gafford)
We were on the same team, Young Miracles, and we failed to make it to the LPL many times.  We both made it to Worlds and we are both happy about it. I hope that Ning will do his best just as I am doing my best.
Uzi: The possibility of winning Worlds on the LCK's home turf, as Korea did in 2017, and facing Mata once again since 2014 (The Shotcaller)
I am super excited if we can win it this year, not only because it is revenge: the LCK has won five [World] championships; so, to be able to beat the LCK in their home court would be a fantastic feeling. […] That's interesting! If the final is RNG vs. KT, and if I go against Mata, the championship will be mine!
Royal Never Give Up can move closer to Worlds on Oct. 14 should they prevail in Group B. You can witness them ascend to the quarterfinals starting 10:00 CET / 1 a.m. PT / 17:00 KST live on the event hub!