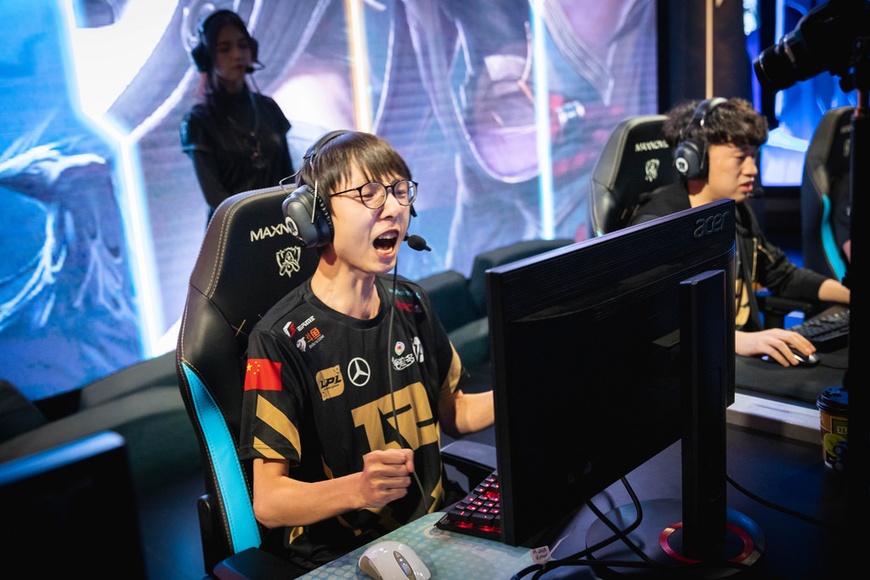 Royal Never Give Up secured the top seed of the 2018 League of Legends World Championship's Group B after playing a tiebreaker against Cloud9, concluding an upset-heavy day.
Royal Never Give Up's decision to start Mlxg over Karsa during the final two games was determinant in their qualification, as Karsa was reeling from two defeats in a row, and as Mlxg's chaotic style fit Cloud9 and Gen.G better (as evidenced by Gen.G's struggles against Cloud9 and Team Vitality, and as evidenced by his trigger-happy play to enable Xiaohu against Cloud9).
RNG drafted a skirmish heavy composition with strong early-game capabilities and solid late game scaling to answer Cloud9's mid-game oriented team fighting composition. The game swung back and forth in the early game, as Cloud9's 2-for-0 counter to an RNG dive (minute 8) preceded a series of mid/jungle duo skirmishes, including one around Rift Herald at the 9:45 mark (1-for-1) and another near Drake (1-for-1).
However, RNG's prioritization of strong lane play set the stage for a slow and gritty takeover, with Uzi's Lucian holding a 30cs advantage over Sneaky's Xayah. Skirmishes kept pouring, but RNG remained unphased and were able to stall long enough for Uzi to knock down the bot lane tower and swap lanes, a matter that led to even skirmishes on both sides starting the 20-minute mark.
However, an overzealous 25-minute mark dive by Cloud9 was followed by an equally ambitious Baron Nashor attempt by Royal Never Give Up, with only Xiaohu's Syndra surviving the Baron takedown and ensuing Cloud9 collapse. From there, Cloud9 took a commanding tempo lead as they knocked three turrets. It all came down to a 38-minute fight at Baron Nashor, where LetMe's Aatrox commanded front line presence long enough for Mlxg's Nocturne and xiaohu's Syndra to tear down Sneaky's Xayah, a matter that led to a 5-for-1 ace and the victory at the 39:03 mark.
For once during the day, Cloud9 were unable to convert their lead in a victory. However, they did convert solid play and surprising drafts (Hecarim into Aatrox, a call back to the North American LCS gauntlet; as well as Zilean mid, a Jensen specialty) into a 3:0 to secure the tiebreaker. The North American team secured their right to play the tiebreaker when they prevailed over Team Vitality (2:1 on Day 5) in a game largely decided by Zilean ultimates and Nocturne/Singed dives over Attila's lethal Draven – a pick that looked as dangerous as Jiizuke's Ekko, which also made its presence known.
The two Western teams sent a strong message to the worldwide League of Legends community: the notion of a gap between LCK teams not named KT Rolster and Western teams has faded, with Gen.G finishing dead last in Group B at a 1:5 standing. In fact, had Gen.G prevailed against RNG, the Chinese team would have played Vitality for second place.
Instead, Team Vitality ended in third place, narrowly missing out on the quarterfinals after beating Royal Never Give Up in spectacular fashion (a Draven AD carry pick on Attila and several team fight victories) and Gen.G (a straightforward stomp engineered by Cabochard). The community cheered for both Western teams to emerge from the group stage, but Cloud9's victory and Gen.G's subsequent defeat sent them out of the competition (and sent the community into mourning).
The 2018 World Championship is far from over, and G2 Esports have the opportunity to strike a quarterfinal ticket should they perform identically to the previous days, beating Afreeca Freecs and Flash Wolves on the way to a 2:1 standing. You can watch them live starting Oct. 15 at 10:00 CET / 17:00 KST / 1 a.m. PT live on the Worlds hub!