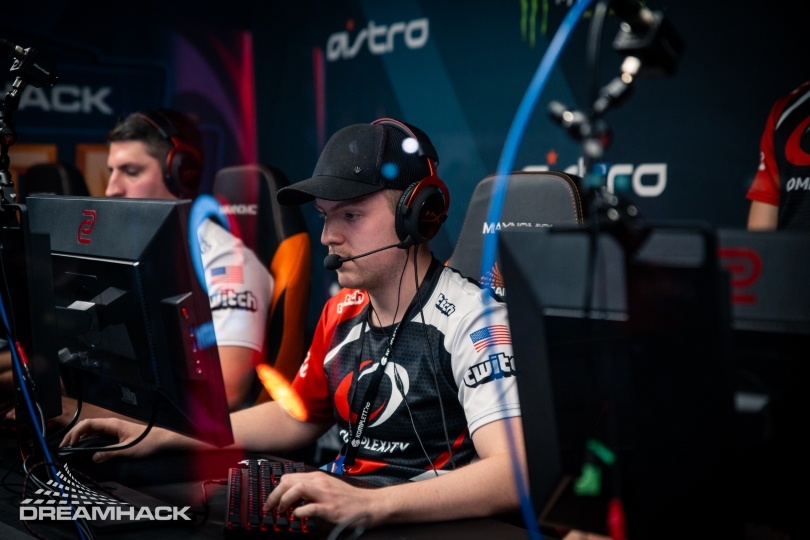 Stanislaw on the series vs. Vega: "The T side really just confused the hell out of me, honestly."
Cybersport.com sat down with compLexity Gaming's in-game leader, Peter "stanislaw" Jarguz, to discuss the series against Vega, which opponent brought them the most distress and what it meant to bring coL their third ever Major group slot.
* * * 
Let's kick off the interview with a flashback to our previous conversation when you qualified for the New Challengers at the Americas Minor. You mentioned that teams anti-stratted you throughout, preventing you from playing "your game". Do you feel this happened at the New Challengers as well?
Definitely, I think teams were anti-stratting us again here. It's kind of second nature because it's the biggest tournament for most players and teams, so you're going to do all the preparation and hard work you can. It didn't really help that every single match the vetoes came down to Inferno, so as the tournament went on, we played Inferno four times, meaning every single team had more data than they would normally. We were definitely at a disadvantage from the start.
We played Inferno four times, meaning every single team had more data [on us] than they would normally.

Looking at the teams that you've faced over the course of the New Challengers in Astralis, Space Soldiers, BIG, and just now Vega Squadron, which of the four teams did you feel least comfortable playing against?
I'm actually going to say Vega, even though we just won, because although we expected the veto to come down to Inferno or Cache, I personally thought that 100% that they would play Cache. I watched a few demos and actually had a really good game plan. Going into Inferno we didn't really have too much on them, they didn't play it recently in the last few months, so everything was just unexpected.
Going into the match we just played our own CT side, which was pretty strong, but then going into the T side really just confused the hell out of me, honestly. They played so passive and safe from the get-go, and I just couldn't adapt until late on and a couple of heroic plays from my teammates just pulled us through.
There's this on-going narrative among teams, where Vega are considered this super-uncomfortable team to play against, because they have a spontaneous, aggressive approach to the game. Could you elaborate on how you managed to produce such a strong T side against them?
I think, in terms of T side, it's a lot more difficult for them on Inferno. The best comparison I can give you is Inferno and Mirage - on Mirage, what their specialty is just running out in five different areas at once and finding openings that way, but on Inferno you don't have five openings, you just have one or two. You have A at mid and B at banana, so once those are shut down, it's a lot easier to read the other team and see how the round unfolds. They were a lot more predictable in that sense, because of Inferno.
A 3v1 like that should never happen and that's kind of what made our start difficult on the T side.
Talk to me about the second pistol round - what happened? You guys lost a 3v1 situation against chopper - was there a communication breakdown?
I was dead, so I didn't have any involvement in that, feels good not to take the blame, so I'll punish them later for it (laughs). But yeah, communication definitely broke down and I think they just played way too scared. I think we had a person in a good spot in back halls, so he should have realised that spawn was clear. I was watching the round unfold and I'm thinking: "I already know where he is". They weren't communicating it, and I didn't want to communicate over them, so yeah, they all just played way too scared. I'm sure we'll just go back, watch it later on and fix it. A 3v1 like that should never happen and that's kind of what made our start difficult on the T side.
So you just mentioned that you try not to communicate over the guys, even in situations such as the one we just spoke about. Is that something that you do consistently, or was it just this specific situation?
I think it's just a fundamental of Counter-Strike, where if you're not active in the round anymore, you shouldn't really speak unless you see something that you notice your teammates didn't notice, perhaps, because whoever's alive needs, they need to communicate to each other, and in chaotic situation, if you already have 3 people communicating, and then you add someone else who isn't even active communicating, it's just going to create more chaos and confusion. It's better to just let the people who are alive just play it out.
A question that begs an answer - compLexity's last Major event was EMS One Katowice 2014. How does it feel to have led this organisation to its third ever Major group stage?
I think it just feels right, because the organisation is a top organisation. The way they treat you is like family, not just a business, and all the work they put in behind the scenes just allows us to sit down and play Counter-Strike. An organisation like that deserves to have their name at the Major. All the hard work that we paid off - I'm just so proud of the guys. It all paid off.