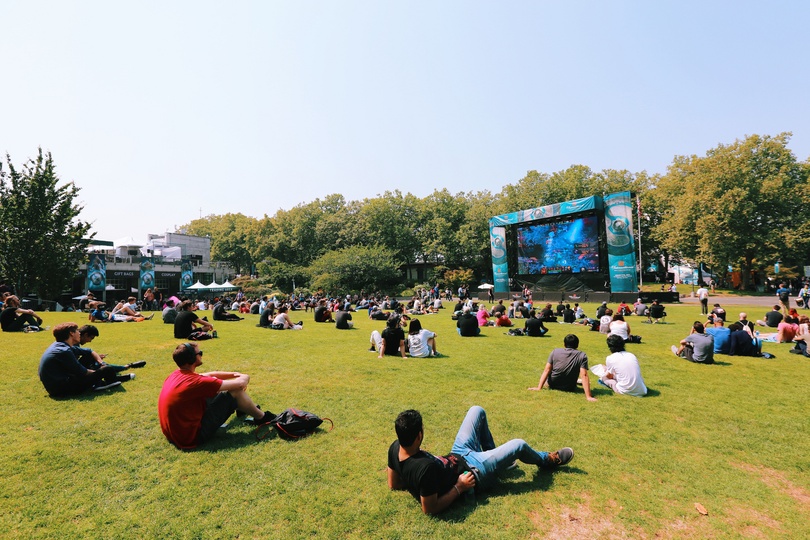 StanKing at TI7: "I want the coach to be the kind of person who has very strong ideas but isn't very aggressive about them"
From a player on Team Freedom to coaching Cloud9, Stanley "Stan King" Yang's Dota path has finally brought him to the international, even if outside the booth. We caught up with him on TI press day to talk about his new job and coaching for the first time and share a few laughs about the struggles of figuring out a new patch.
* * *
You came from playing with Team Freedom, and now it's your first time coaching. What's it like? Did you talk to any other coaches for advice or did you just go into it with your own ideas?
I kind of just did it myself. I think I have a good idea of what coaches are supposed to do. I based it off what I expect a coach would do for me. 

What kind of coach do you see yourself as?
I think I want the coach to be the kind of person who has very strong ideas but isn't very aggressive about them, just be able to take things in and then produce something for the team based on what they are thinking, instead of trying to have a pre-set way of doing things. I make sure I do things in a way that fits in, rather than be a separate thing.

Do you focus more on your opponents or making your team a well-oiled machine?
I think it's a combination of both. Most teams have their own ways of doing things, especially C9 -- they have been a team for a long time, they know how to do things and I'm there to fill gaps and do things they don't understand or don't know. 

If someone had an idea in C9 and it challenges how you think about the game, how do you react about that? Do you ponder it, or try to incorporate it right away?
There's not a lot of brand new stuff in Dota, it's not like someone will break out something you have to really think about for a while. You just have to evaluate the strengths and weaknesses of what they are considering. You just kind of react to it and see what the differences are. 
I don't think it's good to have a singular shotcaller
Do you believe in the meta as you see it? Do you believe that if everyone thinks a hero is good, it's good? If someone says "I think roaming Pudge would be good in this game because of X, Y and Z" how do you go about it?
I think it's more about looking in sync. The meta itself is not based off of one or two games, it's based off a patter about how teams do things. The important thing when you're considering something new is to see what other teams do and why they do it. 

You can say "hey, let's play Pudge" but realistically you are going to find another team that plays Pudge, wondering why the heck they're picking this hero and then try to build a way around it or incorporate it. 

Do you try to think about your own heroes, or do you look at other teams and see what's interesting about them, try to take a little bit of this and that from them, or do you try to have your own ideas?
It's a bit of both. You have your own pre-set heroes, and how you think about them. Obviously it's a mix, not a clear cut. 

What is the dynamic within the team? Who talks the most in a game, who is calling the shots? Does Envy talk in an actual pro-game? 
It's generally a good mixture of everybody. On a good Dota team, you need a healthy amount of shotcalling from everybody. 

When you consider a decision, it has to be uniform, though. Who makes that final decision on the team?
It's the person that is most involved. Envy does make a lot of decisions based off his personality, but most of the time the team shares this responsibility. 
You need to be good on certain heroes but also be versatile.
Do you feel that's a benefit?
It has ups and downs. Sometime it's good to have one person do everything, sometimes it's not. I don't think it's good to have a singular shotcaller just because they never have all information.

Is there a hero you wish Cloud9 would pick, a hero they are not fond of? 
They play their game, I am not there to throw wrenches or anything. I do believe in some heroes depending on the meta and I do suggest them, but if a player doesn't like the hero and you go "hey you should play Pudge" it's not going to work because he's never played Pudge before.

Would you rather have a player who is versatile when they play, or one that spams their own hero?
Definitely a mix of both. You need to be good on certain heroes but also be versatile. On a team, you maybe want a few people who are very good on certain heroes and then a couple of versatile players to fill the gaps. 

What's it like when someone pulls a hero you haven't played against in a while?
I have to go do Dota wiki and see the skills and what they do. *laughs* It's usually when a patch comes out and things change and you end up wondering why is this hero doing so much damage?

You have to stay on top. Being good in Dota means playing a lot, watching replays, thinking about the games. 

What do you do when a patch comes out then?
I read the patch and then I talk to people who actually know what they're doing. *laughs* Try every hero once, throw most of them away, then wait till someone better than you comes along and figures it out. laughs
---
The International coverage hub

More interviews from TI7: