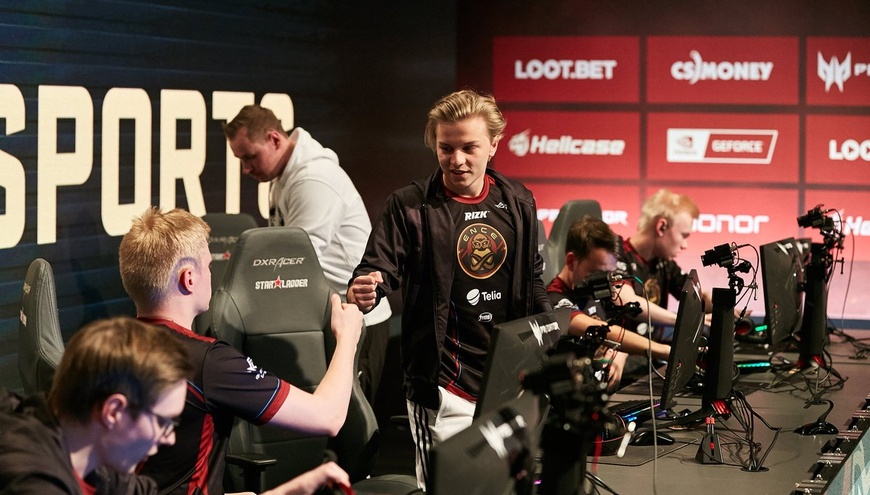 StarSeries i-League CS:GO Season 6 is well into the playoffs, with a surprising group of four teams remaining in the running for a $125,000 prize pool. Three of the New Champions from the FACEIT Major — London 2018 were competing at the event, but none of them remain now we've reached the semifinals.
Here's what happened in the quarterfinals in Kiev, Ukraine:
Coming off of recent wins against BIG, Vega Squadron, and mousesports earlier in the tournament, OpTic Gaming were looking to prove their new addition Nikolaj "niko" Kristensen had helped propel them to the level we all know they're capable of.
Dust II was the first map to decided from the draft, and it was a relatively controlled and convincing effort the the Danish side. Renegades only managed to gather five rounds on their T side, which left them wide open for punishment going onto their CT. Impressive individual plays from Kristian "k0nfig" Wienecke and Rene "cajunb" Borg helped sealed the deal with a 16:8 scoreline.
Inferno was OpTic Gaming's pick, and it went their way once again. Despite Renegades' best efforts they couldn't make anything happen in the first half, ending their CT side 4:11. The Danes had a solid spread of kills among each of their players, all generally playing at a higher level to the Australian squad. A tightknit second half scoreline went 6:5 in the favour of Renegades, but it was enough to give OpTic Gaming the win at 16:10.
.@OpTicGaming has won over @Renegades in the opening match of the Playoffs stage of StarSeries i-League S6 and become the first semifinalist!#csgo #cssltv #StarSeriesS6 pic.twitter.com/JqBbC9dW8K

— StarLadder CS:GO (@cssltv) October 12, 2018
BIG are currently looking to cement themselves as one of the better teams in the world after placing in the top eight in London, and the best they could do in Kiev was another top eight finish. They lost to ENCE in devastating fashion after narrowly taking the first map.
First up was BIG's pick, Overpass. The first half was a somewhat back and forth affair with both teams showing sparks of brilliance, ending 8:7 in the favour of the Finnish side. The level playing field continued into the second half too, eventually going to overtime; it took 12 extra rounds for BIG to claim the map win.
Nuke was a much easier time for ENCE, with them starting off hot on their T side. The first half didn't looking promising at all for the Germans, ending it with a 5:10 scoreline. They managed to claim four in a row after winning the second pistol round, but then ENCE turned things up a gear to close out the map without losing another round at 16:9.
Train was the deciding map between the two teams, and ENCE appeared to want it more initially. They got off to a good start economically and mounted a decent lead, but BIG managed to keep it to 6:9 at half time — though it wasn't easy for them. The second half was shaping up to be another close portion of play but ENCE decided to close it out swiftly, demonstrating precision and solid teamwork. The third and final map ended 16:10 in favour of ENCE, meaning they would progress to the semifinals.
.@ence have defeated @BIGCLANgg and advanced to the semifinals!#csgo #cssltv #StarSeriesS6 pic.twitter.com/lMI7gbZNbR

— StarLadder CS:GO (@cssltv) October 12, 2018
Vega Squadron booked themselves a spot in the semifinals after a reassuring performance over two maps against Fragsters. The Russian-Ukrainian hybrid team are looking to cement their place in HLTV's Top 25, and this victory would have helped massively with that.
The first map in the best-of-three series was Dust II, and at first it seemed as if it was going to be a blowout. At the end of Vega Squadron's CT side, they had managed to accrue 11 rounds which set them up nicely for the second half. This lead proved insurmountable for Fragsters as, even though their CT side was back and forth, Vega Squadron closed it out 16:10.
Cache was the secondary map of choice and it ended up closer than the first, despite yet another impressive start by the CIS squad. Vega Squadron was on the T side in the first half, and it ended with a 10:5 in their favour. Fragsters seemed poised to reclaim some control over the match and to level up the series, but their opponents stayed strong. In the end, Cache ended 16:13 to Vega Squadron — meaning they had won the series and had progressed to the next stage of the event.
Well played, @VegaSquadron! See you tomorrow in the semifinal!#csgo #cssltv #StarSeriesS6 pic.twitter.com/R9ngONHZWg

— StarLadder CS:GO (@cssltv) October 12, 2018
This is the high profile match-up out of the quarterfinals, and it didn't disappoint. North recently won at DreamHack Masters Stockholm 2018 but have seemingly gone back to their normal level of gameplay in following matches — whereas NRG Esports are still trying to establish themselves as more than an online team.
Train was the first map in the series and it couldn't have been closer. The first half proved the two teams were almost inseparable in terms of skill, ending 8:7 in favour of the Danish side. On NRG Esports' CT side, however, they managed to grab a couple of rounds more than their opponents and that was enough. The end score was 16:14.
The second setting for these two teams to battle out on was Overpass, and NRG was the favourite going into the second half with a marginal 9:6 lead. As expected, things got even closer — at one point the scoreline stood at 12:12. In the end, NRG Esports managed to round things out to 16:13 to win the series.
Congratulations to our last semifinalist - @NRGgg! #csgo #cssltv #StarSeriesS6 pic.twitter.com/gOUgaVeWDV

— StarLadder CS:GO (@cssltv) October 12, 2018
Don't miss out on anything related to StarSeries i-League Season 6, visit our dedicated event hub!