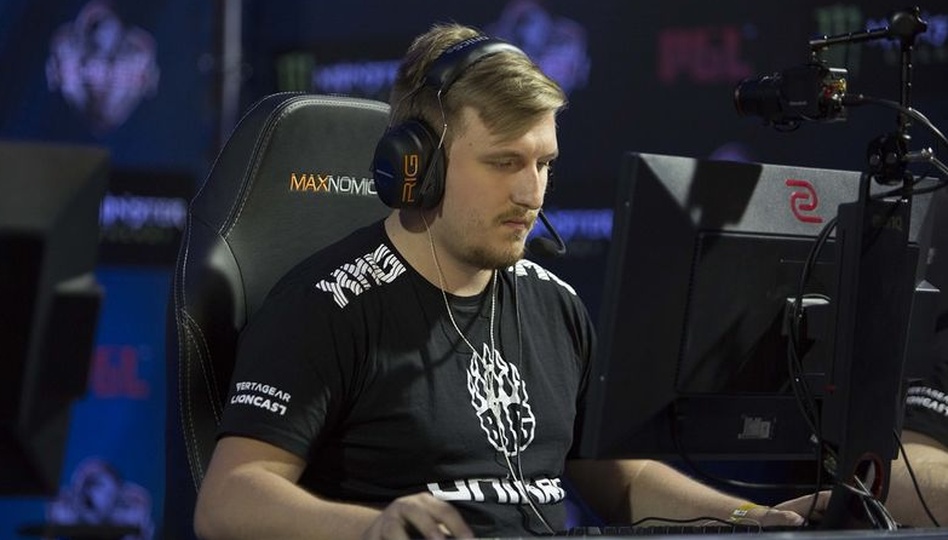 tabseN: "I feel like our team is by far the best one in regards to utility."
During our time at the FACEIT Major London, we spoke to BIG's Johannes "tabseN" Wodarz on the family dynamic within the team and why he thinks his clan is the best in their utility usage. 
* * *
You've been with BiG ever since transitioning from NRG Esports. How have you seemingly ascended to such heights in a relatively short period of time?
When we were in America with NRG, we practiced really hard, day by day. We noticed that we accomplished a lot by doing that. So we knew that wherever we go after NRG, we need to keep doing it, grind very hard, eight to 10 hours a day so we can go even further.
The trio of gob b, LEGIJA and me were very good friends even before NRG already, and after NRG we got even closer. So we decided to stick together, even though many people said, "They are not so good, you deserve something better." I always believed in them and in our friendship, because I feel like I need to be very confident and I need to feel comfortable with them in a team and they give me a huge energy boost when I play.
That's probably why we are on the [Major] stage right now. The friends and family we have in this organization of players support us and they love what they do like we do. I can name so many of them; they are behind us every time, whether we lose or win, it doesn't matter. It's an insane feeling.


Gob b mentioned that the next step for the team is to start winning tournaments, although he said that the team wasn't there just yet. What is the next step for you guys to start getting the first place finishes?
I totally agree with Gob b, he's a smart guy and knows what he's talking about. We're not ready yet to win tournaments. We need to go step by step. This tournament is looking like Cologne, because we were also struggling a bit at the beginning there. We had many matches where we thought we are losing and we had match points against us. Against Renegades, for example, we were close to losing but still managed to bounce back. It's similar here, we expected to go 3:0 in both stages, we struggled a bit and it made us better.
We have to improve, we have to watch the demos again and stay humble. We can't think like we are done yet or better than we were. At this time, everyone is on the same page. If we keep doing it, I think we might reach semifinal here and it would be a huge next step for the next tournaments. [BIG lost in the quarterfinals to eventual runner-ups NaVi — Ed.] If we stick together, I am pretty sure we will win one of the next tournaments this year.


We also copied a lot from [Astralis], but in the end we try to mix everything up.
You touched on that Renegades game. This is also something Gob b touched on when I asked him about the impact of LEGIJA on the team. He said he's a very strong motivating factor and alongside Gob b, they power the team and help with the mindset. Talk to me about the importance of this will, the mindpower to be able to power through.
Having this will is really important to us. We can win any game if everyone is trying to win and do everything for each other. Sometimes you need to sacrifice, even though you've had a bad game you need to accept that. You can't change that and you have to do your best.
That's why I really appreciate what Niko is doing here, trying to motivate us every time. Everyone has a bad game sometimes and he is trying to get the best out of it. He is telling us to keep calm, to keep talking, to keep being motivated. This is the really important stuff that no one is really understanding. I think Niko is doing a very impressive job. He's a very good motivator. He also knows what we are good at and is trying to remind us of it.
You are widely perceived as a team with very good structure, but also incredible utility usage. Without giving away too much, how do you prepare for teams to be able to utilize this component of yours?
As you said, I can't give much information about it, because it's about how we look at the game. But other than that, we obviously watch demos and we see what the opponent is good at and we are trying to anti-strat by sometimes throwing grenades or flashes. We decide against which enemies it's good to throw flashes or HGs. Also, positioning is very important. But not everyone in this team is great at it. smooya and tiziaN are kind of getting it, but they need to improve it. I told them about this already and they are definitely going in the right direction. I feel like our team is by far the best one in regards to utility. Without it, we would've had a lot of problems.
If you are the best at this, who are the second best?
It's definitely Astralis, they are very good at everything: re-fragging, trades, utility, positioning. We also copied a lot from them, but in the end we try to mix everything up.
More FACEIT Major coverage
New Champions interviews
— 
 NAF: "We actually had an idea of me primary AWPing before, but I didn't really want to change all my spots and learn AWP rotations."
— 
 Analysis with Xyp9x: Astralis' semifinal vs. Team Liquid
— 
 dev1ce: "[Oversaturation is] a huge problem that we have to work together in the community to fix."
— 
 fer: "We needed someone to open space for us."
— 
 Stewie2k: "Without YNk, we wouldn't be progressing that fast."
— 
 dupreeh: "I'm proud of the way we've approached the tournament."
— 
GuardiaN: "[After the 0:2], we came to a conclusion to put NiKo as an IGL for now."
— 
 Edward: "We were well prepared for [BIG]. We knew the full arsenal of their rounds."
— 
 ANDROID: "I think we can go further."
— 
 electronic: "You never know if you're ready to win the Major. [...] It's all about the moment."
New Legends interviews
— 
 Analysis with Deadfox: HR's Legends decider game vs. Fnatic
— 
Analysis with Nitr0: Liquid's OT win vs. Astralis at FACEIT Major
— 
 Zeus: "We're deservedly a top 2 team in the world."
— 
 NiKo: "I think strategy is what [G2 Esports] lacked the most."
— 
 dephh: "It would be nice to play smooya again."
— 
 gla1ve: "I don't think we have played this good since before the break."
— 
 Golden: "Autimatic is a very smart player and I let him do whatever he wants."
New Challengers interviews
— 
 Gob b: "The next stage would be to win tournaments, but we're not there yet."
— 
 JR: "Psychologically, it's a lot easier for us. We have nothing to lose."
— 
 snatchie: "We were the least prepared team of all."
— 
 stanislaw: "The T side really just confused the hell out of me, honestly."
— 
 AdreN: "We recognise that it is absolutely crucial for us to be a more structured team."
— 
 dupreeh: "We maybe prepared a little bit too much [vs. Rogue]."
— 
 Bondik: "The main goal is to proceed into the next stage, the rest is irrelevant."
— 
 NEO: "I've been nothing but happy and surprised how good snatchie is."
— 
 Dosia: "B1ad3 is rearranging our in-game approach entirely, on all maps."
— 
 Lekr0: "We can't underestimate VP even though they had a bad streak."
— 
 Magisk: "I don't think that any team should be guaranteed a spot at the Major for being top 8."
 Features
— Reap what you sow: Comparing NiP and Fnatic in the wake of FACEIT Major ousting
— New Legends Stage: Pick'ems predictions
— How can FaZe avoid another Boston?
— Three lessons we learned from DH Stockholm 
— Why FACEIT Major's system is so damn good
— Which CS:GO players could repeat a Major title — and what are their chances?
— The top 10 players for MVP contention at the FACEIT Major
— The five CS:GO Major series you should watch before the FACEIT Major